Dirs/scr: Glenn Ficarra & John Requa. US. 2014. 104mins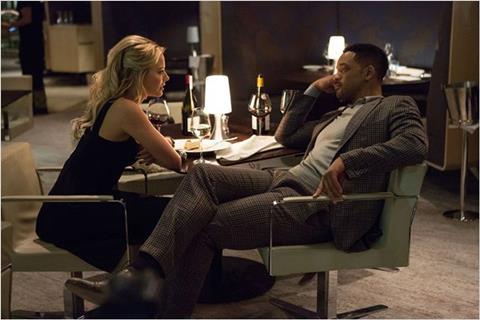 The pleasure of a conman movie can also be its limitation: The audience knows full well it's being duped. Focus pointedly illustrates the genre's double-edged-sword appeal, offering a stylish, consistently diverting romantic caper that, nonetheless, leaves you feeling that you've been jerked around without sufficient payoff. Will Smith and Margot Robbie are suitably attractive as lovers who are never sure if they can trust one another, but Focus is all surface pizzazz, its who's-foolin'-who? tease less enticing than the filmmakers realise.
Focus is a conman movie so wrapped up in its cons that it doesn't think enough about its man — or the enigmatic woman by his side.
Opening February 27 in the US, this Warner Bros. release will be a test of Smith's box office potency. Will viewers still flock to one of his films if it isn't a Men In Black sequel? His last starring vehicle, 2013's After Earth, was a critical bomb, grossing almost $244m worldwide on a reported $130m budget. Focus should bring in decent opening-weekend business thanks to its conman-lovers plot and the presence of rising star Robbie, who was last seen in The Wolf Of Wall Street. But it would be unwise to place blockbuster expectations on this film, even if its appeal to adult audiences could mean sturdy commercial legs.
As the film opens, Nicky (Smith) meets Jess (Robbie) in a New York restaurant, their instant spark soon complicated by the fact that she's trying to grift him — and he knows it. Nicky reveals that he's a lifelong conman, which impresses the novice Jess, who asks him to mentor her. Reluctantly, he finally relents, adding her to his team as they travel to New Orleans to pull off dozens of small petty thefts on unsuspecting tourists during the Super Bowl.
But once the couple fall into bed and begin a relationship, Nicky becomes nervous about letting romantic feelings cloud his judgment, forcing him to drop her from his crew with barely a goodbye. Three years later in Buenos Aires, though, their paths will cross again as Nicky is hired by Garriga (Rodrigo Santoro), the rich head of a racing team who wants the conman to sabotage his competition. Nicky agrees, but soon he realizes that Jess is Garriga's new girlfriend.
Written and directed by Glenn Ficarra and John Requa (I Love You Philip Morris), Focus lays out its hook at the beginning. There's a clear sexual chemistry between Nicky and Jess, but neither they nor we are always confident who has the upper hand in their relationship. Like other films about con artists, Focus encourages our suspicions, prompting us to question what we're seeing and to be wary of everyone's actions. When either of the main characters says something sincerely, we immediately assume it's some kind of manipulative trick.
Ficarra and Requa anticipate our cynicism, even play into it. Working with cinematographer Xavier Grobet and production designer Elizabeth Mickle, the filmmakers lavish our eyes with opulent, sleek visuals, which (like our main characters) are so outwardly appealing that we begin to distrust them, sensing something more nefarious underneath. The slick sophistication of Focus can be awfully appealing, Nicky and Jess batting their noir-lite banter back and forth. But soon their rapport succumbs to the same problem that afflicts the rest of the film: There's an unescapably phony, movie-movie quality to the proceedings that undercuts the fun and the suspense.
Of course, a film like Focus is meant to be a jet-setting, cotton-candy fantasy: fabulously beautiful people hatching elaborate schemes in gorgeous locales while wearing incredible clothes. But for the movie's intricate con of the audience to work, we have to at least accept the story on its own terms. And that's very hard to do with Ficarra and Requa's "Can you top this?" style of filmmaking, which emphasizes increasingly more preposterous double-crosses, heists and plot twists. In the name of escapist thrills, Focus sports an arch cleverness that starts to feel oppressively artificial.
Consequently, it's hard to care too deeply about Nicky and Jess's tentative courtship. Does he really love her? Does she really love him? Did they once love each other? Do they love each other now? Because there's very little grounding to their relationship, we never have our bearings and, therefore, can't really make any sort of determination. Rather than being teased, we're simply mystified.
Smith and Robbie don't necessarily help matters. Their rapport comes across as superficial, but without the necessary emotional shading underneath to make us wonder if what we're seeing is true affection. Still undeniably charismatic, Smith displays a grownup sex appeal that eluded him in his early stardom, but Nicky is a smooth-talking cipher who's not particularly fascinating or deep. Similarly, Jess is a bombshell in a tight dress, but Robbie fails to turn her into a femme fatale — or, as an alternative, make us believe that she's a mere damsel in distress. Focus provokes us to distrust what we see, but there's no complexity to these people, and therefore not enough stakes in what they're risking by staying together.
It's no spoiler to reveal that there are third-act surprises that upend what we've assumed all along. Any good conman movie will leave us wondering where its story is heading — both the characters' big scheme and also the resolution of the romantic courtship — and Ficarra and Requa don't disappoint in laying out some narrative whoppers. But as with similar bits of business earlier in Focus, the reveals are both a little too neat and preposterously over the top, lacking any sort of visceral satisfaction. Focus is a conman movie so wrapped up in its cons that it doesn't think enough about its man — or the enigmatic woman by his side.
Production companies: RatPac-Dune Entertainment, Di Novi Pictures, Zaftig Films
International distribution: Warner Bros. Pictures, www.warnerbros.com
Producer: Denise Di Novi
Executive producers: Charlie Gogolak, Stan Wlodkowski, Steve Mnuchin
Cinematography: Xavier Grobet
Editor: Jan Kovac
Production designer: Elizabeth Mickle
Music: Nick Urata
Website: www.focusmovie.com
Main cast: Will Smith, Margot Robbie, Rodrigo Santoro, Gerald McRaney