Dir/scr: So Yong Kim. US. 2011. 93mins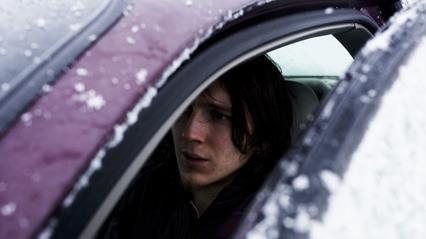 Patience is required when entering into a film made by writer-director So Yong Kim, but with her latest, For Ellen, she rewards the viewer with a nuanced and deeply sad portrait of a father and estranged daughter who might finally connect. Gradual and deliberate but also observant and moving, Kim's delicate drama is her first to focus on an adult protagonist, but as with her previous two movies (In Between Days and Treeless Mountain) she explores how frightening and alienating the world can be to those on the margins – and also how hard it can be to reach out to another person.
Mandigo gives a natural, graceful performance.
Part of Sundance's US Dramatic Competition, For Ellen will probably be, like Kim's earlier works, a niche commercial prospect that appeals chiefly to the art houses. However, for the first time she's made a movie with legitimate indie stars – Paul Dano, Jon Heder and Jena Malone – who could attract additional attention to this quiet, modest film.
The Ellen of For Ellen is the six-year-old daughter of Joby (Dano), an aspiring rock musician who is about to finalise divorce proceedings with his wife Claire (Margarita Levieva). However, there's one catch: Although Joby has spent most of Ellen's life on tour in the hopes of furthering his musical career, he doesn't want to lose custody of her completely. Consequently, before signing the paperwork to end his marriage he arranges to meet with Ellen (Shaylena Mandigo) as a last-ditch effort to form a bond after years apart.
Those familiar with Kim's work will immediately recognise and appreciate the visual and narrative style at play in For Ellen. Emphasising unhurried, understated scenes – set against harsh or hostile environments (in this case, the wintry American Northeast) – Kim prefers an intimate immediacy in which the rawness of her characters' emotional situation comes through clearly, even if her stories aren't filled with a lot of plot busyness.
Kim focused on a teenager (In Between Days) and two young children (Treeless Mountain) in her first two films, so it's amusing to note that while Joby is ostensibly a grownup, in many ways he's as immature as her previous protagonists. It should be said that Dano doesn't wholly convince as a rock musician – there's something a little too studied and inauthentic in his demeanour – but he more than capably impresses as an arrested adolescent who's been chasing a dream so long that he never really transitioned into being a grownup. Joby's sputtering anger at his lot in life is at first pathetic, but as For Ellen moves along there's a disarming helplessness to the character's misery that becomes almost touching.
While Heder (best known for his work in Napoleon Dynamite) gets to stretch his wings as a dramatic actor, his portrayal of Joby's eager-beaver lawyer is a bit forced. But in truth Dano's most important co-star is his youngest. Mandigo gives such a natural, graceful performance free of cloying preciousness that Ellen's extended visit with Joby at the film's conclusion brings the movie to a poignant finale. Some viewers may disagree with Joby's ultimate decision, which has the ambiguity and surprise reminiscent of the American New Wave of the 1970s, but on reflection this luckless, lost character had been building to this choice all along.
Production companies: DeerJen, Soandbrad
International sales: Memento Films, www.memento-films.com
Producers: Jen Gatien, Bradley Rust Gray, So Yong Kim
Executive producers: Paul Dano, Jonathan Vinnik, Michael Clofine, Tricia Quick, Rui Costa Reis, Dave Berlin
Cinematography: Reed Morano
Editors: Bradley Rust Gray, So Yong Kim
Production designer: Ryan Warren Smith
Music: Johann Johannsson
Main cast: Paul Dano, Jon Heder, Jena Malone, Margarita Levieva, Shaylena Mandigo