Bikas Mishra's drama Four Colors (Chauranga) earned the grand jury prize for best feature as the 13th annual Indian Film Festival Of Los Angeles (IFFLA) concluded on Sunday.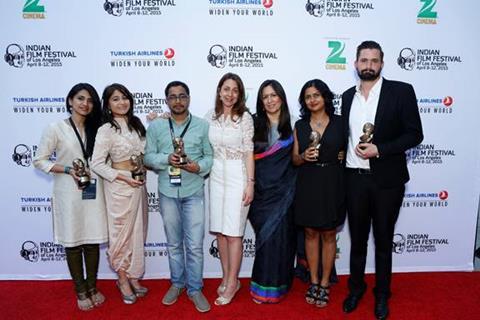 The best actress contest was a tie between Kalki Koechlin for Margarita, With A Straw and Shweta Tripathi for Haraamkhor.
Best actor was also a tie for the young brothers J Vignesh and Ramesh of The Crow's Egg.
The festival showcased 25 features and shorts overall and ended on Sunday with the US premiere of Nagesh Kukunoor's Dhanak (Rainbow).
The grand jury prize for best short was presented to Dandekar Makes A Sandwich directed by Leena Pendharker.
In the audience awards, The Crow's Egg was named best feature, Tomorrow We Disappear best documentary and Journey (Safar) best short.
Pictured are (L to R): Pratyusha Gupta (Safar), Shweta Tripathi (Haraamkhor), Bikas Mishra (Four Colors), Christina Marouda (IFFLA), Jasmine Jaisinghani (IFFLA), Leena Pendharker (Dandekar Makes A Sandwich) and Isaac Hagy (Tomorrow We Disappear).