ScreenDaily's weekly round-up of the local and independent openings in key European markets this week.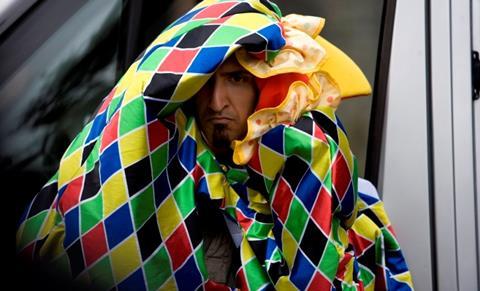 UK:
UK production Four Lions opens nationwide on Friday May 7 through Optimum Releasing. The feature debut of writer-producer-director Chris Morris, the comedy follows a group of four British jihadists as they push their convictions to the extreme. The cast includes Centurion and Rage's Riz Ahmed, alongside Kayvan Novak, Nigel Lindsay and Adeel Akhtar.
Football documentary One Night In Turin is released through Kaleidoscope Entertainment, also from May 7. James Erskine's film follows the England football team's World Cup Italia '90 campaign, led by their manager Sir Bobby Robson.

Room And A Half, director Andrey Khrzhanovskiy's account of the exiled Russian poet Joseph Brodsky, opens in key cities. Yume Pictures distributes.

Metrodome Distribution releases UK mockumentary Just For The Record in key locations. Steve Lawson directs the faux-making-of, which boasts a cast featuring Danny Dyer, Steven Berkoff, Philip Davis, Rik Mayal, Sean Pertwee, Colin Salmon and Victoria Silvstedt.

France:
Comedy L'Amour C'est Mieux A Deux will be released in France on Wednesday May 5 through StudioCanal. The romantic comedy, about two childhood friends with decidedly different beliefs about women when they grow up, hails from directors Arnaud Lemort and Canal Plus veteran Dominique Farrugia. Clovis Cornillac, Virginie Efira and Manu Payet star.
Gaspar Noe's latest – and last year's Cannes competitor – Enter The Void sees its debut this week. Described by Screen after a Cannes viewing last year as "a wild, hallucinatory mindfuck for adults" the film is about the relationship between a brother and sister and the former's after-death journey. Starring Nathaniel Brown, Paz de la Huerta and Cyril Roy, the film is a Wild Bunch Distribution release.
Comedienne Catherine Frot returns to the screen with Imogene McCarthery, a comedy caper picture from directors Alexandre Charlot and Franck Magnier. With Lambert Wilson and Daniele Lebrun also starring, the film centers on a Frenchwoman of Scottish descent who lives in London, hates the English, loves her whiskey and works for the government. When offered a mission as a secret agent, Imogene embraces the role wholeheartedly. UGC Distribution is handling the release.
Germany:
Film director David Lynch's involvement in Transcendental Meditation is addressed in David Siefeking's personal and self-mocking documentary David Wants To Fly about the global organization, which had its premiere at the Berlinale's Panorama in February. Neue Visionen is releasing on 25 screens after a premiere at Berlin's Kulturbrauerei cinema on May 5.
Bernhard Sallmann's final part of his Lausitz trilogy, Träume der Lausitz, had its world premiere at last year's DOK Leipzig festival and received the DEFA Stiftung Support Prize. Sallmann's portrait of the post-industrial, post-human landscape in the Lausitz region south-east of Berlin is being released by Salzgeber in four cinemas in Berlin, Görlitz and Hoyerswerda.
Turkish-born Su Turhan's feature debut Ayla was premiered at the Max Ophüls Preis Film Festival in Saarbrücken in January. Handled internationally by Beta Cinema, the love story is being released by Zorro Film in eight German towns.
Peter Liechti's award-winning documentary The Sound Of Insects is being given a German theatrical release by Film Kino Text. The film received the European Documentary Award – Prix ARTE at last year's European Film Awards and a Swiss Film Prize for Best Music Score in March
Spain:
Paramount Pictures International will release Julio Medem's hotly anticipated romantic drama Room In Rome on 126 prints this weekend. Medem is one of the most respected Spanish directors of his generation, and never shies away from controversy in his films, such as the ETA drama The Basque Ball: Skin Against Stone. His latest sees a passionate encounter between two women in a hotel room in Rome. Paramount will be hoping to do better at the local box office than Medem's previous two films Chaotic Ana ($1.6m) and Basque Ball ($1.3m).
Filmax will be showing Jordi Llompart's family adventure film Magic Journey To Africa on more than 150 screens across Spain. The film is Spain's first to combine real 3D images with CGI special effects and follows the journey of a little girl into the heart of Africa with beautiful landscapes and exotic animals.
Hayao Miyazaki's classic 1984 animation film Nausicaa Of The Valley Of The Wind will also get a release through Aurum on 4 prints. The film follows a warrior princess's attempts to save a dying planet.