CHINA BOX OFFICE: Universal's Fast & Furious 7 has become the highest-grossing film ever in China.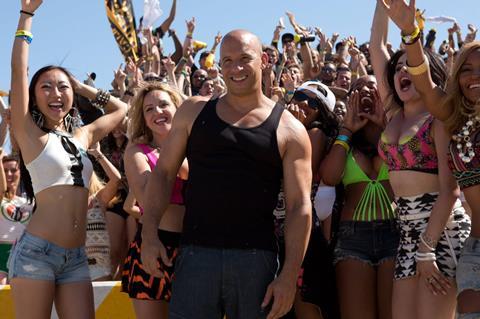 The action sequel has overtaken Transformers: Age Of Extinction with a cumulative gross of $324.31m in 15 days.
Directed by James Wan, Furious 7 grossed $72.7m from 11.5 million admissions in its second full week of release (April 20-26), according to EntGroup figures.
Transformers 4 grossed just over $320m in China when it was released in June 2014.
Despite Furious 7's ongoing success, local youth drama My Left Ear still managed to gross an impressive $31.49m from 5.8 million admissions in its opening three days. Directed by Taiwanese actor-singer Alec Su You-peng, the film is based on a popular novel written by Rao Xueman and stars Chen Duling, Ou Hao and Yang Yang.
Li Yu's youth romance Ever Since We Love came in third with $10.24m for a cumulative gross of $21.91m after 10 days, followed by DreamWorks Animation's Home, which opened in fourth position with $8.02m in three days.
Wu Jing's Wolf Warriors came in fifth with $4.92m for a cume of $84m.
It was followed by two openers – QED International's Sabotage, starring Arnold Schwarzenegger, which grossed $2.5m in three days and local romantic drama Silent Separation (aka You Are My Sunshine), which grossed $2.11m from advance ticket sales.
Scheduled for release on May 1, Silent Separation is directed by Huang Bin and Yang Wenjun and has a stellar cast headed by Huang Xiaoming, Tong Dawei, Mini Yang and Angelababy.
Rounding out the chart, Mortdecai, starring Johnny Depp, grossed $1.42m for a cume of $3.53m after 10 days; Kingsman: The Secret Service took $670,000 for a cume of $77.96m; and Annie Yi's The Queens grossed $560,000 for a cume of $2.46m.
In addition to Silent Separation, films opening this weekend include Longman Leung and Sunny Luk's action thriller Helios and Sylvia Chang's drama Murmur Of The Hearts, which recently opened the Hong Kong International Film Festival