CHINA BOX OFFICE: Local releases You Are My Sunshine and Helios slowed down but did not derail the Furious 7 juggernaut at the China box office last week, with the film grossing a further $45.63m for a cume of $370.83m.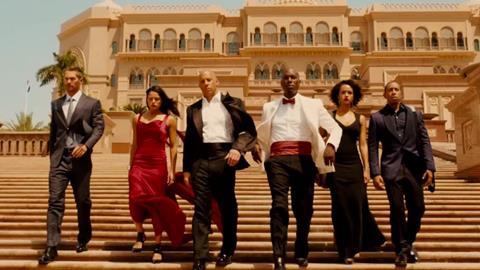 Universal's Furious 7, now the highest-grossing film ever in China, pulled in 7.2 million admissions for the week April 27-May 3, according to EntGroup figures, still topping the box office in its third week of release.
Le Vision Pictures' You Are My Sunshine (aka Silent Separation), starring Huang Xiaoming, Tong Dawei and Mini Yang, came in second grossing $37.75m in its opening four days.
It was followed by Alec Su You-peng's youth drama The Left Ear, which took $32.74m in its first full week for a cume of $64.44m after 10 days.
Longman Leung and Sunny Luk's action thriller Helios, produced by Hong Kong's Media Asia, came in fourth, grossing $20.72m in its first four days.
DreamWorks Animation's Home came in fifth with $13.29m for a cume of $21.35m after 10 days.
Wu Jing's Wolf Warriors held on in sixth position, grossing $1.81m for a cume of $85.96m after 32 days.
Li Yu's youth romance Ever Since We Love took seventh position in the chart with $1.63m for a cume of $23.6m after 17 days.
Sabotage, starring Arnold Schwarzenegger, grossed $1.26m for a cume of just $3.79m after 10 days.
It was followed by two more new releases: Niu Chaoyang's Lovers & Movies, which grossed $1.14m in its opening four days and Taiwanese filmmaker Sylvia Chang's Murmur Of The Hearts, which took $840,000 in its first four days.
Wang Xiaoshuai's Red Amnesia also opened last week, but only secured 1.32% of screenings and didn't make it into the top ten, prompting the director to take to Weibo to bemoan the problems faced by arthouse films in China.
Competition from blockbusters is only set to increase further this weekend with Avengers: Age Of Ultron opening in China on May 12.