CHINA BOX OFFICE: Universal's Furious 7 took a further $17.38m in mainland China in the week May 4-10, which kept it at the top of the box office and pushed its cumulative gross to $389.26m.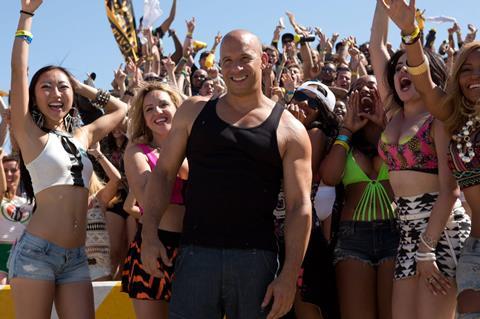 However, the film's record-breaking run looks set to end on May 12 when Disney/Marvel's Avengers: Age Of Ultron opens in China.
Le Vision Pictures' You Are My Sunshine, starring Huang Xiaoming, Tong Dawei and Mini Yang, held on to its number two position, grossing $14.33m for a cume of $52.36m after 11 days.
Longman Leung and Sunny Luk's action thriller Helios climbed to third position, grossing $10.98m for a cume of $31.86m after 11 days. It was followed by the only strong opener of the week, Neill Blomkamp's Chappie, which took $10.26m in its opening three days.
Alec Su You-peng's youth drama The Left Ear came in fifth, grossing a further $9.99m, which pushed its cume to $74.74m after 17 days. DreamWorks Animation's Home took sixth position with a weekly take of $3.97m for a cume of $25.44m after 17 days.
Rounding out the top ten, Sylvia Chang's Murmur Of The Hearts grossed $1.31m for a cume of $2.15m; Wang Xiaoshuai's Red Amnesia took $820,000 and has grossed $1.42m after 11 days; Wu Jing's Wolf Warriors pulled in a further $740,000, taking its cume to $86.86m; and local animation Alibaba And The Thief, grossed $650,000 in advance ticket sales.