Dir: Patricia Riggen. US. 2012. 92mins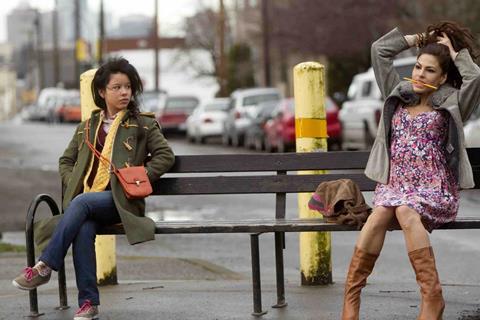 The latest in a string of independent US releases aimed at the growing Latino market, Girl In Progress is a watchable mother-daughter coming-of-age tale with a grungy Seattle backdrop but the feel of a quirky TV sitcom. A decent cast and English language dialogue will give the Panamax Films production a better chance than most of finding its target audience.
Mendes is appealing as the childlike Grace and Ramirez shows real promise as the serious-minded Ansiedad.
A limited US theatrical release through Pantelion Films - the joint venture between Lionsgate and Mexican media giant Televisa - on May 11 (Mother's Day weekend in the US) should at least set up the film, which will skew heavily female, for a solid performance on video and TV. Hispanic territories might produce modest international revenue, though probably from ancillary rather than theatrical exposure.
Eva Mendes (best known from The Other Guys, 2 Fast 2 Furious and other mainstream hits) plays single mother Grace, a hard working waitress whose struggles to pay the bills and keep up a romance with her married boyfriend (played by Matthew Modine) stop her paying enough attention to teenage daughter Ansiedad (Cierra Ramirez).
Introduced to classic coming-of-age stories by a kindly teacher (Patricia Arquette), Ansiedad decides to her accelerate her own move into womanhood and become independent of her mother.
Director Patricia Riggen (the Mexican filmmaker known for 2007 indie hit Under The Same Moon) gives the first two acts a broad comedic tone that downplays the story's more dramatic elements. The tone gets more serious when mother and daughter confront each other in the third act.
Mendes is appealing as the childlike Grace and Ramirez (who up to now has mostly worked in US TV) shows real promise as the serious-minded Ansiedad.
Production companies: Lionsgate, Pantelion Films, Televisa Films, Latitude Entertainment, Panamax Films, Oriole Leaf Films, Dilettante
International sales: Lionsgate, www.lionsgate.com
Producers: Benjamin Odell, John Fiedler
Executive producers: Jeffrey H Rosen, Barry Rosen, Fernando Perez Gavilan, Greg Coote, James McNamara, Robert Lundberg.
Screenplay: Hiram Martinez
Cinematography: Checco Varese
Production designers: Richard Paris, Linda Del Rosario
Editor: Dan Schalk
Music: Christopher Lennertz
Website: www.facebook.com/girlinprogressmovie
Main cast: Eva Mendes, Matthew Modine, Cierra Ramirez, Patricia Arquette, Eugenio Derbez