Screen reports from the ninth FrightFest strand at Glasgow Film Festival, including interviews with Zack Parker and Jordan Barker.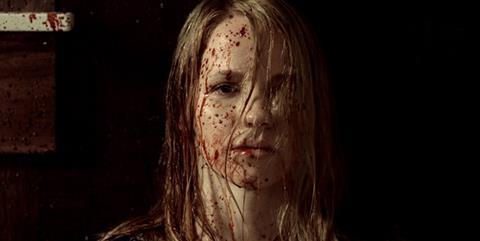 Culminating on Saturday night [March 1] with the UK premiere of the Mo Brothers' mesmerising Killers, Film4 FrightFest provided another two days of horror thrills at Glasgow Film Festival (GFF).
With the first day containing the UK premiere of Greg McLean's Wolf Creek 2 and the Scottish premiere of Ti West's The Sacrament, the ninth FrightFest run at Glasgow didn't wait long to deliver a standout.
Zack Parker's suspense thriller Proxy proved to be one of the highlights not just of FrightFest, but of the entire GFF programme, with its shifting narrative and numerous surprises.
Zack Parker, Proxy
Speaking to Screen after its UK premiere, Parker explained that the film is difficult to talk about due to its twisty nature. "I'm very interested in playing with story structure and hopefully creating a somewhat unique viewing experience for the audience, playing with the expectations they've grown up with especially if they're film savvy."
One key moment arrives midway through Proxy that turns the film on its head, almost impossible to talk about without spoiling. What can be said though is that the film starts with a shocking attack on a pregnant woman, who ends up losing the baby as a result.
So was Parker concerned about the film's darker moments? "It's a film we hoped would get a bit of attention. I really admire film-makers who deal with challenging and tough subject matter, managing to execute them in a very intelligent and beautiful way. They inspire me and I want to make a film that's hopefully challenging as well."
Proxy is Parker's fourth film and he's clear about what has changed since his debut feature Inexchange. "With every film, you learn more of what you don't know. You're trying to get clearer end results of what your intentions were from the beginning.
"Now, I'm in a position where, with the last two films, I've been able to work with some really talented people and that really helps bring you ideas into fruition. I like working with these people as I like to get their ideas on set and be less rigid, even though I want my films to have a sense of precision about them."
Parker feels that the directors he admires hit their peak in their 30s and 40s, so instead of feeling pressure from growing critical acclaim and expectation, the pressure he feels is "that I'm not getting any younger so I want to keep pushing forward as hard as I can".
He's certainly pushing himself with his next project, the first that will be filmed outside Indiana. "It's an exciting prospect. The concern is that it's a budget range I haven't dealt with before so now there's a different commercial expectation. This time around, it's almost the more traditional way: it's being solely funded through one company as opposed to me knocking on a hundred different doors to scrape together the money to make it."
Video Nasties: Draconian Days
Day two of FrightFest brought two world premieres: Jake West's documentary Video Nasties: Draconian Days and John Suits' The Scribbler. The former was the most anticipated, given the success of the previous Video Nasties documentary at FrightFest 2010.
Draconian Days is a fascinating and thorough continuation of the first documentary, and director Jake West, producer Marc Morris and the BBFC's David Hyman were on hand for a Q&A after its premiere. Mostly revolving around the audience sharing their memories from the video nasty era, the Q&A also saw West go into the origins of the 'sequel'.
"It was interesting because after we did the first film and covered the period up to the Act, I started to do interviews about what it was like when the BBFC started censoring videos," outlined West. "It became clear that I couldn't just create that as a five or ten minute section; it was an entire film in itself which led us to think we could carry the story on. You can watch the two back-to-back and it acts as one continuous film."
Starting with the Video Recordings Act of 1984, the documentary mainly revolves around James Ferman's BBFC era until 1999. Hyman (who appears in the film) feels that the documentary captures the "tightrope" Ferman had to walk without being overly anti-BBFC.
"I think it's well balanced in the sense that it shows James Ferman was caught between a rock and a hard place," explained Hyman. "His instincts were to support film-makers because he thought he could identify with them, but he also had to serve the public trust so he couldn't really please anybody most of the time."
With recent examples of censored films including The Bunny Game and The Human Centipede II, is there scope for a threequel? "When we were doing interviews, we spoke to people about the flutter of a scare about certain films but it didn't fit into this," said West. "If people want to know more than maybe we will [do another film], but the intention with this one was to get this story told and finally exorcise it."
Fittingly, Video Nasties: Draconian Days plays on July 12 at the PCC in London, 30 years to the day of the passing of the Video Recordings Act.
Jordan Barker, Torment
Featuring genre favourite Katharine Isabelle (next to be seen in the second series of Hannibal), the effectively creepy home invasion chiller Torment received its European premiere on Saturday [March 1] with director Jordan Barker in attendance.
Speaking to Screen after its screening, Barker said that as soon as the script reached his production company Gearshift Films, he knew he wanted to direct it. "It had stuff in it that reminded me of early John Carpenter, Friday the 13th and other iconic bad guys," recalled Barker. "It's hard to put a new spin on that and as silly as it may sound, cutting off the heads of stuffed animals and wearing them sounded very scary to me."
Having adapted the script slightly to involve more of the central family in the first act ("so you care when the shit hits the fan"), the film's success relied on finding the right people for these roles. "The casting was harder because each of these characters have a lot of screentime," explained Barker. "What worked in this film was that the family were at odds, so having three people who'd never met before go together with very little rehearsal time worked in our favour."
As with Parker, Torment is Barker's fourth film and he's clear what his next step as a director is. "I've always been afraid of putting my full self out there as a writer/director so I have a few scripts that I'm going to go out with. That's where the next logical evolution is for me. If you put yourself fully out there, some people might not like it, but at least its your own voice."
While genre films are what he likes, Barker's company Gearshift (which he runs with Borga Dorter) won't just be focusing on independent genre outings. "We've got a few films that if they come to fruition, it will be a much more varied palette. One of them is a romantic comedy but what drew me to that was the writer/director. You see an original voice regardless of what genre the film is."
Special features
And it wouldn't be FrightFest without the usual surprises to go with the free giveaways – posters are always a popular freebie, but strangely they couldn't even give away posters of Movie 43 this year.
Shown in two chunks over the two-day event, Night of Trailers brought 35mm trailers of gems such as Manhunter along with some not-so gems like Booby Trap and Shadow of the Hawk.
The event also saw the first-look trailer for short film She, starring Fiona Dourif, and given the positive crowd reaction to it, it's fair to say we could be seeing the full short at a FrightFest soon.
All that remains to say is: see you in August.