Dir: John Slattery. US. 2014. 89mins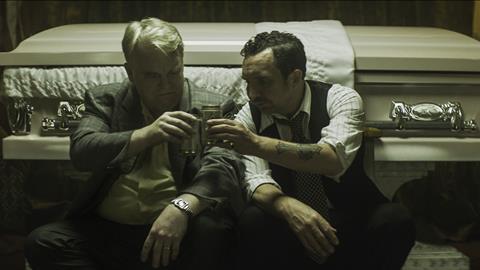 God's Pocket is populated with a collection of strange, pathetic individuals — there's not nearly enough of a story around them, but nonetheless they have a bizarre pungency to them that's somewhat hard to shake off. An unwieldy dark comedy that doubles as a slightly cockeyed portrait of economically downtrodden small-town America, the feature directorial debut of Mad Men actor John Slattery is ultimately too shaggy and tonally inconsistent to hold together.
Cinematographer Lance Acord drapes God's Pocket in grubby grandeur, giving the funeral homes, bars and rundown mom-and-pop stores a lived-in realism.
Screening in Sundance's US Dramatic Competition, God's Pocket will be helped theatrically by a cast that includes Philip Seymour Hoffman, Richard Jenkins and Slattery's Mad Men co-star Christina Hendricks. Those familiar with Pete Dexter's original novel may also be interested in giving this uneven offering a try. Still, expect God's Pocket to stick to speciality markets, with DVD and VOD decent but unspectacular commercial possibilities.
In the struggling working-stiff neighbourhood of God's Pocket, delivery driver Mickey (Hoffman) is tasked with paying for his wife Jeanie's (Hendricks) son's funeral after his tragic death on a construction site. But when Jeanie becomes convinced that his death wasn't an accident, it sets in motion a series of repercussions throughout the community, including an investigation by a boozing newspaperman named Richard (Jenkins) who is instantly smitten with the pretty, vulnerable Jeanie.
Slattery, who has directed a handful of Mad Men episodes, prefers a character-based approach to God's Pocket, allowing his cast to have standout individual moments that emphasize the protagonists' bizarre quirks but can also distract from the story. To be fair, though, God's Pocket isn't so much a tightly-plotted affair as it is a survey of desperate, discontented individuals. (The search for the truth of the son's murder is largely a red herring — an excuse to comb the seedy sections of God's Pocket for more luckless residents.) Without overdoing the local colour, Slattery gives this unspecified East Coast city the rot of economic decline, letting the diminished characters retain a shred of their dignity despite their financial tough times.
Hoffman is quite good in an understated turn, playing a nobody who dabbles in petty crime when he's not nursing a toxic gambling addiction. But the problem is that Slattery never spends enough time with any of his ensemble to give a full sense of who these people are. Hendricks' Jeanie comes across as an unsatisfied cipher, while other characters (including a buddy of Mickey's played by John Turturro) seem to be in the narrative mostly to serve as plot devices. (Turturro's blue-collar everyman owes money to some hoods, which will send the movie into unexpectedly violent terrain that's played for dark laughs.) Oddly enough, the character who resonates long after the movie is over is Richard, who starts off as a clichéd drunken writer but eventually morphs into a wistful courter of Jeanie, who doesn't seem that attracted to him but appreciates the attention, which her husband no longer shows her.
Cinematographer Lance Acord drapes God's Pocket in grubby grandeur, giving the funeral homes, bars and rundown mom-and-pop stores a lived-in realism. The film's look is consistent, but its tone isn't, shifting from graphic violence to underdog drama to screwball comedy without much warning. In a way, the schizophrenic quality is an asset, signalling the stormy moods buried underneath these sad characters' beaten-down exterior. Slattery should be commended for taking such risks with his debut, but those risks don't lead to enough rewards.
Production companies: Park Pictures Film, Cooper's Town Productions, Shoestring Pictures
International sales: Jay Cohen/The Gersh Agency, www.gershagency.com
Producers: Sam Bisbee, Jackie Kelman Bisbee, Lance Acord, John Slattery, Philip Seymour Hoffman, Emily Ziff
Executive producers: Wendy Neu, Mark Kamine, Michael Mailis, Galt Niederhoffer, Tom Valerio, Bill Perry, Frank Brenner, Stefan Sonnenfeld
Screenplay: John Slattery & Alex Metcalf, based on the novel by Pete Dexter
Cinematography: Lance Acord
Production designer: Roshelle Berliner
Editor: Tom McArdle
Music: Nathan Larson
Main cast: Philip Seymour Hoffman, Richard Jenkins, Christina Hendricks, John Turturro, Caleb Landry Jones, Eddie Marsan, Joyce Van Patten