Five Golden Globe nods for Carol rounded out an excellent week for Todd Haynes' film following the SAG nominations and will have put a smile on the face of a renowned awards season player.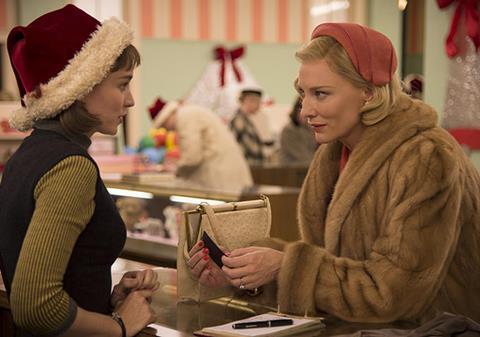 Harvey Weinstein must be rubbing his hands in glee in a week that reminded everybody of Carol's credentials and delivered Hollywood Foreign Press Association (HFPA) kudos to another film in his stable – The Hateful Eight.
Three nods for Quentin Tarantino's eighth film have highlighted a trio of rock-solid contenders that should make a splash among awards groups hereonin as the awards race begins to get interesting.
Tarantino for original screenplay, Jennifer Jason-Leigh for supporting actress and Ennio Morricone for score are surely more than a match for anybody.
The HFPA always spreads its largesse far and wide: the split between drama and comedy or musical in the film and lead acting categories ensures it keeps a lot of people happy and it is not a particularly strong portent of the more streamlined Oscar nominations for that.
But there is no denying a nod from the HFPA can inject life into a campaign and Weinstein – somewhat starved of Oscar glory in recent years by his lofty standards – will be tripling his efforts between now and February 23, when final Oscar voting closes, to establish Carol as a supreme contender.
The one downside to Carol's five nods is the lead actress head-to-head between Cate Blanchett and Rooney Mara.
No distributor wants to see this because it splits the vote. The frontrunner status of Room star Brie Larson just got stronger.
The categorisation of Mara has been elastic so far – she was classified as supporting by SAG and it remains to be seen whether she will fall in the same group when Academy voters consider their nominees.
That would set up an intriguing contest between her and Jason Leigh, who is said to deliver a mighty performance in The Hateful Eight.
The Danish Girl's Alicia Vikander has also straddled categories. She is in contention for a lead actress Globe but competes with Mara in the SAG supporting actress category.
The serious players in the lead actor race are inevitably well represented – Leonardo DiCaprio for The Revenant and Michael Fassbender for Steve Jobs must be viewed as the favourites, but there are other strong candidates.
One should never discount this year's Oscar-winner Eddie Redmayne for The Danish Girl, nor Matt Damon for The Martian. Bryan Cranston for Trumbo, who has enjoyed a spectacular week, and Will Smith for Concussion are also in the conversation.
Spotlight earned three nods and is in the running for best dramatic film. It is the clear frontrunner for the Oscar but attention should be paid to Carol.
The Globes liked The Big Short – it earned four nods including best comedy or musical and lead actor attention for Christian Bale and Steve Carell – although it is hard to see such magnanimity from the Academy in its acting nominations.
The HFPA has settled on a robust quintet of directors in Haynes for Carol, Ridley Scott for The Martian, Tom McCarthy for Spotlight, George Miller for Mad Max: Fury Road and Alejandro G Iñárritu for The Revenant.
Only Danny Boyle for Steve Jobs and Tom Hooper for The Danish Girl feel capable of breaking into the group and earning an Oscar nod come January 14 2016.
There has traditionally been some discrepancy between the HFPA's foreign-language selections and those made by the Academy.
Hungary's Son Of Saul is up for a Globe and is viewed as a lock on the Oscar too, although France's Mustang would appear to be a likely nominee and possibly The Club from Chile, one of several strong submissions from Latin America.