The Lionsgate musical enjoyed a spectacular night as it converted seven nominations into seven wins at the 74th annual Golden Globes on Sunday – but Meryl Streep stole the show.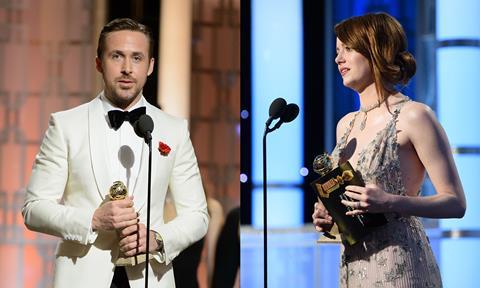 Click here for complete list of winners
La La Land won best film – musical or comedy, best actor and actress prizes from the same category for Emma Stone and Ryan Gosling in the film's marquee wins of the night.
Damien Chazelle collected prizes for best director and screenwriter and thanked his producers "for not blanching at what must have seemed like an utterly insane proposition."
The film rounded out a triumphant night at the Beverly Hilton with awards for best score and best song for 'City Of Stars'.
Meanwhile A24's Moonlight – which began the night with six nods, took the final award of the show as it was named best film – drama.
Besides Stone and Gosling, major acting honours went to Casey Affleck in the dramatic actor contest for Manchester By The Sea – the only win for the Amazon Studios / Roadside Attractions drama.
"I suspect you won't be passing on any more movies in the future that I might be anywhere nearby," Affleck said to a grinning Matt Damon in the audience, referring to the by-now-familiar story of how Damon passed on a starring role in the film.
Isabelle Huppert was named best dramatic actress for Elle, the stirring drama produced by Saïd Ben Saïd and distributed in North America by Sony Pictures Classics.
Elle also won best foreign language film. Director Paul Verhoeven accepted the award and thanks the Hollywood Foreign Press Association "for being so open-minded."
Turning to Huppert, Verhoeven said: "It has been a wonderful experience to work with Isabelle. She is so talented. I thank you Isabelle for everything you have given to this movie, for your talent for your audacity and the authenticity your performance. It was wonderful to work with you. I love you, I love you, I love you."
Accepting her prize towards the end of the show, an emotional Huppert said, "Thank you for making me win for a French film directed by a Dutch director here in America."
Huppert's sentiments touched on the theme of diversity that coursed through the show, reaching its climax in a show-stopping address by Cecil B DeMille Award recipient Meryl Streep.
The legendary actress used her time on the podium to advocate for the arts and called for press protection on the eve of the Donald Trump presidency.
She urged for a committee to safeguard journalists, "because we're going to need them going forward."
Hailing the variety of backgrounds among the evening's acting talent, Streep said: "Hollywood is crawling with foreigners and if you kick them all out you'll have nothing to watch but football and Mixed Martial Arts."
She alluded to the occasion when president-elect Trump appeared to ridicule Serge Kovaleski, a New York Times reporter with disability. Battling a hoarse voice and pausing frequently to compose herself, Streep said the incident broke her heart.
She ended on a hopeful note. "As my friend the dear, departed Princess Leia said, 'Take your broken heart, make it into art.'"
Earlier in the show host Jimmy Fallon introduced a montage of clips in honour of the late Carrie Fisher, who played Leia in the Star Wars films, and her mother Debbie Reynolds, who died within a day of each other last month.
Fences star Viola Davis was named best supporting actress on Sunday night, finally prevailing on the occasion of her fifth Golden Globe nomination.
"I'm a friend and a fan," Davis said to her co-star and director Denzel Washington, who was watching in the audience. "Thank you for being an extraordinary leader."
The show kicked off with the biggest film category shock of the night as Aaron Taylor-Johnson won best supporting actor for Nocturnal Animals.
Mahershala Ali from Moonlight had been regarded as the frontrunner. "Thank you for putting up with me," Taylor-Johnson said to his wife Sam Taylor-Johnson. "I was not very pleasant in this role."
Disney's Zootopia was named best animation
In a strong night for British TV acting talent, Netflix's The Crown won two awards: best television series – drama, and best performance by an actress in a television series – drama, for Briton Claire Foy's portrayal of the young Queen Elizabeth II.
The Night Manager earned three awards for British stars Tom Hiddleston, Olivia Colman and Hugh Laurie.
In an earlier reference to the incoming US administration, Laurie joked he was honoured to receive an award at "the last" Golden Globes. "I don't mean to be gloomy," he said, "but if it has the words 'Hollywood', 'foreign' and 'press' in the title…"
In the first two TV awards of the night, Billy Bob Thornton of Goliath won best performance by an actor in a television series - drama, while best performance by an actress in a television series - musical or comedy went to Tracee Ellis Ross for Black-ish.
The People v. O.J. Simpson won a brace of TV awards, taking best TV limited series or TV movie and best actress in that category for Sarah Paulson.