UPDATED: Hollywood Foreign Press Association (HFPA) voters like to keep everybody happy by spreading their largesse across as many contenders as possible.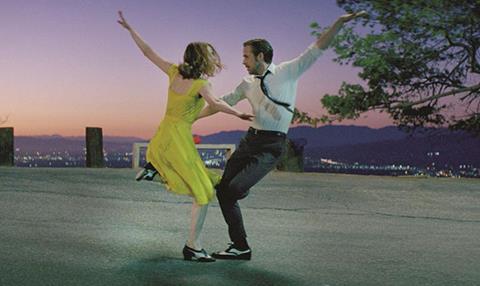 The Globes split the motion picture and lead acting categories into drama and musical or comedy, which means the HFPA manages to cover most of the contenders in some way and as such they are an unreliable gauge of what to expect from the Oscar nominations next month.
Yet it is possible to pick out a few trends that could be a factor when Academy members make their selections.
The populist nature of the Globes means the HFPA responded strongly to La La Land, which leads the way on seven nods including best picture – musical or comedy.
It is is perfectly suited to these awards but as a vital, quite profound piece of work has rightly earned recognition from a host of other bodies.
In the past two weeks La La Land has gathered steam with the New York Film Critics Circle win, a slot in the AFI Awards top ten films of the year, and Sunday's eight wins at the Critics Choice Awards including best picture. It also just delivered the second highest opening weekend average of all time for a limited release.
Silence
And yet not every star or filmmaker who poses for photos with members at the HFPA junkets wakes up to good news on days like Monday. That must be how everybody associated with Silence is feeling.
It is hard to believe that Martin Scorsese's drama failed to register a single nod, but these things happen in awards season and it may not have much bearing on how Academy voters will act.
There are around 90 HFPA members and more than 6,000 at the Academy. Different pressures and category alignment rarely makes for a clear overlap.
Besides, True Grit was ignored by the HFPA six years ago and went on to earn ten Academy Award nominations. (It didn't win a single Oscar though.)
Fences too was largely overlooked except for Denzel Washington in the dramatic actor category and Viola Davis for supporting actress.
The haunting Moonlight remains a muscular awards prospect as it has been from the start of the season among critics groups and more populist bodies.
It earned six nominations on Monday and we should expect it to figure prominently in the Academy Awards nominations. More than ever Mahershala Ali feels like the one to beat in the supporting actor category.
Best actor
Manchester By The Sea picked up five nominations and is another one of the season's finest. Casey Affleck has been the leader in the best actor race ever since the film premiered in Sundance and I believe he will win the Globe and the Oscar.
He will face a battle from Andrew Garfield, who stars in the much-fancied Hacksaw Ridge and is among the Globe nominees. Garfield is also in Silence and this could split the vote among Academy members, clearing the way for Affleck at the Oscars.
Washington is strong for Fences and should be on the lead actor list come Oscar night. Do not be surprised to see Tom Hanks, overlooked by the HFPA on Monday, among nominees for Sully. Both stars are Academy darlings and two-time winners.
Affleck need not worry about Ryan Reynolds for Deadpool or Jonah Hill for War Dogs. HFPA largesse indeed.
However their fellow musical or comedy best actor nominee Ryan Gosling is an interesting one for La La Land. He may very well win the Globe for this category if he can overcome his biggest threat – Hugh Grant for Florence Foster Jenkins.
Gosling merits an Oscar nod alongside the pick of Monday's dramatic nominees, although former Oscar winner Matthew McConaughey might squeeze into the mix for Gold.
The women's categories are dazzling. Any one of the dramatic nominees deserves to win. Amy Adams for Arrival and Natalie Portman for Jackie were the shoo-ins for Globe nods alongside Ruth Negga for Loving. Davis for Fences is categorised as a supporting actress by the HFPA.
Best actress
Jessica Chastain is the outsider here for Miss Sloane, although her performance is as strong as anybody's. I would expect to see her make way for Annette Bening for 20th Century Woman in the Oscar race, while Elle's Isabelle Huppert has been so strong in recent weeks. La La Land star Emma Stone should earn an Oscar nomination and she is the frontrunner at the Globes for comedy or musical.
The HFPA has chosen a mighty roster of directors and while it is too close to call a winner, I would expect to see Barry Jenkins for Moonlight, Mel Gibson for Hacksaw Ridge and Damien Chazelle for La La Land among the Academy Awards contenders.
Gibson enjoyed a good day as Hacksaw Ridge earned three nods and he appears to be out of Hollywood jail following his ill-advised behaviour of the past.
Kenneth Lonergan is deservedly among the director nominees for Manchester By The Sea and also gets a screenplay nod – he is arguably the greatest US dramatist of his generation so how could he not? However Academy voters may favour Washington for Fences and Scorsese for Silence over Lonergan in the directing contest.
Animation looks rock solid and foreign language has strong selections, notably European Film Awards winner Toni Erdmann, as well as Neruda and Elle.
It is worth noting that while Lionsgate titles earned 17 nods and A24 titles garnered nine, films that Sierra/Affinity licensed internationally earned ten: five for Manchester By The Sea, three for Hell Or High Water, and one apiece for Captain Fantastic and Gold.
This article was updated on December 14 to reflect the fact that Viola Davis is regarded as a supporting actress contender across the awards groups.