Dir/scr: Veronika Franz, Severin Fiala. Austria. 2014. 99mins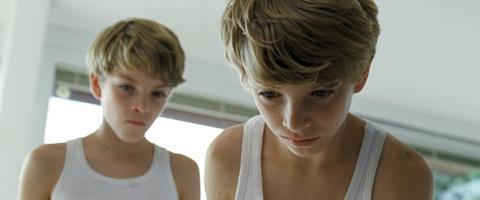 Rarely has auteur horror been done so atmospherically and with such deft control of tension as in the chilly, creepy, beautifully shot identical twin yarn Goodnight Mommy (Ich Seh, Ich Seh). Debut dramatic feature directors Veronika Franz and Severin Fiala are respectively the wife and nephew of Austrian dour-meister Ulrich Seidl, who produced the film, but apart from a shared interest in the permeable border between love and cruelty there's no sense here that they stand creatively in his shadow.
Brilliantly cast, and impressive in the roles, Lukas and Elias (the actors and characters share the same name) are vulnerable blond angels with a gleam of sadism in their eyes.
Picked up by Paris-based sales company Films Distribution on the eve of its Venice world premiere, this Toronto-bound title should stir interest among arthouse distrbutors with a penchant for classy genre fare. However, it's not for the faint-hearted: there were several walkouts during the film's Venice screening, mostly locals traumatised not just by certain difficult-to-watch scenes but also, one suspects, by the very idea that an angelic pair of sons would choose to torture their mother rather than place her on a pedestal.
Told laconically, via scenes that, we come to realise, are not always in chronological order, the film has a cold, dreamlike quality that is emphasised by the setting: a cool, concrete and glass modernist country house isolated amidst woods, fields and lakes. After an introductory clip from the Sound of Music – in which the Von Trapp family sing a lullaby – we follow identical twins Lukas and Elias (played impressively by the real life Schwarz brothers) as they spend their time playing in the high corn, collecting bugs, swimming in lakes. All of a sudden, mummy (Susanne Wuest) is home, but she's not the mother they remember: her head is entirely swathed in bandages, with just two ghostlike eyeholes and a mouth slit.
She's a TV presenter, and the assumption is that she's just returned home after a major facelift; but the twins are suspicious. She spends most of the day inside with the blinds down and the curtains pulled; and she seems to have hardened, punishing them for small misdemeanours. There are quieter family moments, to be sure – but during one of these, she entirely fails to work out that she is 'Mommy' in a guessing game involving forehead post-its.
Brilliantly cast, and impressive in the roles, Lukas and Elias (the actors and characters share the same name) are vulnerable blond angels with a gleam of sadism in their eyes. They collect cockroaches but adopt a sick cat, they plot together and wear scary homemade devil masks, but they're also real ten-year-old boys who seem genuinely distressed by the mum's emotional distance and occasional rages. A queasy 'who do we trust?' tension is set up, and before long we too are beginning to suspect mummy of being an interloper - especially when the twins find an old photograph of her with a girl who is her spitting image.
There is, of course, a twist, in true Sixth Sense style – but for most of the audience it will be an unexpected one, and even those who get it early will find much to enjoy in a film that is as much about the masterful, incremental racking up of suspense and the creation of a grey zone between dream and reality as it is about trying to guess what's really going on. When you do, you'll find yourself replaying the film in your head, reinterpreting certain scenes. Even then, not everything offers itself up to easy explanation: like its three main characters, this is a film whose whose reserve and mystery we never fully penetrate.
Production company: Ulrich Seidl Film Produktion
International sales: Films Distribution, info@filmsdistribution.com
Producer: Ulrich Seidl
Cinematography: Martin Gschlacht
Editor: Michael Palm
Production designers: Johannes Salat, Hubert Klausner
Music: based on compositions by Olga Neuwirth
Main cast: Susanne Wuest, Lukas Schwarz, Elias Schwarz