The industry crowd cheers for the pitch of Babis Makrides' L.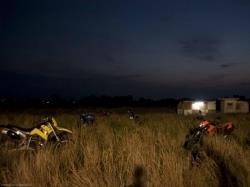 At the Works In Progress pitching sessions in Karlovy Vary today, there was a clear audience favourite, judging from crowd reaction.
That was the Greek film L, which based on a short clip seems to be indescribable in terms of plot (except that involves a deadpan guy exchanging his car for a motorbike). The film was listed as a drama certainly seem to be in the vein of stylised, even absurdist dark comedy, and it drew the day's first laughs and cheers from a full industry audience at KVIFF. (That film still above doesn't capture much of what we saw.)
The director is Babis Makrides, who makes his feature directorial debut after working in commercials (reel here), music videos, and shorts (The Last Fakir). Producer Amanda Livanou of Beben Films presented the project today.
L was shot around Athens this spring on 35mm and it should be finished in late autumn, Livanou said. The team is now looking for international sales companies and festival interest.
Even the moderator remarked: "The Greeks get funnier and funnier."
Meanwhile, KVIFF is also presenting a special programme this year devoted to Young Greek Cinema, from Attenberg to to Wasted Youth to Strella.
Among the other 23 pitches in Works In Progress, I was also very impressed by Aldo Tardozzi's Spots (Fleke), a stylish, youthful drama/thriller from Croatia that has just been confirmed for official Competition in Sarajevo (website here); and Filip Marczewski's Polish drama Camphor (Kamfora) — the title may be changing to Such a Love, which combines themes about neo-Nazi-ism, gypsies and incest [Kino Swiat already has local distribution rights].
Another charmer was Croatian director Igor Mirkovic's Night Boats (www.nightboats.com) about two people who find love in a retirement home.