Dir: Nanni Moretti. Italy-France. 2011. 104 mins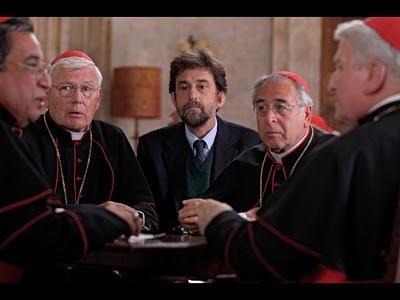 A delightfully underplayed turn from Michel Piccoli as a newly-elected Pope paralysed by feelings of inadequacy, a large dose of widescreen confidence and some moments of delicate human observation fail to make up for the unresolved feel of Nanni Moretti's long-awaited Vatican film, which seems to share its protagonist's fear of commitment.
This film is making points about human frailty and our misguided attempts to control our fate.
Fascinating and frustrating in equal measure, and less funny than one might expect, Habemus Papam (We Have A Pope) hits a genuinely fresh and graceful note in its opening conclave scenes but soon becomes just another meandering and off-the-wall Nanni Moretti comedy mixing Freud, God, Darwin, Chekhov and volleyball – and then struggles to regain its human touch in time for what should be (and almost is) a powerful ending.
Still, for much of its length this is a more playful and more likable excursion than Moretti's last, the tortuous Berlusconi-inspired political satire The Caiman. With its upscale production values and sumptuous recreation of what happens behind the scenes at the Papal conclave – including a Cinecittà-built Sistine Chapel interior – it may also prove to be the director's most commercially successful film to date (it's certainly his most expensive, with a budget of 8 million euros).
Long fascinated by religion – he played a young priest facing a crisis of faith in the underrated and underseen The Mass Is Ended (1985) – Moretti keeps the Catholic satire gentle and sympathetic, veined even with a certain spiritual yearning, and there may be some crossover trade from curious Christian filmgoers. But mostly the film, which opened on April 15 in Italy on a record (for the director) 450 copies, will reach out to a wider than usual version of Moretti's core cineaste audience. It's likely to play in a few more territories than The Caiman, and should appeal to those who liked the quirky charm of the director's 1993 breakout title Caro Diario but haven't taken a gamble on him since then.
Opening with scenes that splice in genuine footage of John Paul II's funeral, Habemus Papam initially puts not a foot wrong in its establishment of tone, first prompting the audience to share in the low murmur of devout expectation that rises from the crowds gathered in St Peter's Square, before segueing into a procession of cardinals reciting their saintly 'ora pro nobis' devotions as they file into the Sistine Chapel to elect a new pontiff, with touches of comedy arising only through the inane gabble of a superficial TV anchorman and a hint of growing absurdity in the names of the saints being chanted.
Inside the chapel, after a couple of 'fumate nere' (hung ballots, announced by black smoke from the Chapel's chimney) the conclave reaches a seemingly miraculous consensus around a dark horse candidate, Cardinal Melville (Piccoli), a mild-mannered prelate whose nationality is never mentioned. Melville initially accepts the papacy, but as he is about to be presented to the crowds in the square he bottles out, revealing in his refusal to cooperate with the anxious cardinals and modern, media-oriented Vatican spokesman (Stuhr) a childlike, inarticulate stubbornness.
The Italian trailer sells the film as a Vatican variation on Analyse This, with Moretti's arrogant (and atheist) therapist character, Professor Brezzi, being given the task of sorting out the self-doubting Pope. But in fact there's just one amusing (but dramatically flat) scene between the two, and soon the uncertain Melville, aka His Holiness, and the cocky Brezzi have gone their separate ways – the pope-in-denial having managed to escape from his minders into the urban jungle of Rome after a session with Brezzi's therapist ex-wife (Buy), while il professore cools his heels inside the Vatican, where conclave rules still apply – no leaving the premises, no mobile phones, no contact with the outside world.
It's here that Habemus Papam loses its way. The letdown begins, paradoxically, with Moretti's entrance – like Woody Allen the director always plays versions of himself, and though his trademark control freakery and short temper generate genuinely funny episodes (as in a cardinals' card game where he makes up a fourth), his tendency to monologue while others are trying to dialogue and his ironic collusion with the audience turns what might have been a genuinely sensitive moral comedy into Nanni's latest performance.
Sure, it's fun to see elderly cardinals playing volleyball in the international tournament Brezzi organises in a Vatican courtyard to pass the time, but with its echoes of Palombella Rossa (Red Lob), Moretti's 1989 film that mixed Marxism with water-polo, this interlude seems little more than a directorial mannerism.
So does the Chekhov theme that runs through the errant Pope's pilgrim's progress through Rome, when he falls in with a theatrical troupe that is rehearsing The Seagull: yes, like that play, this film is making points about human frailty and our misguided attempts to control our fate, but the arcane and not particularly funny symbolism of these overlong theatrical episodes do little for the audience and feel like an intellectual smokescreen, as if Moretti were afraid of telling a simple story simply.
Themes (like the Moby Dick suggestions in Melville's name) and references (including a couple of other nods at Moretti's back catalogue) hang like apples on the Tree of Knowledge in Habemus Papam, but the director seems to care little whether we bite into them or not.
Pin-sharp widescreen photography, the lush choreography and costumes of the scarlet-clad cardinals, Franco Piersanti's densely scored classical orchestral soundtrack, and above all the sense of real pathos in the central story of a man crushed by the God-given responsibility that has been thrust upon him all build a sense of anticipation.
We're gunning for this to be the comic equivalent to the director's family tragedy The Son's Room – a universally relevant story with its eye fully on its dramatic object, here the reluctant Pope, played (and scripted) with some finesse as a near-silent everyman role. But Moretti seems so terrified of the easy solution, the comedy of manners and of the soul that would make a three-act story out of a poor paralysed Pope, a frantic Vatican spokesman and an arrogant analyst, that he takes deliberate aim and shoots his film in the foot. And yet, despite the ensuing limp, the film's anti-feelgood conclusion does have a certain moral authority.
Production companies: Sacher Film, Fandango, Le Pacte, France 3 Cinema
International sales: Fandango Portobello Sales, sales@fandangoportobello.com
Producers: Nanni Moretti, Domenico Procacci
Screenplay: Nanni Moretti, Francesco Piccolo, Federica Pontremoli
Cinematography: Alessandro Pesci
Production design: Paola Bizzari
Editor: Esmeralda Calabria
Music: Franco Piersanti
Website: www.habemuspapam.it
Main cast: Michel Piccoli, Nanni Moretti, Renato Scarpa, Jerzy Stuhr, Franco Graziosi, Camillo Milli, Roberto Nobile, Margherita Buy