Hansal Mehta discusses his latest film Aligarh, about the victimisation of a gay university professor, which played as the opening film of this year's Mumbai Film Festival.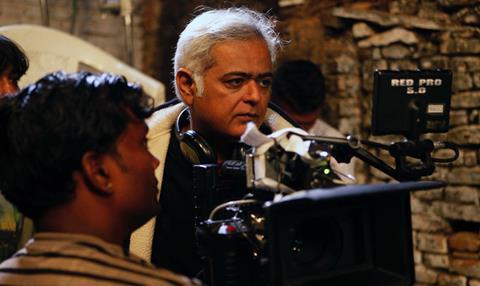 Screening as the opening film of this year's Mumbai Film Festival (Oct 29-Nov 5), Hansal Mehta's Aligarh is based on the true story of a university professor who lost his job when he was caught on camera having consensual sex with another man inside his own apartment.
Manoj Bajpayee (Gangs Of Wasseypur) plays the professor, while Rajkummar Rao (Shahid) plays a young journalist determined to uncover the truth behind the sting operation that cost the professor his job.
After premiering at this year's Busan International Film Festival, Aligarh also played at the BFI London Film Festival. Although resolutely independent in its voice, the film was financed by Indian studio Eros International, which co-produced with Mehta's Karma Pictures.
Mehta began his directing career with critically acclaimed films such as legal drama Jayate (1998) and gangster film Chhal (2001), before embarking on what he describes as an unsuccessful foray into mainstream Bollywood. He returned to story-driven filmmaking with award-winning drama Shahid (2012), distributed by Disney UTV, and City Lights (2014), a Hindi adaptation of Metro Manila, backed by Fox Star Studios.
Q: What made you decide to tackle this story?
A: I have an obsession with stories about people who are marginalised. This particular story ended up in my email inbox – a woman working in PR sent me a short synopsis, which I found intriguing, so I bought the story from her. I sent it to my long-time editor, Apurva Asrani, who was at the point where he was ready to write. He wrote the script and the girl who sent me the idea did some preliminary research, which we used to flesh out the story.
Q: Were you nervous about making a gay-themed film in India?
A: The film is set during that short period when homosexuality was decriminalised in India, but I didn't see it as a film about homosexuality. I saw it as a film about the invasion of somebody's privacy. This man was a poet and a teacher and all he wanted was to be left alone. All he wanted was his music and whisky in the evening and some intimacy in his own private space and yet that was invaded and his sexuality became the subject of public debate. For me that was far more disturbing.
Q: How did you go about pitching the film and raising finance?
A: My previous two films had met with some sort of critical and commercial success so the market was more receptive to me. I think my films are seen as telling a certain kind of human story and appealing to a larger audience because of the simplicity in the way they're narrated. So I pitched this to Eros and it took them five minutes to say let's go ahead. I can't say I worked hard to pitch the film.
I really believe that if you want to change the system, you need to work within the system and slowly subvert it, rather than try to create an entirely new ecosystem, which hampers your journey as a filmmaker. I've made my last three films with studios and yet managed to retain my own voice.
Q: But how do you manage to retain your voice within the Bollywood studio system?
A: I use the budget as my selling tool – if something can be made for two million dollars, I would rather make it for one million. I'm a fairly disciplined filmmaker so what I pitch is the budget – here is a unique subject that can be made at a cost that is attractive and with respectable actors who have had some sort of mainstream success.
As filmmakers, we always complain about not getting to make the films we want to, but I always tell the people who work with me as interns to get trained in budgeting a film. I think that is crucial. You can either maximise profit or you can minimise loss and I'm in the business of minimising loss. Cinema is an art but it's an expensive art and I don't shy away from talking business.
Q: How did Manoj Bajpayee prepare for the role?
A: He always works very hard on his characters. In this case, the professor teaches and speaks Marathi [the language of the Indian state of Maharashtra] so he spent some time picking up the nuances and getting acquainted with Marathi music and poetry. He also had to acquire the age of the character, who is 20 years older than Manoj, but its difficult to separate the actor from the character when you see him in the film.
Q: Did you use a lot of Marathi dialogue in the film?
A: No because I want my films to be accessible. These stories need to be told and if I want to provoke debate about privacy, attitudes towards homosexuality and the rights of the marginalised – I have to make my films accessible to a wider audience.
Q: The professor commits suicide but there's a suggestion in the film that he was poisoned. Who do you think killed him?
A: I don't know – my film touches on the broader aspect of this question. Really it was society as a whole that killed him with their invasion into his private life. They invaded his private space and became judgmental about him as a person and poet because of his sexuality. Society expects you to be either very judgmental or to wear your sexuality on your sleeve, become an activist and start protesting for those rights. This man did not want his sexuality to be out in the open and yet he ended up becoming a poster boy for the activists.
Q: What is your take on current independent cinema in India? It seems there are many new voices, but they're struggling to get their films released.
A: Yes it's tough for independent filmmakers in India – but that is true everywhere. It's a threat to the system when you have strong, individual voices. But there are so many vibrant, distinct voices in India right now. The turning point seemed to come around 2011 and the past year has again been spectacular with films like Masaan, Court and Talvar. I think it's an organic process – India had a vibrant parallel cinema in the '80s but it died because filmmakers were churning out the same kind of films. That death is necessary for evolution. And I think that somewhere this whole technology shift from film to digital has enabled filmmakers to smell the possibilities.
Q: Can you talk about your upcoming biopic of Sanjay Gandhi?
A: I bought the rights to a book by Vinod Mehta – the former editor of Outlook magazine who passed away earlier this year – about Sanjay Gandhi and his role in the Indian Emergency. I'm fascinated by this period as it's a black hole in our history when democracy was completely dismantled. I was a kid then and too young to really understand what was happening. But nobody talks about it to this day. It's important for future generations to know the mistakes that we made. The project is still under development and I'm doing two other films before then.