Paramount's 3D action horror records $2.3m (£1.5m) debut, including previews, to topple Disney's Wreck-It Ralph.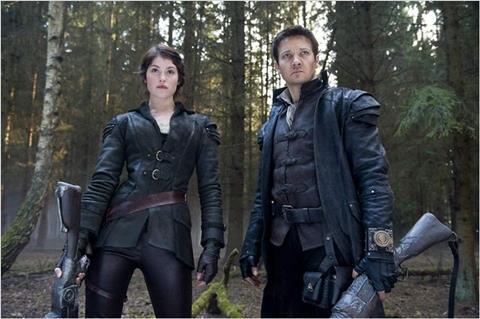 Aided by $608,000 (£404,599) from two days of previews, Hansel & Gretel: Witch Hunters has debuted top of the UK box office.
Paramount's 3D action horror sliced its way to an overall opening of $2.3m (£1.5m) from its 405 sites, although it's worth noting that were it not for the previews, its $1.6m (£1.1m) Fri-Sun weekend would have only seen it chart second.
Its opening is behind that of recent takes on beloved fairy tales such as Mirror Mirror ($3.6m/£2.4m) and Snow White & The Huntsman ($5.4m/£3.6m), although both of those carried a family-friendly certificate (PG and 12A, respectively) compared to Hansel & Gretel: Witch Hunters' 15 certificate.
As it was with A Good Day to Die Hard's UK debut, Wreck-It Ralph dropped to second as a result of the preview-boosted UK opening of Hansel & Gretel: Witch Hunters.
Disney can still be mightily pleased with Wreck-It Ralph's fourth weekend though as a further $2.1m (£1.4m) saw it past the £20m mark in the UK to stand at $30.72m (£20.43m). That puts the 3D animation set in the world of arcade games narrowly behind Tangled's $30.79m (£20.47m) which it will surpass this week.
Thanks to an excellent holdover, Universal's Mama retained third spot for the second consecutive week as it scared up an additional $1.6m (£1.1m).
That puts Andrés Muschietti's feature debut at $5.2m (£3.5m) in the UK after ten days in play, topping the $3.6m (£2.4m) achieved by House at the End of the Street and close behind the $5.3m (£3.51m) grossed by The Possession in terms of recent original horrors in the UK.
Also for Universal, Les Misérables added $759,000 (£504,000) for $58.5m (£38.9m) so far.
Fox's A Good Day to Die Hard fell around 50% in its third weekend on its way to $1.2m (£823,032) for $14.5m (£9.6m) to date.
The fifth instalment in the popular action franchise is close to overtaking Die Hard with a Vengeance's $15.3m (£10.2m) UK tally to become the second highest grossing Die Hard film.
Also for Fox, Park Chan-wook's Stoker recorded a solid UK debut of $552,000 (£367,087) from its 261 sites to round off this week's top ten. Positive word-of-mouth could see the 18-rated arthouse horror enjoy sturdy returns midweek and a healthy run in the UK.
Rounding off this week's top five was another new entry in the form of Momentum's Safe Haven, which recorded a non-final debut of around $1.2m (£810,000) for director Lasse Hallström's fourth-best UK debut.
In terms of adaptations of Nicholas Sparks' novels, Safe Haven ranks as the third best debut behind Hallström's Dear John ($3m/£2m) and Scott Hicks' The Lucky One ($1.7m/£1.2m).
Following its three wins at the Oscars, including Best Picture, Warner Bros' Argo enjoyed a boost of around 70% in the UK to jump back into the top ten in its 17th week. Ben Affleck's thriller grossed $613,000 (£407,397) to cross the £7m mark and stand at $10.6m (£7.1m) to date.
Also for Warner Bros, Cloud Atlas added $419,000 (£278,285) for $1.7m (£1.2m).
StudioCanal's Broken City debuted with $752,000 (£499,283) from its 318 sites, while the distributor's romantic comedy I Give It A Year has now grossed $8.7m (£5.8m).
Koch Media enjoyed a fruitful start to UK distribution as Arbitrage scored a $606,000 (£402,873) debut from its 214 sites. Next up for the distributor is action remake Red Dawn on March 15.
Having expanded into ten more screens as a result of the BFI Sleeper award [see separate story here], Artificial Eye's Lore grossed $66,000 (£44,042) for $227,000 (£150,763) after ten days in play.
This week sees saturation releases for Paramount's The Guilt Trip, Disney's Oz: The Great and Powerful and eOne's Parker and Side Effects. Warner Bros' Fire with Fire and Momentum's Robot & Frank both receive wide releases, while StudioCanal's Broken is among the films receiving a limited release.