Dir/scr: Emir Baigazin. Kazakhstan-Germany-France. 2013. 113mins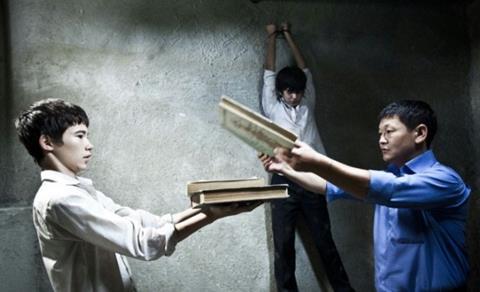 At first director Emir Baigazin's debut feature, set in rural Kazakhstan, seems to be shaping up to be yet another of those worthy world cinema titles in which families eke out a meagre living in a harsh landscape. But before long, Harmony Lessons turns into something far more rich and strange: an existential coming-of-age revenge movie.
Harmony Lessons is as dense with symbols and narrative sideshows as a Kazakh pilaf.
Intriguing, laconic, mysterious (occasionally a little too much so for its own good), Harmony Lessons derives much of its impact from a script that keeps us guessing throughout and from the committed performances of its non-professional adolescent cast – especially Timur Aidarbekov (who was discovered in an orphanage) as the film's sensitive, intense schoolboy hero and Aslan Anarbayev as the bully who victimises him.
Though the pace is measured and the final act overlong and overscripted, the film's well-received Berlinale competition press screening proved that Harmony Lessons has the ability to hold an audience. The challenge will be to pitch it to the right one. The aridly beautiful landscape of the steppes and the daily life of a remote Kazakh high school provide plenty of local colour, but this Himalaya-meets-Hitchcock hybrid is not an uncomplicated feelgood ethnic number like previous Kazakhi arthouse charmer Tulpan.
Perhaps the most compelling and original aspect of the film is its dual nature as revenge thriller and magical-realist-tinged rite of passage. That the two strands manage to coexist, most of the time, without undermining each other, is tribute to Baigazin's finely-tuned script. We first see Aidarbekov's character Aslan chasing a sheep around the yard of the remote farmhouse where he lives with his elderly grandmother. It's funny; but then it isn't, as Aslan shackles the sheep, cuts it throat and begins patiently to skin and disembowel it with his grandmother's help. It's as if the director is sending out an early message to his audience to say: if you think life is cute here on the steppes, think again.
Aslan, who at a guess is sixteen, is an introverted lad of few words. He's picked on by school bully Bolat (Anarbayev) and his gang and ostracised after a prank in which he is persuaded to drink a glass of water with an unsavoury past; as a result, Aslan begins washing himself obsessively. An ace physics student, he also collects cockroaches and electrocutes them in inventive ways before feeding them to lizards he has caught (the film feels briefly Lynchian in these scenes, but it's a passing impression).
Bolat is running an extortion racket in his year on behalf of two hardcase twins in the senior year; he tells Aslan's classmates that they are not to sit next to him or talk to him. A tentative attraction to a female classmate, Mirsayani (Andassov), comes to nothing, but help finally arrives in the form of Azkhan (Adilbekova), a student newly arrived from the city, who befriends Aslan and defies the bullies, at least for a while.
Shot in a series of carefully composed, fixed-camera shots, with cinematographer and production designer bringing out the pastels and half-tones of landscape and school buildings, Harmony Lessons is as dense with symbols and narrative sideshows as a Kazakh pilaf. Not everything adds up; the rise of fundamentalist Islam in liberal-Muslim Kazakhstan, for example, is alluded to several times without really being developed. More intriguing – though equally allusive – is the film's play with geometrical forms. Aslan wears a triangular amulet around his neck; he draws squares within circles and makes an origami lotus; and a geometrical diagram he and Azkhan draw in their exercise books will turn out to have an unexpected bearing on the plot.
Is Aslan's school with its distant teachers who turn a blind eye to tyranny and violence a metaphor for Kazakh society at large? The question is left hanging; but the film works on so many other levels – including that of a parable of an age when childish toys must be put aside – that it hardly matters.
Production companies: JCS Kazakhfilm, The Post Republic Halle, Rohfilm, Arizona Productions
International sales: Films Distribution, www.filmsdistribution.com
Producer: Anna Katchko
Co-producers: Rebekka Garrido, Michael Reuter, Karsten Stoter, Benny Drechsel, Guillaume de Seille
Cinematography: Aziz Zhambakiyev
Editor: Emir Baigazin
Production designer: Yuliya Levitskaya
Main cast: Timur Aidarbekov, Aslan Anarbayev, Mukhtar Andassov, Anelya Adilbekova, Bibitzhan Muslimov, Omar Adilov