Dir. Daniel Barber. UK. 2009. 97 mins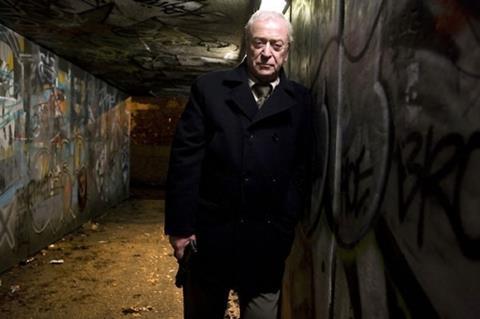 Michael Caine follows in Charles Bronson's footsteps as a vigilante pensioner in Harry Brown, a morally dubious thriller that is uncomfortably torn between social realism and lurid sensationalism. The feature debut of director Daniel Barber is sure to gain media attention for its grim portrait of a lawless Britain, but the graphic violence and often grotesque approach to the subject matter will prove off-putting to many viewers.
There is no mistaking the quality of Caine's performance
Caine retains a loyal following in the UK and positive reviews for his performance should ensure a decent theatrical life for the title when it opens domestically in November. Internationally, it could face a rougher ride.
Harry Brown feels like a film of two halves. The first offers a portrait of a lonely old age to rank alongside Bryan Forbes' The Whisperers (1966). Caine is the consummate professional and gives a performance devoid of vanity as he plays the elderly Harry.
Living in a hellhole of a London housing estate, Harry's life revolves around hospital visits to his ailing wife and games of chess with his old mate Len (David Bradley). Ashen-faced, with rheumy eyes and a shuffling walk, Caine is every inch a man at the end of his days.
When his wife dies and Len is killed, the world closes in around him. And when the police are unable to prosecute the youths who murdered Len, Harry decides to take the law into his own hands. Like Clint Eastwood in Gran Torino, he's a former Marine who is handy with a gun or a knife and he's also merciless in his approach to young offenders.
A film that initially shows an affinity with the social concerns of a Ken Loach feature slowly begins to venture into Michael Winner territory. Harry's brutal encounter with sleazy scumbag Stretch (Sean Harris at his most repellent) tips the balance away from reality towards the more outlandish.
The estate becomes a place overrun with feral young lads, dealing drugs in the local pub, spitting in the face of authority and brandishing guns at the slightest provocation. The police are either well-intentioned but ineffectual like inspector Alice Frampton (Emily Mortimer) or smugly complacent in the case of Superintendent Charles (Iain Glen).
It almost feels as if Barber has pushed the portrait of social decay to Bosch-like extremes as a way of justifying the violence that Harry unleashes and letting the film off the hook. Harry Brown is ultimately a celebration of a vigilante ethos, suggesting that when there's a junkie on every corner and decent folk are too scared to leave their homes, then we need a maverick like Harry to come along and commit mass murder.
Cinematographer Martin Ruhe does an effective job of depicting a Britain in shades of black and grey and Barber has a talent for milking tension from an individual scene although there are enough moments that fail to ring true (including a police raid on the estate) to undermine the film's overall credibility.
But while Harry Brown is a film that leaves the viewer with doubts and misgivings, there is no mistaking the quality of Caine's performance. He is completely believable as the character, whether conveying his frailty or his dead-eyed determination to stand up and be counted. He gives the film a stamp of distinction that it otherwise struggles to deserve.
To sign up for Screen's weekly Reviews Newsletter with all the week's new releases, internationalopenings and full festival reviews delivered free to your mailbox every Friday, please click HERE
Production Company
MARV Partners
International sales
Hanway Films
(44) 207 290-0750

Producers
Kris Thykier
Matthew Vaughn
Matthew Brown
Keith Bell
Screenplay
Gary Young
Cinematography
Martin Ruhe
Production design
Kave Quinn
Editor
Joe Walker
Music
Martin Phipps
Ruth Barrett
Main cast
Michael Caine
Emily Mortimer
Charlie Creed-Miles
Iain Glen
Liam Cunningham