Potter becomes 17th biggest international film after second weekend as Korea and India see local successes.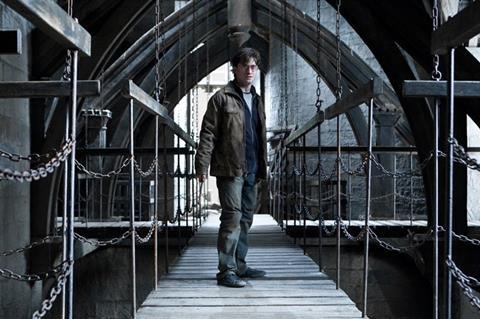 Despite a hefty 55% week-on-week drop in international box office, the latest Harry Potter is racing up the all-time international chart.
On its holdover weekend the mega-hit overtook Jurassic Park, The Dark Knight, Lord Of The Ring': The Fellowship Of The Ring and the current second best film on the international stage Paramount's Transformers: Dark Side Of The Moon to reach 17th.
With a cumulative international total of $564.4m after its second weekend (latest reports have the film at over $600m), the latest in the franchise should break into the top ten soon after its China opening on August 4.
However, the brakes are on faster than many expected.
In addition to the huge domestic holdover drop of 72%, Hallows: Part 2 saw a drop of 55% on the international scene, a 15% bigger drop than Deathly Hallows: Part 1 in its equivalent weekend. The latest instalment only took $4m more than its predecessor from 436 more screens.
Indeed a string of alternatives benefitted from Potter's (relative) decline, with Transformers improving 97% in its fourth week and fourth-placed Mr Popper's Penguins 72%.
With summer holidays getting underway, US fare dominated the international scene accounting for nine of the top ten films.
Reliance's Singham was the only non-US entry, debuting in fifth position on $10.5m from 1,974 screens at an average of $5,331 in 31 territories.
Rohit Shetty's Hindi language crime-drama stars Ajay Degan and Kajal Aggarwal in the story of a humiliated gangster who uses his influence to terrorize a newly transferred police officer.
There were huge improvements for local products in Korea with Showbox's war drama The Front Line jumping to second spot after a $4m haul and CJ E&M Corporation's Quick moving up to third after grossing $3.2m.
In Japan the battle of the second and third-placed animes heated up as Kokuriko-zaka Kara closed the gap on second-placed Pokemon: Best Wishes. Pokemon added $3.6m for $17.1m while Kokuriko, which is playing on 106 more screens than its Pokemon, took $3.4m for $14.7m.
Fox's Assalto ao Banco Central opened in second in Brazil, taking $2.5m from 305 screens at an average of $8,359.