Norwegian actress and filmmaker announces end to directing on panel with fellow filmmakers Pernilla August and Iram Haq.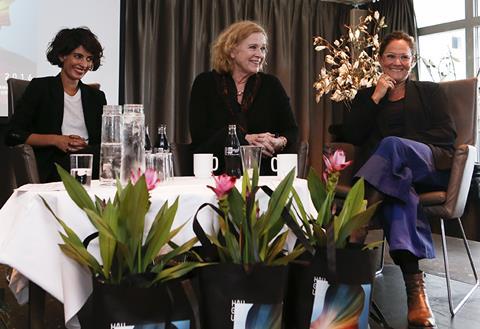 Norwegian actress and filmmaker Liv Ullmann, the two-time Oscar nominee and director of films including Cannes competition title Faithless, has announced that she doesn't plan to direct again.
Ullmann made the announcement during a talk today at Haugesund's Norwegian International Film Festival.
"I don't want to direct anymore," she said during the festival's annual public talk, The Amanda Conversation.
"I want to use my strength to act in a film - there I can use it with a sensitive director, and write. I took that decision right now," the 77-year-old veteran said with a smile.
As an actress, she is hoping to work with Anthony Hopkins in 2017 on an as yet unannounced film. The duo previously worked together on 1977 feature A Bridge Too Far.
Challenges
This year's Amanda Conversation was between Ullmann, whose most recent directorial feature was 2014's Miss Julie, and two other actresses who went on to direct: Sweden's Pernilla August (A Serious Game) and Norway's Iram Haq (I Am Yours).
Each woman agreed they had faced challenges as female directors – mostly due to logistics of raising children at the same time as making films.
Haq recalled being a single mother and travelling to film festivals: "Everyone asks, 'Who is taking care of your son?' It made me feel shit. I wonder how many men get asked that."
But Haq noted that she hadn't felt direct gender discrimination, only trouble when she was younger and financiers didn't think she had enough experience behind the camera.
"I felt I had to prove a lot, that's a problem many people face," she said.
August, whose success as an actress ranges from Ingmar Bergman films to Star Wars, said she had to build her confidence before directing. "I'd been thinking of it (directing) for a very long time, maybe 15-20 years but I didn't have the confidence to do it."
Bergman call
Ullmann remembered the first time she thought of directing, after she wrote a script for a Danish film called Sofie: "I never thought of it…the producer said do you want to direct it? I called Ingmar from the airport to say, Can I direct? And he said, 'Yes, you can direct!"
August said she had to fight against her own shyness to direct.
When she first started directing, she recalled, "I was nervous, I was Nora in A Doll's House, I still am. The first week I went to the cinematographer offering him coffee, asking if he was hungry. For one week I was like that, the actors lost faith in me when they saw me like this. After that it went much better."
Ullmann talked about how filmmaking had changed over the decades, remembering the changes that happened late in her collaborator and partner Ingmar Bergman's career.
She recalled that the making of 1978 film Autumn Sonata was the first time collaborators felt they could question Bergman's script. "That was the first time anyone said anything to him, when we did a reading…and everything was up for discussion somehow. That was the first time in my life I saw him cry."
August, who was directed by Ullmann in 1996 movie Private Confessions, said she was still inspired by Ullmann, even turning to her on stage to say: "You created an environment for me, to create my fantasy and have my worth. That's so important to create this environment for the team and the actors."
August, who brought her latest film A Serious Game to Haugesund, also received the festival's Liv Ullmann Honorary Award on Aug 24.
The director said she was encouraged by opportunities for women in film today: "I think it's going to the opposite [of discrimination]. Producers are now looking for female directors."