Dir/scr: Pen-ek Ratanaruang. Thailand-France. 2011.105mins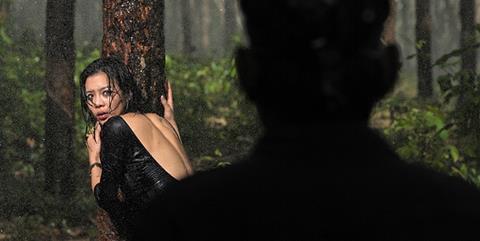 In Ratanaruang's Last Life In The Universe, arguably his best film, humour softened such "heavy" issues as suicide. Its fragmented temporal structure was easy to follow. In Headshot, however, the director eschews comic moments, as well as coherence and accessibility of the assorted time frames.
As usual in Ratanaruang's work, the cinematography is crisp and appealing.
Ratanaruang has gone full noir throttle to transfer to the screen Win Lyoyarin's crime thriller Rain Falling Up the Sky (Fon Tok Kuen Fah). The result is less satisfying than the films he's made from his own scripts because the generic action sequences do not jibe well with his signature leisurely pacing and highly organized, almost architectural compositions.
Headshot (Fon Tok Kuen Fah) will be a tough-sell internationally: It does not fit into the art-house niche, neither will it satisfy the cops-and-robbers crowd. Even domestically, this will limit its appeal. This is a shame because Ratanaruang is interested in exposing the extent of corruption in his home country.
One draw might be the handsome, solidly built, and agile actor Jayanama, who plays the conflicted lead, Tul. Again, the film's languorous rhythms are not in synch with the actor's almost isolated action scenes.
The premise is promising. Tul is a rarity in contemporary Thailand, a highly ethical cop. But after busting a drug-smuggling warehouse owner who just happened to be the brother of a minister, he is approached by the man's lawyer with a bribe to drop the charges. Tul refuses. The politician's men frame him in the (faked) murder of a beautiful prostitute, Joy/Tiwa (Sayoungkul)..
In the meantime Tul reads a treatise entitled Gene Pool: Parasites and Justice by a man who signs as Demon. It argues against survival of the fittest, claiming that they are the people who feel they are above the law, be they politicos of traffickers. For the sake of our genetic growth, those people need to be controlled, eliminated. He maintains there is no justice in nature; we have to control evolution ourselves.
Tul's contempt for the law reaches its peak after the police do nothing to find out what caused the real death of Joy, with whom he is falling in love. He becomes more and more drawn to Demon's principles and finally meets the author himself, in reality a Dr. Suang (Punpiputt). Dr.Suang hires Tul as a hitman, which he terms an "assassination expert." On his first assignment Tul is shot in the head and after a three-month coma, sees things upside down.
Ratanaruang is inconsistent. Sometimes Tul sees objects and people upside down, sometimes not. For his assassinations, he will spend several years of his life in prison. What becomes apparent later is that Dr. Suang orchestrated Joy's murder in order to fire Tul up enough to enlist as an assassin.
Much of the plot is not what it at first appears to be, adding to the confusion and not always within some realm of credibility. A second gorgeous woman, Rin (Horwang), enters the picture, picking him up by car in the unlikeliest of circumstances — several times. She turns out to be tangentially involved with the band of men who torture Tul and try to kill him. They turn out to be relatives of one of his victims and want to know who assigned his targets.
Along the way, Tul becomes a monk, at first a fake one to shoot a target, and after several murders, a committed one to do penance. Yet all this is told in scattered bits and pieces that are very difficult to make heads or tails of at certain points. And way too many coincidences and contrivances muddy the narrative's tracking.
Tul makes his way back to a more conventional morality. But after eliminating such awful achievers, has he returned to the conventional ethos of survival of the fittest? Is it really worth validating? It is never made clear.
As usual in Ratanaruang's work, the cinematography is crisp and appealing. Some sequences, like when Tul runs for his life through a rainy night, are absolutely stunning. They make you wish they were part of a more cohesive movie.

Production companies: Local Color Films, Memento Films International
International sales: Memento Films International, www.memento-films.com
Producers: Pawas Sawatchaiyamet, Raymond Phathanavirangoon
Cinematography: Chankit Chamnivikaipong
Editor: Patamanadda Yukol
Music: Vichaya Vatanasapt
Main cast: Nopachai "Peter" Jayanama, Sirin "Cris" Horwang, Chanokporn "Dream" Sayoungkul, Apisit "Joey Boy" Opasaimlikit, Krerkkiat Punpiputt