Dir/scr. Pablo Stoll. Uruguay/Colombia/Argentina/Spain. 2009. 80mins.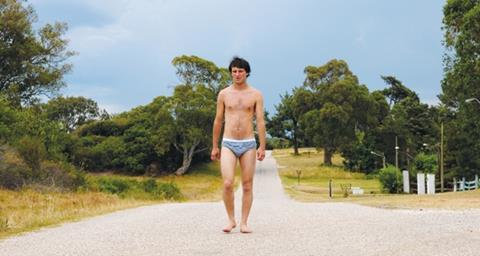 On his first solo outing since the untimely death of Juan Pablo Rebella, with whom he directed critical favourites Whisky and 25 Watts, Stoll exhibits his own mastery of the medium with Hiroshima (dedicated to Rebella). This fusion of hyper-naturalism with the slacker genre, featuring a youthful post-punk and techno soundtrack, might have been a guaranteed success in more upscale Latin American markets and specialised international showcases, but Stoll's personal imprint here includes experimental elements that will limit its commercial course to festivals and mostly nonprofit film venues.
Daily life is not inherently dramatic, according to the filmmaker, but it need not be boring
Chief among them is the almost total lack of the spoken word: as in silent movies, characters mouth their lines before intertitles provide translation.
Beautifully photographed, Hiroshima has a non-fiction feel, in large part because the central character, Juan (Juan Andres Stoll), is played by the director's brother, and Juan's father and brother are played by the Stolls' real-life ones. The film follows this decent but decidedly unambitious young man over a 24-hour period, in which he performs menial tasks and engages in banal activities.
It begins with a night job in a bakery and ends with his band's gig (he is the lead singer) the following evening, with a fantastic surprise for the spectator, one that in hindsight makes the entire film a study of the artistic sensibility.
Juan is weak on the carry-through. The camera tracks him with few cuts on his way to an interview for a job that has fallen in his lap, except that he disappears; then on a train to the woodsy environs outside his home city of Montevideo where he meets up with various old friends, all of whom he wanders away from. In town he bikes incessantly and aimlessly, always followed by the filmmaker.
Besides his dad (Mario Stoll), with whom he has a lovely slo-mo wrestling scene, his brother (Guillermo Stoll), and his girlfriend (Courtuasie), who in hardly on screen, Juan really only connects with his bandmates. Music is his single mode of genuine communication, so the muteness is no contrivance.
Director Stoll imbues Juan with grace. He does not judge his lifestyle, instead celebrating the small joys of the quotidian that he appears to enjoy, whether on a bike or on a beach. Daily life is not inherently dramatic, according to the filmmaker, but it need not be boring.
Because of the lack of dialogue, the musical track takes on special significance. Most of the songs are those Juan is listening to on his personal stereo. By the time the Genuflexes' number Hiroshima is performed at the finale, the foregrounding of the soundtrack reaches a glorious apex. Not to spoil the ending, but the climax is a spectacularly simple synthesis of form and content.
The end credits state that the film is loosely inspired by the novel La Ciudad, by Mario Levrevo.
Production companies
Control Z Films
Wanda
Antorcha Films
Rizoma Films
International sales
+ 49 221 539 709-0
The Match Factory
Producers
Diego F. Ramirez
Johnny Hendrix
Hernan Masalupi
Jose Maria Morales
Cinematography
Arauco Hernandez Holz
Editor
Pablo Stoll
Fernando Epstein
Production design
Gonzalo Delgado Galiana
Music
Genuflexos
Danteinferno
Perdonalos Garrido
Main cast
Juan Andres Stoll
Guillermo Stoll
Mario Stoll
Leonor Courtoisie
Noelia Burle