Dir: Sacha Gervasi. US. 2012. 99mins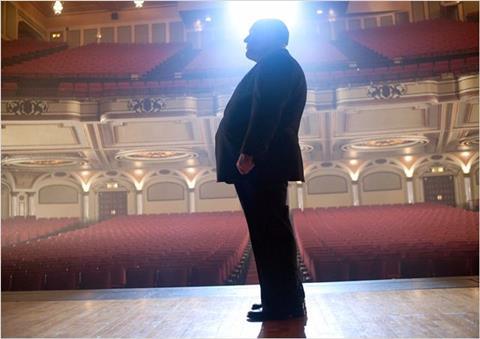 Ambitiously striving to be both a portrait of the making of Psycho and a peek into the complicated marriage of celebrated filmmaker Alfred Hitchcock and his patient, supportive wife Alma Reville, Hitchcock fails to fully satisfy on either front. This breezy but shallow biopic benefits from a droll turn by Anthony Hopkins as the Master of Suspense, but director Sacha Gervasi's feature debut wobbles badly when it tries to investigate Hitchcock's psyche, coming up with only simplistic explanations for his creative drive and darker impulses.
Hitchcock gets some comic mileage out of its refusal to put Hitchcock on a pedestal, instead portraying him as a melancholy, fallible figure.
World premiering at AFI Fest before arriving in theatres on November 23, this Fox Searchlight offering hopes to be an Academy Awards contender on the strength of its cast, which includes Hopkins, Helen Mirren and Scarlett Johansson. And considering that a year ago the Marilyn Monroe biopic My Week With Marilyn snagged two Oscar nominations, Hitchcock's similar milieu — a Hollywood icon in the midst of a film production — could attract movie buffs and older audiences. But in a crowded holiday marketplace, Hitchcock might need good word-of-mouth and strong reviews to help position itself as a must-see during awards season.
This comedy-drama is based on writer Stephen Rebello's book Alfred Hitchcock And The Making Of 'Psycho,' examining how Hitchcock (Hopkins) decided to take a great financial risk by funding the controversial 1960 horror film on his own, mortgaging his and wife Alma's (Mirren) home to raise the necessary money. Despite industry misgivings that Hitchcock was sabotaging his career by making an unseemly, violent genre film, he charges forward, casting Janet Leigh (Johansson) and Anthony Perkins (James D'Arcy) and working on a tight budget. Meanwhile, though, Hitch is concerned that Alma is becoming infatuated with flirtatious writer Whitfield Cook (Danny Huston), who wants her to collaborate on a film adaptation of his novel.
Gervasi previously made the well-regarded documentary Anvil: The Story Of Anvil, about an influential metal band that never tasted popular success, and for his first feature he's again focusing on art and celebrity, albeit with far more iconic figures. He and screenwriter John J. McLaughlin clearly admire Hitchcock and Psycho, but they do brandish a sly comedic streak, poking affectionate fun at the legendary director and the egos that make up Hollywood.
This cheeky attitude is on display from the outset, where Hitchcock speaks directly to the camera and calmly introduces us to Ed Gein (Michael Wincott), the real-life murderer who inspired the Norman Bates character at the centre of the book Psycho that Hitchcock adapted for his film. It's a nervy opening that leads with its dark sense of humour — it's a shame, then, that the rest of Hitchcock doesn't have the same sharp tonal control, too easily lapsing into overheated melodrama and, later, syrupy sentimentality.
The first half of Hitchcock is more concerned with Hitch's attempts to get Psycho off the ground, leading to a few colourful behind-the-scenes tidbits that will be catnip for film enthusiasts, who may wish the movie had offered more. Eventually, however, Hitchcock reveals a deeper motive, which is to illustrate how essential Alma was to her husband, both creatively and emotionally.
As played by a tart Mirren, Alma is a worthy foil for Hitchcock's deadpan jabs, and together they create a sense of a loving long-term couple who have weathered many storms together that they've shielded from the outside world. Mirren emphasizes Alma's steel in the face of Hitchcock's endless fascination with his beautiful blonde leading ladies, quietly biting her tongue while ceaselessly offering her much-valued input into his work.
This creates a potentially compelling dynamic — for all of Hitchcock's stature, he needed Alma's tireless strength to help him reach such artistic heights — but Hitchcock's core weakness is that it tends to stay on the surface when investigating its characters, settling for unsubtle stabs at insight that flatten out rather than enrich our understanding of these people. Because of the film's generally playful tone, it's hard to really feel the years of resentment that have built up within Alma as she's silently tolerated her husband's wandering eye.
Likewise, Hitch's festering suspicion that Alma has fallen in love with Whitfield lacks the layers that would give it real resonance. For all its lip service about Alma's importance to Hitchcock's body of work, Hitchcock glosses over her contributions and never quite makes the connection that, despite his obsession with actresses who have moved on without him, Alma has always been his rock.
Hitchcock gets some comic mileage out of its refusal to put Hitchcock on a pedestal, instead portraying him as a melancholy, fallible figure. But the movie's inability to puncture Hitchcock's mythical status to suggest the complexity of his inner life largely results in broad, awkward scenes in which his torments — about being betrayed by his female stars, about not being fully appreciated by his peers — are played out in on-the-nose fashion. (For instance, we learn that he's obsessed with blondes because he watches one walk by and also that he has a bunch of headshots at home of blonde actresses.)
Even more unfortunate, Gervasi has Hitchcock have occasional imaginary conversations with Gein, which are meant to illustrate Hitch's unhealthy obsession with this killer, but the movie doesn't have the necessary depth for such exchanges to carry much weight.
Hopkins bears a slight resemblance to Hitchcock — makeup and prosthetics help give him Hitch's huge jowls — but the Oscar-winning actor really zeroes in on embodying the filmmaker's quiet, reserved manner, while at the same time drawing out his charm and wit. Balanced against his imposing, rotund figure, Hitchcock's stillness had a comic edge to it, and Hopkins exploits that fact to good effect.
The supporting cast around Hopkins and Mirren run the gamut between the effective and the underused. Johansson nails Leigh's wide-eyed girlishness, while Jessica Biel does what she can playing Vera Miles, an actress who once disappointed Hitchcock and will now not be forgiven by him. D'Arcy's Perkins is little more than a spot-on impression of the late actor, but Michael Stuhlbarg is terrific as Hitchcock's resourceful agent Lew Wasserman, wielding passion and determination to help get his client's film made. Toni Collette has a few nice moments as Hitch's sassy secretary Peggy, while Wincott mostly has to embody unsettling creepiness as Gein, a role that's nothing more than a dramatic gimmick to suggest the filmmaker's increased anxiety as he tries to turn Psycho into a success.
Production companies: Cold Spring Pictures, Montecito Picture Company, Barnette/Thayer
Domestic distribution: Fox Searchlight Pictures, www.foxsearchlight.com
Producers: Ivan Reitman, Tom Pollock, Joe Medjuck, Tom Thayer, Alan Barnette
Executive producers: Ali Bell, Richard Middleton
Screenplay: John J. McLaughlin, based on the book Alfred Hitchcock And The Making Of 'Psycho' by Stephen Rebello
Cinematography: Jeff Cronenweth
Editor: Pamela Martin
Production designer: Judy Becker
Music: Danny Elfman
Website: www.hitchcockthemovie.com
Cast: Anthony Hopkins, Helen Mirren, Scarlett Johansson, Toni Collette, Danny Huston, Jessica Biel, Michael Stuhlbarg, James D'Arcy, Michael Wincott, Kurtwood Smith, Richard Portnow