Dir. Goran Paskaljevic. Serbia / Albania, 2009. 95 min.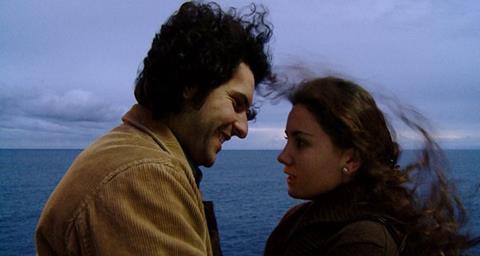 The latest chapter in Goran Paskaljevic's ongoing Balkan chronicles traces the dismal fate of two young couples, one Albanian, the other Serb, both looking for a better future away from their native lands. They never meet or are even aware of each other's existence, but they share similar miseries, both at home and once they reach the West - underlining the fact that while they may regard the gulf between them as impassible, to the rest of the world they are equally suspicious aliens trying to break into promised lands beyond their reach.
Milan Spasic's confident camera keeps the film moving briskly forward
An ensemble piece with a large cast of Albanian and Serb performers, Honeymoons is even more openly political than Paskaljevic's Midwinter Night's Dream or The Optimists – although it does share their black humour. This unique Serb-Albanian co-production allows very little light into its author's dark vision of a world divided by hatred and pent-up violence.
An awards contender at festivals, it is also an essential reminder for those who believe peace agreements are enough to resolve international conflicts.
In a remote Albanian village near the Kosovan border, an old couple, Rok (Lako) and Vevo (Mujo) prepare to attend a family wedding in Tirana, accompanied by their younger son Nic (Shiroka) and Maylinda (Naska), the fiancée of their oldest boy, Ilir, who disappeared at sea three years earlier while trying to cross the Adriatic illegally into Italy.
Nic has been secretly in love with Maylinda, but his mother's insistence that Ilir is still alive prevents him from stating his feelings openly. During the lavish wedding, Nic is promised Italian visas for himself and Maylinda. Early the next morning they set out on a boat to Italy and the future looks bright - until they meet the border police.
On the same day, in Belgrade, Vera (Trkulja) and Marko (Milovanovic) are also attending a wedding – that of Vera's cousin, in her hometown. The bride's father, (Ristovski) is throwing a grand party for the occasion, aggravating his brother (Bozovic), who lives next door.
The brothers backed different parties during the war, and they have not spoken since. The trip is a nightmare for Vera and Marko. The next morning, they are on a train to Vienna, where Marko is set to play the cello for the philharmonic orchestra, when they are stopped at the Hungarian border.
Meanwhile, a bomb goes off in Kosovo, in which two Italian soldiers are killed and many others wounded. The incident affects both couples, even though they had nothing to do with it.
Although the Serb episode looks more elaborate with its rich cast, Honeymoons' two plots are equally simple – the significance lies in the colourful backgrounds and the similarity of the two parallel stories. Paskaljevic regular Lazar Ristovski stands out as the cheerful bully in the Serb village; in the Albanian segment, Bujar Lako's resignation as the sorrowful father who realises there is no future for the next generation at home, is particularly touching. Milan Spasic's confident camera, particularly during the Serb country wedding, combined with alert cutting by Petar Putnikovic, keeps the film moving briskly forward.
To sign up for Screen's weekly Reviews Newsletter with all the week's new releases,internationalopenings and full festival reviews delivered free to your mailbox every Friday, please click HERE
Production Companies
Nova Film
Beograd Film
Ska-Ndal
Producers
Goran Paskaljevic
Ilir Butka
Nikola Djivanovic
International Sales
Nova Film Intl
+33 6 88 89 61 83
Screenplay
Goran Paskaljevic
Genc Permeti
Cinematography
Milan Spasic
Production Design
Zeljko Antovic
Durim Neziri
Editing
Petar Putnikovic
Main Cast
Nebojsa Milovanovic
Jelena Trkulja
Jozef Shiroka
Mirela Naska
Bujar Lako
Yllka Mujo
Lazar Ristovski
Petar Bozovic
Danica Ristovski