Wang Bing, Adam Wong, Pema Tseden and Lav Diaz (pictured) among directors with projects in line-up.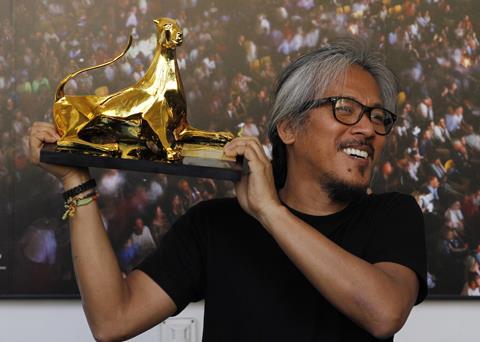 Scoll down for full line-up
The 14th Hong Kong-Asia Film Financing Forum (HAF) (March 14-16) has revealed its full line-up of 31 projects, including new works from renowned filmmakers such as Wang Bing, Pema Tseden and Lav Diaz as well as from new talents.
Hong Kong is well-represented with five projects, including The Way We Dance director Adam Wong's new project Trains In The Night; 2012 Hong Kong Film Awards best new director Jessey Tsang's erotic feature The Lady Improper; and Dot 2 Dot director Amos Why's adaptation of award-winning suspense novel Napping Kid.
Other Chinese-language projects from Taiwan and China include Taiwan actress Rene Liu's directorial debut Lieutenant Yi, which will be produced by her regular collaborator Sylvia Chang; new director Huang Zi's From Black And White To Shades Of Grey, produced by Monga director Doze Miu; new director Wen Muye's Dying To Survive, produced by Crazy Stone director Ning Hao; and An Everlasting Day from Tibetan director Pema Tseden who won best adapted screenplay for his last film Tharlo at last year's Golden Horse Awards.
South East Asia is represented by When The Waves Are Gone from Filipino director Lav Diaz whose latest film A Lullaby To The Sorrowful Mystery is in competition at the upcoming Berlinale, and All My Daughters from Vietnamese director Phan Dang Di, whose last film Big Father, Small Father And Other Stories competed at last year's Berlinale.
Five documentaries are set for HAF, including Three Sisters director Wang Bing's Border Bride, produced by Isabelle Glachant; Nik Voigt and Mariam Chachia's Abastumani, which is the first project from Georgia selected for HAF; and Letters, a CPH:LAB project by South Korean director Jero Yun and Marte Vold from Norway.
The line-up also includes three finalists for the 5th HAF/Fox Chinese Film Development Award, which will present the winner with a cash prize of HK$100,000 ($13,000) and a development contract with Fox. The finalists are Malaysian director Jong Yu's Brothers, Hong Kong director Cheung Suk-yee's Coarse Tea, Plain Rice and Chinese director Li Yang's Man-Made Citizen.
This year, HAF received a record-breaking 350 project submissions. The selected projects are from 15 countries and regions and will compete for a total of 13 awards, amounting to approximately HK$1.4m ($180,000) in cash and value in-kind.
Two new awards will be introduced this year: the Artention Films Award, which comprises a cash award of HK$50,000 ($6,400) and an offer of priority entry to the Artention Film Incubator in Shenzhen, China; and the Wutianming Post Production Award, an in-kind award worth RMB300,000 ($46,000) sponsored by the China Film Foundation – Wutianming Fund for Young Talents.
HAF line-up in full
Abastumani (Georgia)
Directors:Mariam CHACHIA, Nik VOIGT
Producer:Natia GULIASHVILI
Production Company:OpyoDoc
About Life Ff Planets (Kazakhstan)
Director:Katerina SUVOROVA
Producer:Anna VILGELMI
Production Company:Kino Company
All My Daughters (Vietnam)
Director: PHAN Dang Di
Producers:PHAN Dang Di, LIZEROUX Le Hang
Production Company:DNY Productions
The Autumn Morning (China)
Director:SONG Fang
Producer:ICHIYAMA Shozo
Production Company:N/A
Avalanche (China)
Director:HE Jia
Producer:NAI An
Production Companies:Dream Factory, Hejia Film Studio
Border Bride (Hong Kong-China)
Director:WANG Bing
Producer:Isabelle GLACHANT
Production Company:Chinese Shadows
Dying To Survive (China)
Director:WEN Muye
Producer:NING Hao
Production Company:Mountain of Flowers Films Co. Ltd.
An Everlasting Day (China)
Director:Pema Tseden
Producer:XU Feng
Production Company:Beijing FangJin Visual Media Culture Communication Co. Ltd.
From Black And White To Shades Of Grey (China)
Director:HUANG Zi
Producer:Doze NIU
Production Company:Zhu Jiang Film Group
Golden Whale (China)
Director:XU Wen
Producers:GAO Qunshu, WANG Ziwei
Production Company:Messenger (Beijing) Entertainment Co. Ltd.
Hanalei Bay (Japan)
Director:MATSUNAGA Daishi
Producer:OGAWA Shinji
Production Company:Bridgehead Inc.
Hypnotize The Jury (Hong Kong)
Directors: Paul SZE Pak-lam, Kenneth LAI Siu-kwan
Producer:TIN Kai-man
Production Company:Vow Production Limited
The Imitator (Taiwan)
Director:YC Tom LEE
Producer:Jade LEE
Production Company:Dare Entertainment LTC
Inking A Last Masterpiece (Japan)
Director:UCHIJIMA Usuke
Producer:KAWABATA Kohei
Production Company:Pao Network
The Lady Improper (Hong Kong)
Director:Jessey TSANG Tsui-shan
Producer:Polly YEUNG
Production Company:River Vision Company Limited
Letters (Norway-South Korea-Denmark)
Directors:Jero YUN, Marte VOLD
Producers:Mille HAYNES, Marte VOLD, Jero YUN
Production Company:K Plus Y
Lhamo And Skalbe (China)
Director:Sonthar Gyal
Producer:Sonam Rinchen Gyal
Production Company:Beijing Garuda Films & TV Culture Communication Co. Ltd.
Lieutenant Yi (Taiwan)
Director:René LIU
Producers:Sylvia CHANG, Patricia CHENG Lai-chan
Production Company:YinYi Studio Ltd.
March April May (Thailand)
Director:Rooth TANG
Producer:CHANG Chuti
Production Company:N/A
Napping Kid (Hong Kong)
Director:Amos WHY
Producer: Teresa KWONG
Production Company:dot 2 dot Production Limited
Never Die Again (South Korea)
Director:PARK Jung-bum
Producer: PARK Jung-bum
Production Company:Second Wind Film
The Point Of No Return (China)
Director:LEE Yuhe
Producer:GUAN Hu
Production Company:Yuhe Film Studio
Solitude (India)
Director:Madhu MAHANKALI
Producers:Madhu MAHANKALI, Roopa Devi MAHANKALI
Production Company:Dhriti Media Pvt. Ltd.
The Third Wife (working title) (Vietnam)
Director:Nguyen Phuong Anh
Producer:TRAN Thi Bich Ngoc
Production Companies:An Nam Films, Three Colors Productions
Trains In The Night (Hong Kong)
Director:Adam WONG
Producers:Jacqueline LIU, HAYASHI Kenji, FUKAZAWA Hiroshi
Production Companies:Playhouse Limited, 《a》Co., Ltd.
Vampire Diary (Hong Kong)
Directors: Anthony YAN, Hang CHIU
Producers: HA Yu, Mani MAN
Production Company:mm2 Entertainment Hong Kong Limited
Warrior Of Love (Singapore)
Director:Derrick LUI
Producers: CHAN Pui Yin, Boris BOO, CHAN Yan Yan
Production Company:SIMF Management Pte. Ltd.
When The Waves Are Gone (Philippines)
Director:Lav DIAZ
Producers: Bianca BALBUENA, Bradley LIEW
Production Company:Epicmedia Productions Inc.
2016 HAF/Fox Chinese Film Development Award Finalists
Brothers (Malaysia)
Director:Jong YU
Producers:Jin ONG, Roland LEE
Production Company:More Entertainment Sdn. Bhd.
Coarse Tea, Plain Rice (Hong Kong)
Director:CHEUNG Suk-yee
Producer:Trevor MORRIS
Production Company:Pratyeka Pictures Limited
Man-Made Citizen (China)
Directors:LI Yang
Producers:Janet WU, Moonlight SHANG
Production Company:Bright East Entertainment Inc.