Optimum Releasing celebrates its biggest-ever box office weekend despite Hop pipping Source Code to the top spot.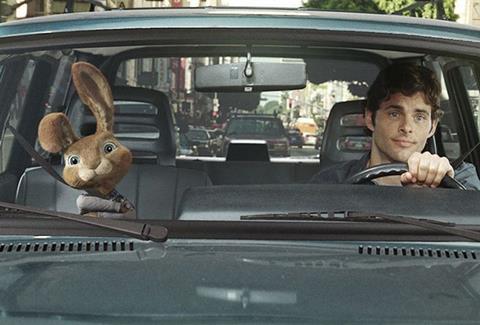 Universal's Hop, about the Easter Bunny's son who heads to Hollywood to become a rock star, gathered $2.2m (£1.4m) from its 476 locations at an average of $4,723 (£2,926) to debut top. The 3D family part-animation narrowly missed out on being director Tim Hill's best UK opening; Alvin And The Chipmunks opened on $2.3m back in 2007.
Optimum's strong start to the year continued as Source Code delivered a week-high screen average of $5,195 (£3,218) after debuting second with $2.1m (£1.3m). Duncan Jones' sci-fi helped the distributor clock up its best ever box office weekend. Its $3.4m (£2.1m) haul resulted in a market-high 25.88% share of the UK box office this weekend.
The result follows Optimum's biggest-ever box office year to date in 2010 and with the likes of Attack The Block (May 13), Larry Crowne (July 1) and Tinker Tailor Soldier Spy (Sept 16) to come, 2011 is shaping up to be even better.

Last week's champion Limitless dropped to third and now stands at a healthy $7.0m (£4.3m) after a further $1.9m (£1.2m) was amassed. Its 42% week-on-week drop was the joint strongest holdover performance (along with Optimum's Unknown) of the top 20.

Zack Snyder's Sucker Punch failed to land a knockout blow after it grossed $1.3m (£814,976) to chart fourth. The opening for Warner Bros.' action-fantasy was some way off Snyder's best in the UK, a record that belongs to 300's $7.7m (£4.7m) debut.
There were two other new entries in this week's top 20: Paramount's Killing Bono limped into the chart at 15th on $181,123 (£112,206) at a dismal average of $716 (£444); Jim Loach's directorial debut Oranges And Sunshine had a stronger performance for Icon, despite charting three places lower, as it took $133,853 (£82,922) from just 44 locations for a solid average of $3,042 (£1,885).
Picturehouse also confirmed this week that last week's opening seven-day gross of (£193,410) for Werner Herzog's 3D documentary Cave Of Forgotten Dreams was the biggest-ever in the UK for a Herzog documentary. It took a further $109,640 (£67,922) from 25 screens this week to stand at an impressive $424,326 (£261,326) so far.
Hop faces stiff competition to retain top spot next week as Fox's Rio flies onto our screens, along with Walt Disney's Mars Needs Moms which will be looking to improve on its damp American debut. Sony's The Roommate and Paramount's Tomorrow, When The War Began (the biggest local film in Australia last year) also receive saturation releases.