Vertigo's second live action 3D film is based on the international children's phenomenon Horrid Henry and features an all-star British cast. With the project currently in post, Protagonist will be tempting buyers with footage in Cannes.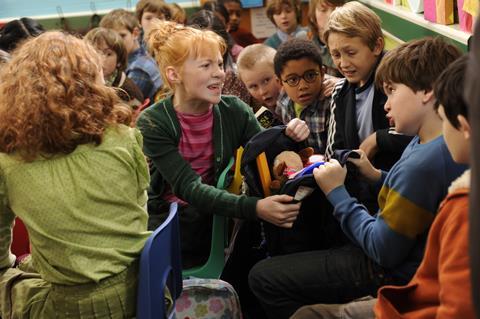 Synopsis: When Henry finds out that his school could be shut down by a rival evil headmaster, he sets about trying to foil the plan, whilst forming an unlikely alliance with his little brother and the girl next door.
Director: Nick Moore
Writers: Lucinda Whiteley has written the script, based on Francesca Simon's creation.
Producer: Allan Niblo and Rupert Preston for Vertigo Films and Lucinda Whiteley for Novel Entertainment (Novel holds the non film rights to Horrid Henry).
Cast: Theo Stevenson plays Henry, Anjelica Huston plays Henry's teacher Miss Battle Axe, Richard E Grant plays the rival headmaster, Theo Stevenson, Parminder Nagra. Cameos from Noel Fielding, Jo Brand, Matthew Horne and Prunella Scales.
Financing: UKFC, Prescience and Aegis Film Fund, pre sale to German distribution company Square One.
Country of production: UK
Filming locations: Teddington Film Studios and on location
Shooting dates: November 2010
International sales: Protagonist Pictures
Distribution: Vertigo for the UK, Square One (Germany), also sales in Middle East, CIS and Baltics, Singapore, Turkey, Poland and Korea
Release date: Summer 2011
Following the international box-office success of British dance film StreetDance 3D, UK production and distribution company Vertigo Films is back with a second 3D live-action feature, this time based on Francesca Simon's bestselling children's literary, television and stage phenomenon Horrid Henry.
"We wanted to make something that our children could see," explains Vertigo producer Rupert Preston on the initial appeal of making the film. "And talking to my daughter and some of her friends and their parents, it turned out that most of the kids had either read the book or seen the TV show," adds Preston, who then approached Mike Watts of Novel Entertainment to buy the film rights, a process that took almost a year.
Buoyed by the success of StreetDance, the Vertigo team had an easier ride than usual financing Horrid Henry. "The timing was good, we had just made Streetdance, it was 3D, and then this was the next commercial project we took to the market," says Preston, who managed to secure finance from the UKFC and Prescience as well as pre selling the film to German distributor Square One, who also released StreetDance in Germany.
The producers brought English born, LA-based Nick Moore on board to direct the film after seeing his 2008 teen comedy Wild Child starring Emma Roberts.
One of the biggest challenges, says Moore, has been adapting the cartoon into a live action feature. "I looked at films like Scooby Doo and The Flinstones, which I felt didn't really work for either children or adults. We decided that as this was a film about Henry, we'd take it from his point of view," explains the British director. "So the kids are the reality and everything gets slightly more cartoony as we move away from them."
Soho based company Vision 3, which also carried out the 3D work on the latest Pirates of the Carribbean installment and motorcycle documentary TT3D, has been responsible for putting the 3D into Horrid Henry. "This is a kids film, we are doing some fun things, gimmicks, things poking out of the screen," says Vision 3 stereographer Matt Smith. "You can make 3D work for any genre, it's just that some are going to be more sublte than others," he adds.
After Streetdance and their low budget hit, Gareth Edwards' Monsters, are the Vertigo team feeling the pressure with their latest offering?
"It's a good pressure. We are realistic but quite confident, because it's a great brand and it should be a really fun movie, " says Preston.