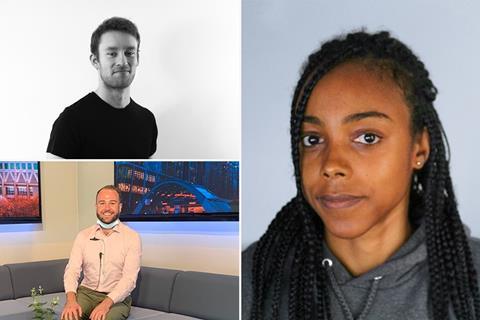 There are many ways to address the skills demands of film and television. ScreenSkills, the training body for UK screen, runs a range of programmes including transfer initiatives that find people in other sectors with experience the industry needs and supports them in.
Bristol-based James Potts had been working in the hotel industry while helping friends make short films before taking part in Skills to Screen, a ScreenSkills programme funded by the BFI with National Lottery funds aimed at helping people identify their transferable skills. "I'd been trying to get work experience with Bristol-based companies, but I wasn't getting anywhere. I didn't know how to break in."
Having left his hotel job during the Covid-19 lockdown, Skills to Screen proved useful. "The biggest benefit was understanding where my skills would be best used. I didn't realise what the locations department was – I thought it was just scouting locations," he said. But a course leader, who was a production manager, felt he would be better suited to the locations department "as I'm a practical outdoors type of person. When she explained it to me I realised that I'd been looking for the wrong roles – and my CV wasn't helping me. Once I had a clearer idea, the course tutors gave me extra support on re-jigging my CV to reflect what I wanted to do. It all fell into place."
The course also helped him make contacts and he has since worked on a range of productions including a feature film in the Cotswolds and as a runner on the drama Sanditon. "Through Skills to Screen I got one job, and that gave me experience and contacts. Then it led to more and more opportunities. People know me now in Bristol – they know how I work, so they consider me."
Alistair Baldwin always intended to work in screen but had ended up in travel, in cabin crew and then as customer journey manager at British Airways, focusing on disruption management and risk mitigation. Covid reignited his passion, thanks to a place on a variation of Skills to Screen supported by the Department of Work and Pensions targeted at aviation staff at risk of redundancy due to the pandemic.
"It gave me inspiration. I thought the screen industry would only be interested in people who'd made TV programmes or set up YouTube channels – but they weren't. The sessions helped me to identify which of my skills could be transferable."
He went on to do courses that were supported by ScreenSkills bursaries – locations and production management courses, and then secured a job as a runner on The Apprentice. "While I didn't get that role as a direct result of the scheme I had the confidence – and understanding – to go for it." It provided a bridge into a new career and he now works on the show as a researcher.
For Mel Cummings, who is based in Manchester, it was mentoring with ScreenSkills that supported her move into film and TV from video games where she was a concept artist. "I was hoping to gain some insight, as I wanted to work in the art department. I needed some encouragement on finding a way in."
Mel's mentor helped her revamp her portfolio, leading to her first job as a concept artist. "Mentoring has absolutely speeded up my career progression. As well as supporting me, my mentor gave me a different perspective. Before the mentoring partnership I was working on games across lots of small indie studios – and now I'm working on a Marvel production, which is amazing."
More skills transfer programmes will run this year in areas such as accounts and with a new cohort of military veterans whose organisational skills work well in screen. Recruitment has just closed for a skills transfer programme for those experienced in working with Black hair and make-up for people of colour.
Gareth Ellis-Unwin, ScreenSkills' head of film and animation, said: "There are people who have experience and skills in other sectors who are very keen to work in the screen industries if we help them get in, and give them the right support to encourage considering it a full-time move. It is one of the many ways we are trying to help solve the skills shortages hitting productions."
For more information on training and other opportunities, go to ScreenSkills.com


ScreenSkills is the industry-led skills body for the UK's screen industries – film, animation, VFX and immersive technology, games and television including unscripted, children's and high-end.
View full Profile