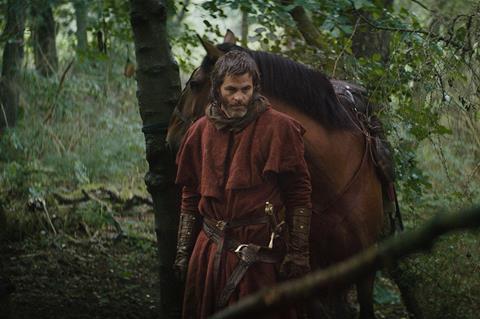 Scotland is investing more than ever before in its film and television sectors to grow the industry across all areas from production and talent to infrastructure and audience opportunities.
The activities are being overseen and executed by Screen Scotland, the new name and identity for Scotland's unique public sector and industry partnership. With an enhanced annual budget of $25.5m (£20m) Screen Scotland combines creative, skills and enterprise partners to offer increased funding and support services that will drive cultural, social and economic development for Scotland's burgeoning screen sector.
Screen Scotland arrives on the global scene headed by Isabel Davis, the former head of international at the British Film Institute (BFI), and with $12.7m (£10m) in additional funding from the Scottish Government including a brand new $3.8m (£3m) fund for television content.
"Screen Scotland exists to create opportunities for Scotland's screen sector," says Davis, who worked at the UK Film Council before she joined the BFI in 2011.
Davis describes Screen Scotland's ambition to operate effectively and efficiently on the global stage. "We have got everyone pointing in the same direction," she says. "All the partners with [parent body] Creative Scotland, Highlands and Islands Enterprise, Skills Development Scotland, Scottish Enterprise, Scottish Funding Council and the Scottish Government are all coming together with the sector and everyone is on the same page."
Screen Scotland will build on Scotland's international reputation for storytelling and talent on both sides of the camera and filmmaking infrastructure.
"We can develop and grow talent, audiences, infrastructure and skills. Scotland can take advantage of the growth opportunities now," says Davis, a graduate of the University of Edinburgh.
"We have every opportunity to deliver," she affirms. "Whether that's production finance or the ability for a film or a TV show to travel, it is intrinsic to the success of any industry that it has strong international ties."
Attracting investment
Film and television producers spent a projected record-breaking circa $127m (£100m) shooting in Scotland in 2017, an increase of 45% on the previous year. Several high-profile international productions filmed in Scotland in 2017, including Disney/Marvel's Avengers: Infinity War, TIFF Opening Gala film and Netflix-backed Outlaw King, directed by David Mackenzie, and Universal Pictures' Mary Queen Of Scots from Working Title Films. This demonstrates the continuing interest and appetite from major film and high-end TV producers to use Scotland as a backdrop for their productions and take advantage of its highly skilled crews and talent.
Scotland benefits from all UK creative industries tax reliefs and UK co-production treaties, and has recently enhanced its production incentives.
"We want our Scottish talent to travel and we definitely want international talent to come and see Scotland as somewhere they can call home, or call production home, for a while," Davis says. "We have a strong base to build on and it is very much part of the strategy that we are able to maintain and strengthen those links in both directions."
Screen Scotland went live with a dedicated portal (www.screen.scot) on August 21. It now provides a first point of call for those looking to access film and TV funding, support and services in Scotland.
"This new approach and strategy has been formulated hand in hand with the industry," Davis explains. "It's going to be a much more seamless journey to get the support and advice that people need."
Screen Scotland will continue to look at funding opportunities and work with the industry on processes to ensure it is as easy as it can be.
"We are in the business of making Scotland an attractive, exciting filmmaking destination for the world," notes Davis. "There is an incredible team already in place, with solid expertise and experience, and we will be enhancing that team further as we move forward so that we really deliver for the sector."
In order to maintain close ties with its industry constituents, there is also a Screen Committee of the Creative Scotland board to oversee the work. Membership includes senior representatives from Scotland's industry: producer Gillian Berrie from Sigma Films, independent producer John McCormick, and David Strachan of documentary and factual outfit Tern TV.
Within its enhanced annual budget of $25.5m (£20m), Screen Scotland is launching a new $3.8m (£3m) broadcast content fund. The move reflects the way the industry is developing, with the advent of pay TV giants and the deep-pocketed streaming giants Netflix and Amazon all looking to create content.
"It is important we work with industry trends. We live in very exciting times of telling stories for longer-form screen content or stories simply not for a theatrical platform," Davis says. "It is important we remain flexible in order to respond to the way the market is developing and ensure we open up all the opportunities for Scottish IP and Scottish talent development."
Attracting big productions
Screen Scotland has also increased the coffers for its production growth fund to $2.6m (£2m). Supported by the Scottish Government and the National Lottery, the fund looks to attract large-scale productions and maximise spend in Scotland. Since its launch in 2015, the fund has helped Outlaw King, T2 Trainspotting, Ordeal By Innocence, Churchill, The Wife, The Cry, The Victim and Tell It To The Bees set up to film in Scotland.
Screen Scotland will also oversee the $5m (£4m) film development and production fund for producers, writers and directors based in Scotland, alongside refreshed funding guidance for feature film and documentary development and production, distribution and exhibition, and markets and festivals.
Guidance for the new $3.8m (£3m) broadcast content development and production fund is now live on the Screen Scotland website and the fund is open for applications.
Screen Scotland's ambitions are for the long-term sustainability of the country and its sector as an international production, content, talent and locations hub. Developing talent, finding new ways to support that talent and exposing them to business across the UK and the international industry requires a commitment Screen Scotland is in place to make.
"Scotland is somewhere people think of as one of the most progressive and open and exciting places in the UK and the world right now, so for makers of film, TV and other creative content it is a very attractive place to be," Davis says.
The development of Scotland's studio infrastructure is a continuing priority for Screen Scotland. Scotland's existing build spaces recently hosted Avengers: Infinity War, which established its production base at the Pelamis building in Leith, T2 Trainspotting at the Pyramids business park, Bathgate and Churchill at Film Services Livingston.
Wardpark Studios, Cumbernauld is a permanent, converted, fully integrated studio facility with four sound stages and has been the home of the Sony/Starz series Outlander since 2012. Building a business case for a permanent, sustainable studio facility in the country is ongoing.
Davis adds: "We've also been working on a business case for an additional permanent, sustainable studio facility and are at an advanced stage with this work. We hope to be able to say more very soon."
Screen Scotland will also continue to back a number of screen organisations through its regular funding programme including Regional Screen Scotland, Centre for the Moving Image (Edinburgh International Film Festival, Filmhouse Edinburgh and Aberdeen) and Glasgow Film Theatre (Glasgow Film Festival). All the organisations work to nurture and showcase Scotland's storytelling traditions, an important element of the way the country is perceived around the world.
"There is a natural warmth towards and appreciation of stories from Scotland that I experience in cinemas, at festivals, wherever," says Davis. "Scotland is very beautiful, so that helps. Scotland should be the best place in the world to live, work and be creative. That is the goal, to build on the huge creative collateral that we have and the affection for Scotland that is out there in the world."
Find out more about Screen Network below: