An intense father-son drama is played out against the wilds of Patagonia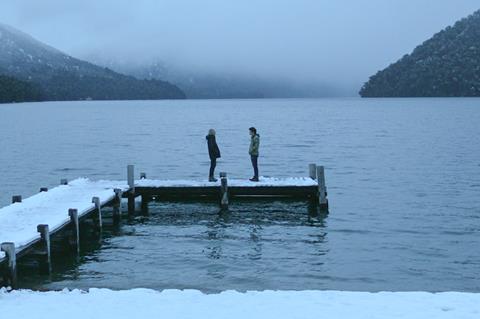 Dir/scr: Natalia Garagiola. Argentina/USA/France/Germany/Qatar. 2017. 105m
The oft-told tale of a socially detached teenage boy struggling to find his place in the world is given some Argentinian flavour in Hunting Season (Temporada de Caza). While its story is not new, it is sensitively told, and this nuanced approach, together with compelling performances, helps lift this film above the usual family drama.
Natalia Garagiola shows a welcome dramatic maturity and lightness of touch
First-time feature director Natalia Garagiola brings evocative use of Patagonian locations, plus the presence of veteran Argentinian actor German Palacios, to the mix, and Hunting Season should continue its festival journey after its Venice Critics Week premiere. Its stunning aesthetic should strike a chord when it opens at home in September, and may attract notice further afield.
Reminiscent of Aaron Taylor-Johnson with his sullen good looks and impressive quiff, newcomer Lautaro Bettoni plays teenager Nahuel who, in a brisk preamble, is expelled from his prestigious Buenos Aires school for fighting and shipped off by well-meaning widower stepfather Bautista (Boy Olmi) to stay with estranged father Ernesto in his isolated Patagonia home.
The difficult relationship between Nahuel and Ernesto, who haven't seen each other for many years, is immediately established by the fact that Ernesto keeps his son waiting for three hours at the airport. As Nahuel struggles to settle into the simple home Ernesto keeps with his wife Clara (an underused Rita Pauls) and three noisy young daughters, the atmosphere is as chilly as the snow-covered environment; particularly as neither man seems able to speak more than two words to each other without shared resentment boiling over.
When ranger Ernesto decides to take Nahuel hunting with him, however, teaching him the discipline needed to hold and use a rifle, they finally find something over which they can bond. Over the course of a few expeditions into the wild, alone and with Ernesto's colleagues, their relationship slowly begins to thaw.
With neither man being the most verbose of characters, writer/director Garagiola tells their story via subtle observation, with narrative undulations taking the form of brief exchanges, body language and seemingly unconnected actions. The dinner table is a neat recurring motif with family meals evolving from tense, stony affairs to rather more sociable gatherings. The loss of Nahuel's mother — the catalyst for the breakdown in relations between father and son — is well-handled, told through his repeated playing of a video of her on his phone (which we are only privy to in the film's final reel) and a climactic roadside confrontation with Ernesto.
Similarly, the natural environment is well utilised by cinematographer Fernando Lockett, with Nahuel often framed as a tiny figure almost lost against an expanse of horizon. He and his father's scouting for deer — and, later, poachers — speaks to their joint search for emotional common ground, and the fact that respect, for the environment and each other, runs both ways.
Hunting Season benefits from the approach of its director which has a welcome dramatic maturity and lightness of touch. Some elements are, however, slightly overplayed; the yin-yang contrast between the taciturn Ernesto and the far more affectionate Bautista is rather too on the nose, while Juan Tobal's score can, at times, be overwhelmingly sinister. The group of drinking, smoking, rowdy teens that Nahuel finds himself knocking about with are drawn from conventional cliche; even if they do serve to highlight his individuality of character.
Production companies: Rei-Cine, Gamechanger Films, Augenschein Filmproduktion, Les Films de L'Etranger
International sales: Alpha Violet info@alphaviolet.com
Producers: Matías Roveda, Santiago Gallelli, Benjamín Domenech, Gonzalo Tobal
Executive Producers: Julie Parker Benello, Dan Cogan, Geralyn Dreyfous, Wendy Ettinger
Cinematography: Fernando Lockett:
Production design: Marina Raggio
Editor: Gonzalo Tobai
Music: Juan Tobal
Main cast: Lautaro Bettoni, Germán Palacios, Boy Olmi, Rita Pauls