Dir/scr: Leah Meyerhoff. US. 2014. 80mins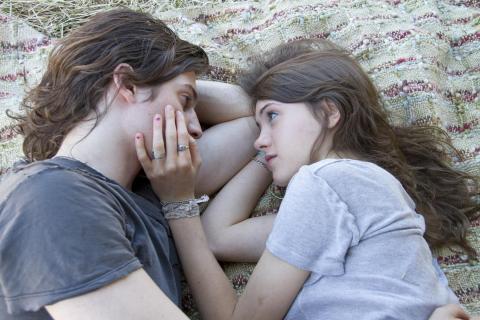 A dreamy and quirkily twisted coming-of-age story, Leah Meyerhoff's I Believe In Unicorns may well tread very familiar territory, but it does so in a unique and gently striking style, resulting in an appealing left-field story of teen love, adventure and trauma. Teen love is never easy as this tantalising and troubled road trip romance proves.
Natalia Dyer is engaging and often enchanting as Davina.
The project was an official selection of the Tribeca All Access Lab, IFP Emerging Narrative Labs, IFP Narrative Finishing Labs, Edit Center Programme, and New York Film Festival's Emerging Visions programme, and with Alison Anders on board as an executive producer it is easy to see that Meyerhoff's debut feature has been well marshalled. Its quirky qualities may well help make it appealing to distributors, while young star Natalia Dyer (who also features in upcoming films After Darkness and The Between) an exciting talent to watch.
Writer/director Meyerhoff admits that it is a very personal film, and that Dyer plays a fictionalised version of herself. The premise is a simple – and familiar – one….a young girl runs away from home and into the arms of an older boy, only to discover that their life together is not the fantasy she had imagined.
Dyer stars as Davina, a wilful and gentle teen who has grown up quickly as the sole caretaker of her disabled mother Toni (played by the director's real life mother Toni Meyerhoff, who has been in a wheelchair since her daughter was born). The opening montage is of mother and child growing together, with the voiceover stating "…she got sick when she was pregnant with me…she thought having me would make my dad stay – but she was wrong."
She often escapes into a twisted fantasy life of underwater fireworks, melting cupcakes and kodachrome dreams (the film blends archival footage with stylised live action and stop motion animation) plus she collects dolls in glass jars, scratches the emulsion off Polaroids, and holds her breath constantly. She imagines a unicorn in the woods, and in a fantasy scene that could be lifted from Ridley Scott's Legend imagines herself flapping her arms and escaping.
Davina looks for salvation in a relationship with an older boy, Sterling (Peter Vack) – your cliché bad boy who skates, smokes, has long hair is a wannabe rock star - and while she embraces her burgeoning sexuality and their playful road trip romp soon some disturbing details of his past begin to emerge and his neediness combined with a violent undercurrent eventually drive her away.
She is initially swept into a whirlwind of romance and adventure, but reality hits home hard. On the surface he is a sensitive soul and seems to share Davina's whimsical views, and while the kissing is a delight he can also be a standoffish jerk, moody and even physically rough.
Natalia Dyer is engaging and often enchanting as Davina. Playful, thoughtful and dreamy, her character is given to pauses and silences, and it is to Dyer's credit that she keeps Davina sympathetic and intriguing.
I Believe In Unicorns is deftly directed by Leah Meyerhoff, and while never groundbreaking in terms of its slight storyline, it more than makes up in terms of its delicate and magical qualities which help transform one young girl's emotional journey into something rather special.
Production company: Animals On Parade
Sales contact: Jessica Lacy, info@unicornsthemovie.com
Producer: Heather Rae
Co-producer: Katie Mustard
Executive producers: Allison Anders, David Kupferberg, Castille Landon
Cinematography: Jarin Blaschke
Editors: Michael Taylor, Rebecca Laks
Production designer: Katherine Rusch
Music: Sasha Gordon
Website: www.unicornsthemovie.com
Main cast: Natalia Dyer, Peter Vack, Julia Garner, Amy Seimetz, Toni Meyerhoff