Dir: Stuart Beattie. US-Australia. 2013. 92mins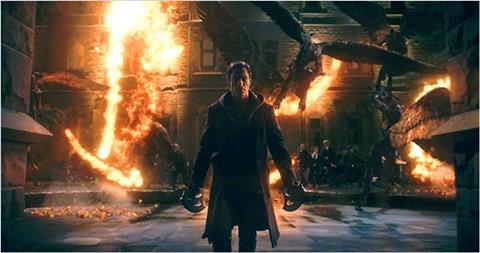 Frankly quite silly, I, Frankenstein parades its grim atmosphere as a badge of coolness, apparently unaware how little fun or excitement there is in this dull corpse of a film. Starring Aaron Eckhart in a fantasy-action update of Mary Shelley's tale of a mad scientist's patchwork creature, I, Frankenstein gives us a world of demons and gargoyles battling over the fate of humanity. But the stakes couldn't feel lower or the inspiration more lacking.
Eckhart is a fine actor who can bring urgency to even B-movie throwaways like Battle: Los Angeles, but he can't animate such a poorly drawn character.
Opening January 24, I, Frankenstein will hope to gain a little box-office traction thanks to character actor Eckhart, who top-lined the surprise 2011 hit Battle: Los Angeles. And no doubt this film's connection to Underworld, with which it shares some producers, could help as well. But it seems unlikely I, Frankenstein will be a major theatrical player, forced to seek better results on DVD and cable.
Based on the graphic novel created by Kevin Grevioux, the film explains that Frankenstein's monster (Eckhart), who was created by Doctor Victor Frankenstein (Aden Young) in the 1790s, has been alive and hiding away from civilization for two centuries. But upon his return to modern-day society, he discovers that he's attracted the interest of both sides of a secret, ago-old war between the forces of good (in the form of gargoyles, led by Miranda Otto's Queen Lenore) and evil (in the form of demons) that has been going on out of sight of the human race. But when the demon prince Naberius (Bill Nighy), who disguises himself in human form, learns of the monster's existence, it gives him an idea for how to defeat the gargoyles — and, by extension, humanity — once and for all.
Directed by Stuart Beattie, who also wrote the screenplay, I, Frankenstein hopes to appeal to the Underworld crowd with its predilection for gothic melodrama, stylized action and second-rate special effects. (Another connection: Both film series feature Nighy.)
Unfortunately I, Frankenstein puts far too much stock in its sombre, sullen depiction of a seemingly soulless creature who considers himself an outcast no matter where he goes. As played by Eckhart, the monster (dubbed Adam by Queen Lenore) is meant to be a weary outsider, a man without a country, but I, Frankenstein goes through the predictable motions of humanizing Adam — most blatantly by pairing him with a pretty female scientist (Yvonne Strahovski) who teaches him how to care about other people and stop thinking of himself as an inhuman beast. Eckhart is a fine actor who can bring urgency to even B-movie throwaways like Battle: Los Angeles, but he can't animate such a poorly drawn character.
To be sure, there's some easy fan-boy pleasure in watching CG demons and gargoyles fly through the air shooting fire and destroying things. And Beattie certainly tries to keep things lively by utilizing canted angels and slow-motion shots wherever possible. But outside of Nighy's reliably self-mocking turn as the evil demon leader, there's not a moment where I, Frankenstein savours the pulp ludicrousness of its story.
One could argue that it's honourable to want to invest a genre offering with pathos and gravitas, but sometimes it's wiser to be realistic about the strengths of your material. And I, Frankenstein is a project that could use a bit more of Nighy's twinkle, owning up to the story's inherent silliness while at the same time wielding a sly dramatic panache. Instead, whether it's the locked-jaw seriousness of the performances or the furrowed-brow solemnity of the movie's midnight-blue colour palette, I, Frankenstein keeps trying to insist that what we're watching is incredibly momentous. But it's hard to respond in kind when the effects work often seems substandard and the comic-book dramatics feel so second-hand.
Production companies: Lionsgate, Lakeshore Entertainment, Sidney Kimmel Entertainment, Hopscotch Features
International sales: Sierra/Affinity, www.sierra-affinity.com
Producers: Tom Rosenberg, Gary Lucchesi, Richard Wright, Andrew Mason, Sidney Kimmel
Executive producers: Troy Lum, Eric Reid, David Kern, James McQuaide, Bruce Toll, Jim Tauber, Matt Berenson, Kevin Grevioux
Screenplay: Stuart Beattie, screen story by Kevin Grevioux and Stuart Beattie, based on the Darkstorm Studios graphic novel I, Frankenstein created by Kevin Grevioux
Cinematography: Ross Emery
Production design: Michelle McGahey
Editor: Marcus D'Arcy
Music: Johnny Klimek and Reinhold Heil
Website: www.ifrankensteinfilm.com
Main Cast: Aaron Eckhart, Bill Nighy, Yvonne Strahovski, Miranda Otto, Socratis Otto, Jai Courtney, Kevin Grevioux, Aden Young