Fox's 3D animation opens nationwide and pulls in $15.6m (£10.1m), including previews; Lionsgate's comedy drama opens impressively with $4.1m (£2.6m).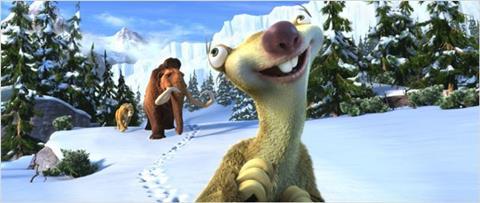 With $8.2m (£5.3m) safely stored away from two weekends of nationwide previews, Ice Age: Continental Drift has returned to the summit of the UK box office in its third week after opening nationwide.
Even without the boost of these previews though, Fox's 3D animation would have still charted first with $7.5m (£4.8m) Fri-Sun. Its official weekend tally - which will include the nationwide previews of the previous two weekends - will be $15.6m (£10.1m) for an excellent $20.2m (£13.0m) to date.
Given its staggered release pattern, it's hard to compare it with the nationwide openings of the previous three instalments in the ever-popular franchise - as it's already in its third week in Scotland and Ireland - but in terms of the series, Ice Age: Continental Drift is bearing down on the original Ice Age's haul of $23.5m (£15.1m) and should surpass it this week.
Whether it can topple the series best of Ice Age: Dawn Of The Dinosaurs at $54.7m (£35.2m) will depend on how it fares against the might of Batman which, ultimately, could prove to be smart counter programming from Fox.
Slipping a place to second was last week's champion, The Amazing Spider-Man, as it fell 43% week-on-week.
Sony's 3D reboot swung its way to a non-final further $6.02m (£3.9m) for $29.5m (£19.0m) so far, which compares favourably to the second weekend running totals of both Spider-Man ($25.7m/£16.6m) and Spider-Man 2 ($25.9m/£16.7m). It does lag behind Spider-Man 3, however, which stood at $37.9m (£24.4m) on its way to a series best performance of $52.1m (£33.5m).
Again, how it fares against fellow superhero offering The Dark Knight Rises will determine if it can challenge Spider-Man 3's bounty.
Arguably the biggest story of the weekend belonged to the highest new entry in the form of Lionsgate's Magic Mike which danced its way to an excellent debut of $4.1m (£2.6m), including previews, to land third.
Its opening is strong in any context, but when compared to previous films from director Steven Soderbergh, it becomes even more impressive. Outside of the Oceans trilogy, Magic Mike's opening bow ranks as Soderbergh's best in the UK with Erin Brockovich its nearest challenger at $2.5m (£1.6m), with Magic Mike taking over double of Soderbergh's other 2012 release, Haywire ($1.9m/£1.2m).
StudioCanal's apocalyptic comedy drama Seeking A Friend For The End Of The World grossed $549,572 (£353,725) to open fourth. Writer/director Lorene Scafaria's only previous brush with the UK box office was Nick & Norah's Infinite Playlist - which Scafaria scripted - which debuted slightly higher with $618,763 (£398,194) in 2009.
Fox's Prometheus stands at $38.2m (£24.6m), while Universal's The Five-Year Engagement has laughed its way to $6.9m (£4.4m) after four weeks in play.
This week's only saturation release is the eagerly anticipated final instalment of Christopher Nolan's Batman trilogy, Warner Bros.' The Dark Knight Rises. Universal's Dr. Seuss' The Lorax opens regionally, while Kaleidoscope's Something From Nothing: The Art Of Rap receives a wide release. Fox's Lola Versus and Dogwoof's Revenge Of The Electric Car are among the films receiving a limited release.