Dirs: Juan Villegas, Alejandro Lingenti. Argentina. 2010. 70mins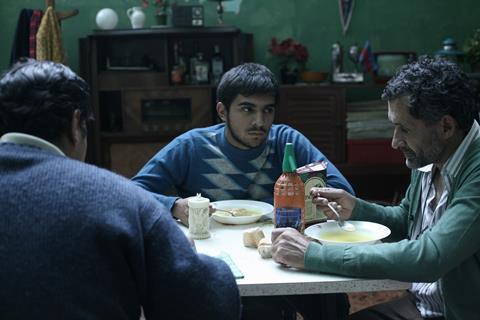 Idlenesss (Ocio) is a very small-scale, low-key debut from Argentina's Juan Villegas and Alejandro Lingenti. It is set during a winter - possibly in the 1980s - in the run-down La Plata district of Bueos Aires, with a young man looking over the edge of his youth into his 'real' life and future.
Villegas and Lingenti make do with what little they have to present their unique and effective aesthetic.
Commercially, Idleness is undoubtedly an art-house film, one for festival programmers looking for new voices. But - and despite its jarringly astringent guitar-riff soundtrack - Idleness is also strangely compelling in its own oblique way. The narrative gaps and a confident sense of scenario grow ever-firmer over its slight 70-minute running time and ultimately over-ride some of the film's more obvious structural problems. Idleness is hopefully a sign of things to come from Villegas and Lingenti.
Opening with a beautiful morning sequence amidst the tombstones of a Buenos Aires graveyard, Idleness is mostly set in an apartment occupied by Andres (Viale), his older brother Dragon (Oliveira) and their father (German de Silva). Their mother has recently died, and her loss can be felt as they sit together but apart at the dinner table. Broke and aimless, Andres is drifting through his days, reading Camus in bed, endlessly smoking cigarettes and meeting with his equally hard-up mates Roli (Grassi) and Picasso (Barrionuevo).
All three wear a uniform of leather jackets and trainers, and wander around the tracks as trains dissect the screen, although Picasso has a part-time manual job to get him through college.
Roli, meanwhile, has a scheme for making money which is never made clear, but also clearly can't be on-the-level. Andres dresses up in a suit and looks at an apartment. They buy a motorbike they can't afford, not to mention the petrol to run it, from a no-good gang of bikers. A leather-clad Ukranian wearing a crucifix comes to tell Andres about being a leader of men. It's all loosely connected, and there's a sense of impending doom, particularly to do with Andres' charming father, who complains of being ill.
That's not it, however. Idleness has a looming quality, but it's more about Andres's inexressed emotions as he leaves his childhood behind and looks towards his future as an adult. He's scared and he's brave, looks back and forward, old but young.
Production values are on the lower side of low-budget, but Villegas and Lingenti make do with what little they have to present their unique and effective aesthetic. The guitar-led soundtrack is a matter of taste, a 1970s throwback to Lizzy-style riffs which often seems a little at odds with the action onscreen.
Production companies: Tresmilmundos Cine, El Pampero Cine
International sales: Tresmilmundos Cine, juanmanville@gmail.com
Producer: Laura Citarella
Screenplay: Alejandro Lingenti, from the book by Fabian Casas
Cinematography: Agustin Mendilaharzu
Production designer: Florencia Perez
Editor: Santiago Esteves
Main cast: Nahuel Viale, Francisco Grassi, German de Silva, Lucas Oliveira, Santiago Barrionuevo