Dir/scr: Anthony Chen. Singapore. 2013. 99mins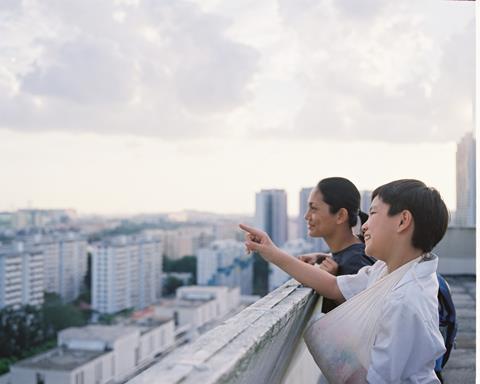 A young Filipina woman becomes the maid for a Singaporean family who needs plenty of help beyond cooking and cleaning in Ilo Ilo, a delicate comedy-drama that contains four nicely realiSed and empathetic characters. Making his feature directorial debut, Singaporean filmmaker Anthony Chen sidesteps mawkishness at every turn to deliver a small gem about how families learn to persevere during the toughest of times.
Despite boasting two strong-headed characters in Jiale and Hwee Leng, Ilo Ilo doesn't concern itself with trying to soft-pedal their more irksome traits.
The film could enjoy worldwide theatrical attention when one considers that, although the movie is set in Singapore, the issues at play are universal. And Ilo Ilo is actually quite timely: The movie takes place during the Asian financial crisis of 1997, which will have strong contemporary resonance in light of the recent global economic downturn.
The movie begins with grade-schooler Jiale (Koh Jia Ler) getting in trouble with his teachers, a common occurrence that has finally broken the patience of his exasperated, pregnant mother Hwee Leng (Yeo Yann Yann), who decides along with her husband Teck (Chen Tian Wen) that they need to hire a live-in maid — in part because they both have to work, and in part because they want someone to keep an eye on their horribly wilful boy. Into this maelstrom comes Teresa (Angeli Bayani), who goes by Terry, a 28-year-old Filipino who has left her infant son back home in the hopes of better-paying jobs in Singapore.
The central conflict in Ilo Ilo revolves around the clash between Terry and Jiale, who quickly enjoys bullying this polite, meek woman who just wants to please. But Chen's screenplay soon expands to examine each of the four leads, with Terry's arrival exacerbating built-up tensions within the family. Most critically, she (and the audience) come to understand that as combative as Jiale is, his mother can be monstrous in her own way, distrustful of this outsider and ruthlessly picking on her mild-mannered husband. (Teck is so afraid of her, in fact, that he hasn't had the guts to admit that he's been fired from his sales job — or that he's sneaking cigarettes to combat the stress.)
By placing Ilo Ilo during the '97 crisis, Chen gives each interaction an extra charge. Although Jiale is too young to appreciate the difficult financial circumstances surrounding him, the other three characters' decisions and behaviour are almost entirely guided by economic realities that bring enormous anxiety and uncertainty. This helps elevate the proceedings beyond those of the standard domestic drama — there's a real weight and tension to what transpires because we're watching people trying to keep their heads afloat, not simply contending with marital or childrearing issues.
Despite boasting two strong-headed characters in Jiale and Hwee Leng, Ilo Ilo doesn't concern itself with trying to soft-pedal their more irksome traits. Chen displays enough confidence in his writing and the performances to trust that audiences will see beyond these two people's prickly exterior to find their humanity. Naturally, credit must go first to Jia Ler, who's an incredibly persuasive brat as Jiale, one of those violent little hellions who's just been a handful from the day he was born. And as the mother, Yann Yann is wonderfully withering to those around her, eventually showing her character's buried insecurity once Jiale and Terry start to bond in a way he never has with her.
The conventional version of a story like Ilo Ilo would dictate that Terry comes into this occasionally hostile environment to teach inspirational life lessons and change everyone for the better. Delightfully, that isn't what happens, although there's no question of the positive impact she brings to this group. Instead, Chen approaches the material with a candour that doesn't have room for bromides. Even the possibly predictable thawing of relations between Terry and the boy comes about in subtle, believable ways that suggest that she hasn't "fixed" him but simply figured out how to connect on his level. Ilo Ilo is subdued, but its emotional wallop sneaks up on you — just like Jiale's feelings for this Filipino woman he assumed he hated.
Production companies ; Singapore Film Commission, Ngee Ann Polytechnic, Fisheye Pictures
International sales ; Memento Films International, www.memento-films.com
Producers ; Ang Hwee Sim, Anthony Chen, Wahyuni A. Hadi
Executive producers ; Anita Kuan, Gina Lau, Ivan Tan, Leong Sze Hian, Ng Aik Hock
Cinematography ; Benoit Soler
Editors ; Hoping Chen, Joanne Cheong
Main cast ; Yeo Yann Yann, Chen Tian Wen, Angeli Bayani, Koh Jia Ler