Dir. Claude and Nathan Miller. France, 2009. 90 min.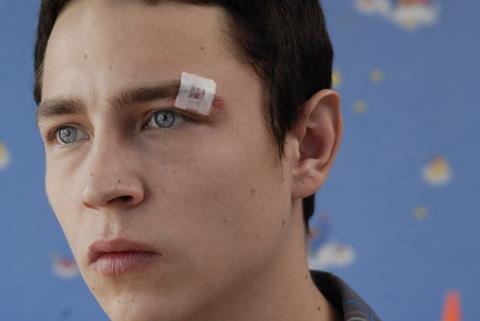 In the hands of veteran French filmmaker Claude Miller and his son Nathan, a real-life incident in which an adolescent boy attempted to murder his birth mother becomes a fascinating drama of failed parenthood, whose scope goes far beyond the immediate implications of the real case.
Thanks to richly sensitive performances from both Rottiers and Cattani, a myriad of painful aspects come quite naturally to light
A model of clear, economical story-telling, I'm Glad's plot meticulously provides all the relevant facts but never indulges in any psychoanalysis or speculation, inviting the viewers to make their own decisions. Starring several unknowns in tremendously effective performances, this looks like a natural festival hit and a potential success in France too when it opens at the end of September.
The audience is introduced to Thomas traight away, first as a five-year-old child, then as a rebellious adolescent, and finally as a deeply wounded, angry young adult (splendidly played by Vincent Rottiers). Born out of wedlock to a happy-go-lucky, hopelessly irresponsible teenage mother, Julie Martino (Cattani), he is given up for adoption as a toddler with his even younger brother (from a different father) and taken on by a music teacher (Citti) and her invalid husband (Verhoeven).
But from very early age Thomas becomes obsessed with his own origins; he feels unwanted and a the same time desperate to belong. He rejects his adoptive parents, runs away to a boarding school, and using a folder he found at home, tries to find his natural mother. When he first rings her doorbell, she is married and pregnant and does not recognize him. Profoundly hurt, he writes her an insulting letter and promises never to contact her again. But several years later, now working as a mechanic, he reappears on her doorstep to find out that she is again single, raising her third son on her own, cleaning bedpans in a hospital for a living and still insisting at being as independent as she ever was.
Thanks to richly sensitive performances from both Rottiers and Cattani, a myriad of painful aspects relating to the maimed relationship between an immature mother and her estranged son come quite naturally to light. Citti's warm personality, meanwhile, offers an alternative which Thomas fails to exploit. Though there were two Millers behind the camera in this case, judging by the results, they acted as one, assisted by Aurelien Devaux's fluid camera work and impressive framing choices and Morgane Spacagna's editing which moves the plot seamlessly from one time period to another in a perfectly natural flow.
Production Company
F Comme Film
OrlyFilms
France 3 Cinema
Page 114
Producers
Jean-Louis Livi
Jacques Audiard
International Sales
Orly Film in association with Coach 14
+33 1 53 23 95 00
+33 1 40 21 72 79
Screenplay
Alain Le Henry
Claude and Nathan Miller
Cinematography
Aurelien Devaux
Production design
Jean-Pierre Kohut-Svelko
Editing
Morgane Spacagna
Music
Vincent SegaL
Main Cast
Vincent Rottiers
Sophie Cattani
Christine Citti
Yves Verhoeven
Maxime Renard
Olivier Gueritee
Ludo Harlay