Dir/scr: Brian Welsh. UK. 2010. 90mins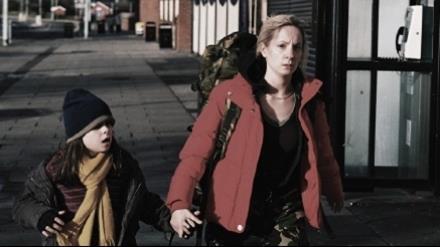 Wife, mother, soldier: Joanne Froggatt is memorable as an Iraq veteran who struggles to settle back into a Newcastle whose barren housing estates are reminiscent of all she left behind on the front. However Brian Welsh's feature debut In Our Name uneasily marries her post-traumatic stress disorder to the drama of a psychotic husband, also a war veteran, muffling the film's impact.
As an awareness-raising exercise, it's a successful venture.
The result of an initiative between Curzon Artificial Eye and the National Film and Television School, In Our Name will receive a UK release in December where its poignant subject matter will provoke debate – it is dedicated to veterans who have been jailed "while trying to return to a normal life". As an awareness-raising exercise, it's a successful venture, but In Our Name's commercial prospects are less certain.
Froggatt – a UK television staple, currently appearing in the period hit Downton Abbey – embraces the challenge of playing Suzy, from an army family, who spends 14 months at the front. She's jolly enough on the way back home with forces friend Paul (Andrew Knott), but the brightness evaporates when faced with the sexual demands of her husband Mark (Mel Raido). Suzy is scarred from her experiences, and struggles to maintain a façade of loving wife and mother.
Confusingly, having effectively established her angst, In Our Name promptly lurches off in another direction, with husband Mark revealed to be hoarding bloody mementos of Abu Ghraib-style proportions in a garage which Suzy has bizarrely never noticed or enquired about. He leads his wife into a violent, racist attack, and soon she's walking around the Army barracks checking out guns and acting strangely around their daughter.
Her post-traumatic stress squares off against a clearly insane husband, and both are losers. While Froggatt pulls a tense finale together, she isn't helped by Raido's unconvincing portrayal in a difficult, sketchy part.
While technical credits are serviceable for the budget, there's a recurring motif of the blighted landscapes of Northern England which tell as poignant and eloquent tale of the soldiers' return as any of the drama on screen and mark Welsh and his colleagues as names to watch.
Production companies: Escape Films, A10 Films
International sales: michelle@escapefilms.co.uk
Producer: Michelle Eastwood
Cinematography: Sam Care
Editor: Hazel Baillie
Music: Stuart Earl
Main cast: Joanne Froggatt, Mel Raido, Chloe Jayne Wilkinson, Andrew Knott