Dir/scr: Lola Doillon. France. 2010. 90mins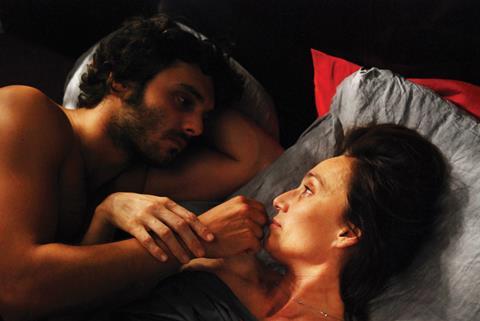 Lola Doillon – daughter of Jacques – follows up her 2007 teen film Just About Love with an intense two-hander starring France's middle-aged sweetheart Kristin Scott-Thomas as a hospital obstetrician kidnapped by the unpredictable husband of her former patient. As this is Scott-Thomas in a French film – as opposed to a British one, where she'd be playing younger Maggie Smith roles – it comes as no great surprise that In Your Handsskews quickly towards Stockholm Syndrome as the two become sexually attracted to each other.
Scott-Thomas convinces as the proud and arrogant loner.
Thanks to Scott-Thomas and co-star Pio Marmai, however, while the action seems to travel down inevitable and not entirely convincing lines, the characters themselves are always believable. Scott-Thomas may have played versions of this part recently, but she convinces as the proud and arrogant loner in a film which overall may be too drab and claustrophobic for wider exposure.
Shot mostly in a couple of dingy interiors with little in the way of costume or set design to compensate – rarely, indeed, has Scott-Thomas been so poorly serviced by wardrobe – In Your Hands is just too familiar to break free of its own tight structure.
Doillon uses a flashback device after depicting Anna Cooper (Scott-Thomas) escaping from somewhere or somebody, largely un-missed by all except her mother. It turns out that handsome Yann Ochberg (Marmai), whose wife died under Cooper's knife on the operating two years ago, has been bearing a grudge.
He locks Anna in a room, feeds her nasty food. He says, 'I want to hurt you, but I don't know how.' He opens the door, closes the door, slams the door. He beats her up, abuses her. He shuts the door again. One day he leaves the door open (you have to pity Marmai, with all that door-knob action). What next?
Doillon proves here that she can direct a very good actress opposite a charismatic male lead but visually, In Your Hands needs more than the director or cinematographer Mathieu Vadepied bring to flesh out Doillon's almost stage-bound screenplay. Thematically, the questions raised by In Your Hands about violence, abuse, sexuality and victimhood, have all been asked before with more sophisticated phrasing.
Doillon, spouse of Cedric Klapisch, is undoubtedly assured enough to move on to greater things, and there are – justifiably – enough Scott-Thomas devotees to make sure this is seen. Of note, however, are the entirely separate French and English titles; never a help when it comes to a particular audience, fragile word-of-mouth and a very slim film.
Production companies: Ce Qui Me Meut, Origami Films
International sales: Elle Driver
Producer: Saga Blanchard
Cinematography: Mathieu Vadepied
Editor: Maria Da Costa
Production designer: Stephanie Guitard, Stanislas Reydellet
Main cast: Kristin Scott Thomas, Pio Marmai, Jean-Philippe Ecoffey