Dir: Feo Aladag. Germany. 2014. 98mins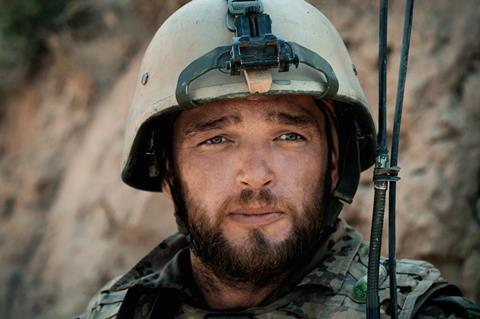 With Inbetween Worlds, writer-director Feo Aladag beds down in dusty Afghanistan with German troops to deliver an on-the-ground illustration of the country's seemingly-intractable conflict through the story of a young interpreter and his sister.
Although the events which preoccupy Aladag are explosive, the pace of her film is careful, perhaps even too controlled, and tense throughout.
Although the film's emotional impact can occasionally be diluted through the mechanics of familiar plot devices, this is still a very accessible, even-handed story that should attract international arthouse audiences intrigued by the added weight of a German military presence in a modern battle zone.
A solid performance from Ronald Zehrfeld as a German commander perhaps too burdened by his own personal history helps ground the piece in the Afghanistan dust opposite the more tentative local actor Mohsin Ahmady, as his local interpreter (Ahmady's muffled English delivery should be easily corrected with subtitles). Local audiences at the Berlinale, where this film premiered, seemed to take a mixed view on its message, but Inbetween Worlds is a nuanced story, stylishly shot with a good deal of integrity.
Aladag, an Austrian-born critic who made When We Leave in 2010 about Turkish-German "honour" killings, worked with an all-female technical team to bring Inbetween Worlds to the screen, and her verdict on the woman's plight in Afghanistan is perhaps the saddest of a bitter situation all round. Visually, though, the film is tough and uncompromising, shot on location around the cities of Mazar-e-Sharif and Kunduz over five clearly hot and dusty weeks.
Watching a modern film with German soldiers at war is unusual, but the compromises and danger facing Aladag's soldiers under the International Security Assistance Force (ISAF) mandate in Afghanistan are not unique to their nation. Aladag's film is loosely based on several real-life incidents including one in which an interpreter was murdered after the German force withdrew from Kunduz. Working with co-writers Judith Kaufmann and Matthias Kock, she spins a scenario out from that event, assembling a cast of vulnerable characters on all sides of the fence.
Although the events which preoccupy Aladag are explosive, the pace of her film is careful, perhaps even too controlled, and tense throughout. The stakes are high: commander Jesper (Zehrfeld) is embarking on his second deployment to Afghanistan and has lost his brother in the very same conflict. Local interpreter Tarik (Ahmady) watched the murder of his own father as a child and now tries to guard his sister Nala (Saida Barmaki) against the ill feeling which surrounds them for their "collaboration" with Western forces. Commander of the Afghani native fighters, Haroon (Abdul Salam Yusoufzai), also comes to the plot with his own lengthy history of conflict.
Jesper is deployed to lead a team of German soldiers to a combat zone to help Haroon's Arbaki fighters against the Taliban but his mandate is highly restricted and safety is a concern at all times. Tarik, as his interpreter, is young but wise enough to play both sides with his interpretations. But the pressure is mounting on all sides, nerves are frayed, suspicions mount, and all participants seem powerless in the face of events.
Aladag's film screens at the Berlinale just as Afghanistan gears up for another rounds of elections and talks continue unsteadily with the Taliban. She makes the valid point that the situation for the country and its inhabitants doesn't look much better than it did in 2001 when troops first arrived while the loss of life on all sides has been immense (54 German soldiers alone have died) and is ongoing. With war films such as The Hurt Locker shot outside their location, her Afghanistan shoot is one of the few to put boots on the ground, and all credit to her and her team, in particular cinematographer Judith Kaufmann, who takes a co-writing credit, and production designer Silke Buhr, who have probably re-written the textbook on this shoot.
Production company: Independent Artists Filmproduktion
International sales: The Match Factory, www.the-match-factory.com
Producer: Feo Aladag
Screenplay: Feo Aladag, Judith Kaufmann, Matthias Kock
Cinematography: Judith Kaufmann
Editor: Andrea Mertens
Production designer: Silke Buhr
Music: Jan A P Kaczmarek
Main cast: Ronald Zehrfeld, Mohsin Ahmady, Saida Barmaki, Abdul Salam Yusoufzai