After making his directorial debut 16 years ago, Alan Rickman returns to the director's chair with a period drama starring Kate Winslet and Matthias Schoenaerts.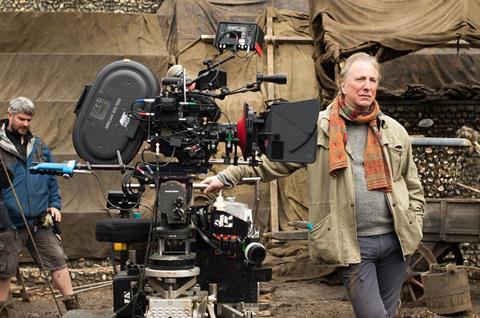 Set at the Palace of Versailles during the reign of King Louis XIV, Winslet plays a landscape gardener who is commissioned to deliver some flair to the geometric gardens by a strict boss, played by Rust and Bone star Schoenaerts.
Lionsgate International handles sales on the witty drama, which will close the Toronto International Film Festival on Sept 13.
How did you come to the project and why did it appeal?
Alison [Deegan, one of the screenwriters] sent it to me in part because she had seen my film The Winter's Guest. It took some time to come to fruition because I wasn't free for quite a while.
Some of the film is based on truth, some on fiction. There wouldn't have been women landscape gardeners at the time, for example, and we sliced years off of Matthias' character.
The film is not just frills at the wrists and collars. It's about people getting their hands dirty and building something in order to entertain the other world they serve. It's about how one world maintains the other, often at the cost of women.
Were you keen to get back to film directing?
You read something like this and images start jumping out on the page. You hitch yourself to the coattails of great writing and it tells you what to do. Thankfully I was surrounded by a great crew. The entire group brought huge energy to it.
Did you enjoy it?
I loved it. It wasn't easy, though; throwing Kate into freezing water at 1am, the carriage crash, scenes with 80 extras, tight schedules in venues like Blenheim Palace. It's a constant tap dance between control and freedom and of course the budget guides everything.
Were you always going to play the Sun King?
No, it wasn't my choice. There was some pressure from the producing element as it solved one or two problems.
Did you enjoy directing Kate Winslet?
We worked together when she was 19 in Sense and Sensibility. It was like meeting a whole new person. Kate is someone who arrives incredibly prepared, free and non-judgmental. She is a phenomenal craftsperson.
What's next for you?
I am going to be in Gavin Hood's film Eye in the Sky and discussions are ongoing for me to direct The House in Paris, the film that got leap-frogged by A Little Chaos.
Can you see yourself returning in JK Rowling's next film series?
God knows. I'm very much dead in the Harry Potter series. That would have to be one serious magic pill but never say never!