The TV director who has worked in the camera department on some of Hollywood's biggest tentpoles makes his feature directorial debut in the Tribeca premiere about a grieving architect who forms a bond with a runaway.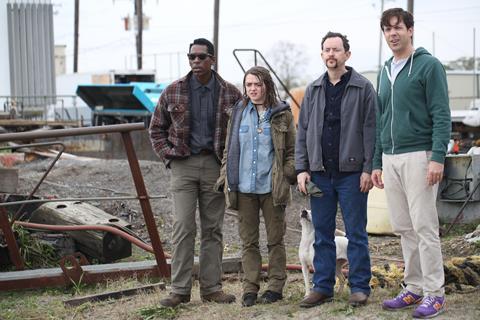 Purple talks to Laura Henderson about the long journey required to bring The Devil And The Deep Blue Sea to the screen, taking a punt on Jason Sudeikis, and why he will be shocked if Game Of Thrones' Maisie Williams doesn't become a director.
Rounding out the key cast are Jessica Biel, Mary Steenburgen, Orlando Jones, and Paul Reiser. The film premiered on April 14 and screens again in New York on April 15, 18, 19, and 23. WME represents US rights and Content Media handles international sales.
Why did you want to make this film?
Just doing it to make a pay check [means the film is] not going to be as good as it could have been. When you read something you have to feel responsibility, [as if towards a child]. You have no other alternative but to will this into the world, because nobody else can.
What are the big or noticeable differences from the original story?
The basic story is the same. Robbie Pickering wrote a beautiful script. It's really well written; he is a great writer. It was much quirkier. I think the thing that I wanted to achieve was it wasn't a very emotional script. When I was reading the script I thought it was a beautiful story but I felt like there was an opportunity to make it emotional and that's what I wanted to produce. I thought this is something that could really touch people.
I read that this film has been seven years in the making? Is this correct?
About eight-and-a-half. We optioned it in 2008 and purchased it right after that.
Did you face any major challenges along the way?
So much is down to timing… When I first read the script the first person I thought of was Jason Sudeikis. He was still on Saturday Night Live, he had done a couple of movies but he hadn't launched off Saturday Night Live yet. But I thought he was the next guy, something in my gut said he's really relatable he's got that Tom Hanks everyman quality. He's effortlessly funny. So I met with him. He loved the script and he wanted to do it. And we tried for years to get it off the ground but we just couldn't because as they say his foreign [sales] value wasn't high enough to justify the financing.
We had to walk away and we had a lot of other great actors in the interim that we tried to get it off the ground with. But one of my favorite things was that in the final stages of it when we were looking for a new actor, the financiers offer up Jason, and I said, 'Well that's perfect because he's the first guy I ever cast so I feel very cosmically liked that we were able to go back to him. It was meant to be and it was great for him too. In the process of seven years he had aged, just had a baby, getting divorced and getting married. The life experience he had experienced through those times gave him much more information from life to inform the performance. So I think he was in a better position to play the part. It was an aligning of the stars. It was finally meant to be made now.
Who financed the film?
Fairly common financing structure of the film. It was part equity, which came from one of our producers named Chuck Pacheco. He put in about half the money. The other half of the money was a debt financer company. Essentially two entities.
Roughly how much did it cost?
I'm not allowed to say. But here is what I can say. Every film – no-one ever has enough time or enough money. This film at the last minute we had to cut 20% out of the budget and had to cut days out of the schedule. But I wasn't willing to cut the script because I thought the script was in a really good place. And so I had to try and make a devil's bet and try and do it with less.
Maise Williams is incredible in this. What was she like to work with?
She's a dream. We were so fortunate to have connected with her and that she agreed to do the film and so grateful for her support of the film, [and her] enthusiasm and commitment. She was literally a director's dream. There was nobody on that set more prepared more professional… She is inquisitive. It will shock me if she isn't directing and producing very soon herself. She is an amazing actress and she has incredible instinct.
What do you think a viewer will get from this film?
I hope for a couple of hours you are transported to a different experience, different world. You experience all these different feelings and emotions and get lost in it. Then afterwards hopefully it stays with you.
What do you love most about directing?
The collaborative nature. I love the interaction when you start getting a lot of creative people together, actors, craftsman, and artists. When you get them all in the room. The best films come when you are open to other ideas. Directors will always get the credit but the truth is great films are often built from a thousand great ideas from a thousand different people.
What projects do you have lined up next?
I'm doing a lot of reading right now, trying to find that next thing. I direct a bunch of television and I'm literally outside the editorial room of an ABC show that I'm editing right now. But I'm looking for that next project so I think right after this festival I'll probably have something lined up.