Recently opened in Paris, Luc Besson's ambitious Cité du Cinéma combines a new home for EuropaCorp and a major new studio development.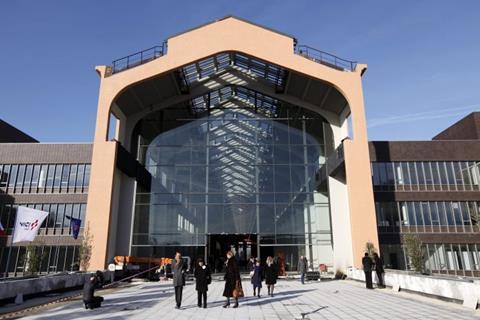 Christophe Lambert is sitting behind his desk in the new EuropaCorp Tower at Cité du Cinéma. Built on a former power station site on the banks of the River Seine in northern Paris, Luc Besson's long-gestated film-making hub officially opened in September.
With its white walls, triple-height ceilings, tall windows and the occasional steel beam, the company's new HQ is a far cry from the shabby grandeur of the 19th-century mansion on upmarket Rue du Faubourg Saint-Honoré in central Paris that was EuropaCorp's home until the beginning of August.
"It was luxurious but it wasn't a place that was conducive to creation. I love the fact this place has got an industrial feel to it. Cinema is in part an industry, after all," says EuropaCorp CEO Lambert.
Just 18 months ago the space was a mess of exposed brickwork and crumbling plaster. Today EuropaCorp Tower sits at the heart of the Cité, a film-maker's paradise incorporating France's Louis Lumiere national film school, EuropaCorp founder Besson's own cinema academy, his post-production facility Digital Factory and the nine state-of-the-art soundstages of the Studios de Paris.
It is the first week of September and Besson himself is about to inaugurate the biggest soundstage, Studio 5, shooting his comedy Malavita with Michelle Pfeiffer, Tommy Lee Jones and Robert De Niro as a retired US mafioso who moves to Normandy.
Besson's long-time production designer, Hugues Tissandier, is putting the final touches to the set, a replica of a traditional timber-framed Normandy country house. Over the road, production assistants ready the luxury VIP suites ahead of the arrival of their first Hollywood star residents.
The site's transformation mirrors the restructuring that has taken place at the heart of EuropaCorp over the last two years. When Lambert became CEO in July 2010, the company had just posted an $11.6m (€9m) loss for the 2009-10 financial year. "It was a difficult time… the company had over-diversified and for a variety of reasons there were very few productions in the pipeline. I knew the 2010-11 results were going to be very bad too — and they were," says Lambert. The company went on to post a net loss of some $38.6m (€30m).
Former advertising executive Lambert previously managed Besson's holding company Frontline, which has a controlling 62% stake in EuropaCorp, and the pair also founded the brand content agency Blue Advertainment. His first task at Frontline was to reboot Besson's decade-old Cité du Cinéma project, which was "on the verge of dying" for lack of investors. "It was 2008 and the financial crisis had hit. It took a year of my life," says Lambert, who brought in state investment fund Caisse Des Depots Et Consignations and construction giant Vinci to finance the overall development of the site.
On arrival at EuropaCorp, Lambert ordered an in-depth study of its finances and then instigated a three-year strategic plan from 2011-14. This involves restructuring the company's workforce; closing music, publishing and advertising units as well as a Japanese subsidiary; increasing television production to 30% of turnover by 2014; ratcheting up feature film production; and stopping feature-length animation, which has proved a costly activity for EuropaCorp. "If the company had never made animation, it would never have made a loss," says Lambert.
EuropaCorp also signed a number of distribution and co-production deals into key territories, notably with Relativity Media in the US and Fundamental Films in China. "It is crucial for us to have a good home for our films… output deals like this ensure the flow," says Lambert.
The company announced in June that it broke even for 2011-12, in fact making a small profit. "We then turned our attention to building up the slate," says Lambert. "When I arrived, we didn't have enough projects… We've worked hard with Luc and caught up. We've been -shooting non-stop these last four months and the schedule is pretty packed for the coming year."
Upcoming EuropaCorp productions include French-language World Petank Tour (Les Boulistes); thriller Mobius, starring Jean Dujardin in his first major role since The Artist; romantic comedy It Boy (Vingt Ans d'Ecart); road movie Un Prince (Pas Trop) Charmant; the English-language Morocco-set thriller Intersection; and Malavita.
Olivier Megaton's Taken 2, in which Liam Neeson reprises the role of Bryan Mills, rolls out worldwide in October and Jean-Pierre Améris' adaptation of Victor Hugo's The Man Who Laughs (L'Homme Qui Rit), which premiered at Venice, hits French theatres in December.
Lambert remains committed to ramping up television production, which he says is crucial to create a regular source of income. Series in the pipeline include Jan Kounen's Flight Of The Storks, a further series of XIII and First World War drama Lost Patrol. The company has also sealed deals with TF1 and Canal Plus to develop more English-language fare.
But EuropaCorp will remain faithful to the big screen. The final prong of Lambert's strategic plan is the creation of a chain of multiplexes. The company is set to open a 2,500-seat 12-screen multiplex near Paris-Charles de Gaulle Airport in 2013 and has recently signed off on another site in the southern French city of Marseilles.
"At that point, EuropaCorp will finally be involved in every aspect of the film-making chain," says Lambert.
Christophe Lambert
Studied politics at the University of Montreal before working in advertising in the 1990s.
Head of award-winning agency Publicis Conseil from 2003 before leaving to set up new French agency FFL in early 2007.
Launched joint brand content agency Blue Advertainment with long-time friend Luc Besson in 2008.
Became managing director of Luc Besson's Frontline in late-2008, restructured financing of the Cité du Cinéma project.
Became CEO of EuropaCorp in July 2010. Set in motion a three-year strategic plan to counter losses.
On June 3, 2012, EuropaCorp announced it broke even for the first time in two years in the 2011-12 financial year.
Setting the stage
The nine soundstages of Studios de Paris are open for business.
Luc Besson has talked of building studios in France ever since he was forced to shoot The Fifth Element at Pinewood in the UK because no such facility existed back home.
Some 15 years later, his dream has finally come true with the opening of Studios de Paris on the site of a disused electricity plant in Saint Denis, which he used as a backdrop for early films such as The Last Combat and Leon.
The nine-soundstage, $38.6m (€30m) state-of-the-art of facility — co-owned by EuropaCorp, Besson's holding company Frontline, Tarak Ben Ammar's Quinta Communications and studio and equipment specialist Euro Media France — opened for business this summer.
The first productions to pass through included The Smurfs 2 followed by Besson's Malavita, which began shooting there for six weeks on September 7.
"The nice thing about the Studios de Paris is that it was conceived by a film-maker for film-makers — there's an attention to detail that directors and their crews will appreciate," says Didier Diaz, president of Transpamedia (a division of Euro Media France), which manages the studios.
With 102,000 sq ft of soundstage at their disposal, the co-owners are open about their ambitions to compete with other studios across Europe such as Germany's Babelsberg, but chiefly Pinewood. "There are a lot of US films coming to Europe every year, eight to nine of them going to Pinewood. We're not looking to attract all of them… just one a year would be sufficient," says Diaz.
But are high-tech facilities and VIP suites with roof terraces enough to attract Hollywood producers? Diaz is a pragmatist and knows the bottom line is crucial. To this end, he and the other owners are pushing France's new Socialist government to increase the cap on the local TRIP tax rebate offering 20% on production costs, which currently stands at around $5m.
"I keep banging on about it but some sort of extra incentive is essential if we're going to be able to compete properly," says Diaz.