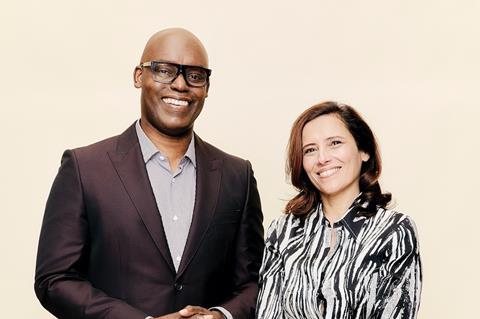 The spread of Covid-19's Delta variant has called for vigilance but as the hybrid 2021 Toronto International Film Festival (TIFF) prepares to welcome guests from Canada and the rest of the world there is a cautious sense of having moved on from 2020. While last year saw a mostly local crowd attend limited in-person screenings as Canada's borders remained closed and vaccines were several months away, 12 months on some things have changed.
"Going into this year, Canada was not so great and as we started planning we didn't know what we could expect," says TIFF executive director and co-head Joana Vicente. "We knew we would need a very robust digital platform for industry and press, but we were optimistic that by September a majority of the population would be vaccinated and potentially the borders would open."
After a delay, Canadian authorities took delivery of vaccines (none are produced in the country) and administered shots quickly to the point where, days away from the September 9 opening night world premiere of Stephen Chbosky's Dear Evan Hansen, some 75% of Torontonians are fully vaccinated.
Another boon for the imminent 46th edition is border policy. Canada reopened to fully vaccinated US citizens and permanent residents on August 9 and the Canada Border Services Agency has confirmed that fully vaccinated visitors from the rest of the world will indeed be eligible to enter from today (September 7). Despite the pandemic's fourth wave arrivals are currently no longer required to quarantine for 14 days.
"We are encouraged by the number of people who want to come from many places, who are doing everything they need to do to be here to present their films," says TIFF artistic director and co-head Cameron Bailey.
Vicente concedes the pandemic's trajectory made for some "dark moments" in the planning stage but by early June, buoyed by the vaccination rate, they saw "the light at the end of the tunnel… and could prepare for a bigger in-person footprint". That has meant a return to indoor screenings at beloved venues such as the Princess of Wales and Roy Thomson Hall, TIFF Bell Lightbox and select public and P&I screenings at Scotiabank, as well as outdoor venues and drive-ins at Festival Village. There will be no Festival Street this year. P&I screenings will be available online on TIFF Digital Cinema Pro.
Hosting screenings at TIFF Bell Lightbox is a significant moment. The festival's flagship venue closed on March 14 last year and reopened for the 2020 festival before going dark again as limits on cinema capacities meant it was not viable for the site to stay open. Now those restrictions have eased, Lightbox returns once again for the festival and is set to reopen fully about one week after TIFF wraps on September 18.
Like all arts organisations, TIFF went through closures and layoffs. Government emergency wage subsidies have offered succour, while the support of sponsors has been crucial. Every sponsor has remained despite an inevitable "gap in value", as Vicente puts it, while four or five new sponsors including Mazda signed on. The executive recalls "long conversations" with partners who saw the value in areas such as heightened activity with Crave, the streaming platform owned by Bell Media through which TIFF has shown films and other events.
Bailey insists the disruption of the past 18 months has not changed the festival's mission. "We are just trying to find great films and get them out to audiences," he says. Masks at screenings will be mandatory and visitors from beyond borders will arrive with a negative PCR test result. Talent will test every 48 hours due to frequent contact with other festival attendees, as will media on the red carpet, and the festival will abide by whatever further requirements health authorities may impose.
Festival spirit
Last year the fall festivals worked together to promote films such as Nomadland, the eventual TIFF People's Choice Award winner that went on to win the Oscar for best film. As the industry celebrates the high quality of selections at Telluride Film Festival (which returned after cancelling last year and has just wrapped) and the ongoing Venice Film Festival, is the spirit of competition back? "In a way we are back on the football pitch," laughs Bailey. "The spirit of collaboration hasn't gone away, but each of us is very focused on making sure we're here on the other side of Covid."
It is never easy for a programmer to pick highlights, although Bailey points out Searchlight Pictures' The Eyes Of Tammy Faye starring Jessica Chastain as the titular televangelist. "She's really on fire in that one," he says. He also recommends the eight-strong Platform selection of world premieres and flags returning masters Hany Abu-Assad (Huda's Salon) and Laurent Cantet (Arthur Rambo).
A busy industry platform will feature pre-recorded talks with former Searchlight Pictures co-heads Nancy Utley and Steve Gilula and panels covering subjects like digital access, toxic behaviour on set, and African cinema. TIFF brass remain hopeful market activity will prosper despite many US sellers saying they will wait until the American Film Market in November, which it was recently announced will run entirely online. Vicente notes last year's torrent of deals through virtual engagement. "Who knew? We ended up having a record year in film sales of around $100m," she says.
The festival programme comprises around 100 features, double that of last year and roughly half of a typical, pre-pandemic year. Is a slimmed-down festival an indication of things to come? "I always say we try to do one festival at a time," says Bailey. "It's a different landscape every year."