DIFF has assembled an eclectic group of international film-makers to take a seat on the festival juries, Screen meets Deepa Mehta [pictured], Nujoom Alganem, Fridrik Thor Fridriksson, Ali F Mostafa and Kim Magnusson.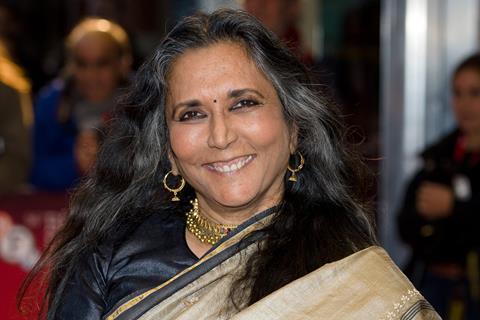 Deepa Mehta
head of the Muhr feature jury
Deepa Mehta has a long association with Dubai. The Oscar-nominated director, India-born, now Canada-based, has often taken her films to the festival. Both Water, her 2005 feature about widows living in an ashram, and her 2002 comedy romance Bollywood/Hollywood screened here.
And as a seasoned festival-goer, she is well qualified to comment on how DIFF compares both to other Middle Eastern festivals and to those around the world. "DIFF is an accessible festival that showcases some really important Arab Cinema. This is extremely important, especially in the political and cultural climate that is pervasive in the world currently," Mehta reflects, pointing to the "intimacy which one does not often find in other festivals and this gives participants the opportunity to engage with other film-makers in a relaxed
and informal atmosphere".
Mehta had a film screen at Abu Dhabi Film Festival a few years ago. It was, she felt, a festival with "its heart in the right place" but its
reach was more modest than DIFF. Marrakech, where she served as a jury member, was "delirious in its opulence and leaned towards showcasing Bollywood and Hollywood films". As for Cannes and Toronto, she suggests these are very different but both are hugely respected industry events that can determine the fortunes of a movie. "Positive buzz in either of these festivals can make a film. Conversely a negative one can break it."
Mehta, whose most recent film is Beeba Boys, an action film about Sikh gangsters in Vancouver, is thrilled to be heading the Muhr feature jury. "I love watching movies. Always have," she says. "My father was a film distributor in India and I grew up on a steady diet of films."
She takes seriously her responsibilities. "Jury duty is hard work," she admits. "It's difficult to park one's personal prejudices and judgments
while watching films and then be a part of a decision to choose which film is better than the other. Yet finally the choice for me is always based on a personal, subjective view. The heart invariably triumphs over my critical response." — Geoffrey Macnab
Mehta and Nujoom Alghanem are joined on the jury by documentary film-maker Tom Zubrycki, Egyptian actor Khaled El Nabawy and Iraqi film-maker Maysoon Pachachi.
Nujoom Alghanem
Muhr Feature Jury
Emirati poet, scriptwriter and award-winning film director Nujoom Alghanem knows how to keep busy. She is in development on an as-yet-untitled narrative feature and in production on a documentary feature. Her duties here as part of the Muhr Feature jury should provide a welcome distraction from her busy schedule.
Alghanem says there are two factors that throw up challenges for budding film-makers from the Middle East: "Finding significant stories and
characters and/or good actors."
Then there's the age-old hurdle facing everyone in the film industry: pulling together the funding in a timely fashion. Alghanem notes "the
difficulties facing Arab cinema in general because of political and financial pressures" when looking for finance.
She has produced more than 10 films spanning fiction shorts and documentaries, and six feature-length documentaries. A DIFF regular,
Alghanem's Nearby Sky picked up the Muhr award for best non-fiction film last year and in 2011 she won the Muhr Emirati award with Amal. In 2013, Hamama, her biographical documentary about a 90-year-old female healer who lives in Al Dhaid, Sharjah, won the festival's Muhr Emirati Special Jury Prize.
"Seeing my films accepted by international film festivals gave me a confidence and pride that I could succeed in establishing a cinematic
style," she says.
For Alghanem, receiving the best non-fiction award for Nearby Sky was a significant achievement from both a personal and professional perspective. "It was the first Emirati film to receive such an award," she explains. She now hopes the future of film-making in her region will include "tackling stronger content in our films and stepping ahead in discussing more striking social issues in non-typical ways. Expanding the genres to go beyond drama and comedy" is also key, says Alghanem. — Stuart Kemp
Fridrik Thor Fridriksson
As a founder of Reykjavik Film Festival — relaunched last year as Stockfish — veteran Icelandic producer-director Fridrik Thor Fridriksson has first-hand knowledge of growing a small festival. And as a confirmed cinephile he is thrilled to see how DIFF has flourished. "I call myself a film lover still," says Fridriksson, whose 1991 film Children Of Nature was nominated for a foreign-language Oscar. "I love to see as many films as I can when I'm not working on my own."
Fridriksson is in Dubai to head up the jury for the Muhr Short and Muhr Gulf Short competitions. He is joined by Emirati film-maker Ali F Mostafa and Tunisian director Hinde Boujemaa.
When he sees a film he likes, Fridriksson is always keen to try to get it shown in Iceland and he hopes some of the titles he sees here will end up in Reykjavik's Stockfish in February. "Absolutely!" he beams.
This is Fridriksson's first time at DIFF and he is looking forward to catching up with his old friend, Syrian film-maker Nabil Maleh who now
lives here in exile because of the Syrian civil war. Meanwhile, the veteran auteur is preparing Black Cliffs, "a crime/love story set in 1803," he explains. It is based on a novel by Gunnar Gunnarsson that came to the attention of Ernest Hemingway who pronounced
it as one of his favourites.
Gone are the days when Fridriksson was a one-man Icelandic film industry. As he reflects, at one point he owned the only dolly in the country as well as cameras, lights and trucks. This meant that whenever a film-maker wanted to make a new movie, they had to come to him. "I donated my stuff to some film-makers that I loved," he says. "I try to find co-producers for their projects. I think I've been involved in 70 films." — Geoffrey Macnab
Ali F Mostafa
UK-born Emirati film-maker Ali F Mostafa broke box-office records for an Emirati film release in 2009 with his debut City Of Life. The drama about a young Arab man and his Indian friend working in Dubai was such a hit it led to the movie's title being adopted as the unofficial name for the city.
The film opened DIFF in 2009, the first by an Emirati film-maker to do so. "I'm proud City Of Life has become the unofficial name of Dubai. Hashtag it to believe it," Mostafa says.
But despite his film's success and a growing reputation as a film-maker, the London Film School graduate remains mindful of how challenging it is to make films.
"Put it this way, in eight years I've made two feature films. So it's challenging. If you're truly passionate about being a film-maker, you have
the patience to keep knocking on doors. If your skin is thick enough to persevere, you'll become a film-maker."
His second film, From A To B, was a pan-Arab road-trip movie about three estranged friends who travel from Abu Dhabi to Beirut in memory of a lost friend. It was presented at Dubai Film Connection in 2012 and went on to open the last Abu Dhabi Film Festival earlier this year and play at international festivals including the BFI London Film Festival in October.
The director is in post on his third feature, post-apocalyptic action thriller Worthy. He shot it this year with backing from Image Nation Abu
Dhabi, which also supported From A To B. The backing of a genre project by the Abu Dhabi-based production is significant for the region. "[Image Nation] are tapping into the genre film market and that's never been done before here," Mostafa says.
Mostafa set up Dubai-based AFM Films in 2006, intent on enjoying "the creative freedom to produce and write cutting-edge work". His short Under The Sun won best Emirates film 2006 at the Emirates Film Competition and in 2007 he was crowned best Emirati film-maker at DIFF. He will sit on the Muhr Short and Muhr Gulf Short juries here at DIFF. — Stuart Kemp
Kim Magnusson
Danish producer Kim Magnusson was in Dubai last year to give a masterclass on making short films and is delighted to be coming back as head of the jury for the Muhr Emirati competition. He speaks with enthusiasm of the seamless way in which the festival is organised. For a European, he suggests, the festival can also be very useful, especially if you're hoping to shoot a film in the region.
"I haven't been to a lot of the Middle Eastern festivals but what I felt, and have also learned from other people, is that this one is really the gateway to the film community [in the region]," says Magnusson, who has been nominated for the best live-action short film Oscar five times, winning twice, for Election Night in 1999 and for Helium in 2014. His feature credits include Anders Thomas Jensen's Men And Chickens and Niels Arden Oplev's Worlds Apart.
Magnusson points to Dubai's relative intimacy. "You can see a movie, attend a masterclass, do some pitching sessions at the co-production
market and still be part of the festival," he says, comparing Dubai favourably with Cannes where he is "lucky to see one film".
He is developing an eclectic slate of features and shorts, both in Denmark and internationally. Magnusson is the executive producer on Anders Walter's English-language I Kill Giants, which is shooting in Vancouver next year and is produced by Chris Columbus.
"It's all about finding talent," says Magnusson of his prolific work rate. "I love making movies. And making shorts sometimes gives you
a kick because you don't have the whole machinery that needs to go on with marketing and distribution and all that. You can make a short in three days." — Geoffrey Macnab