FilmSharks International's Guido Rud tells Jeremy Kay about building a slate ripe for sales and remakes.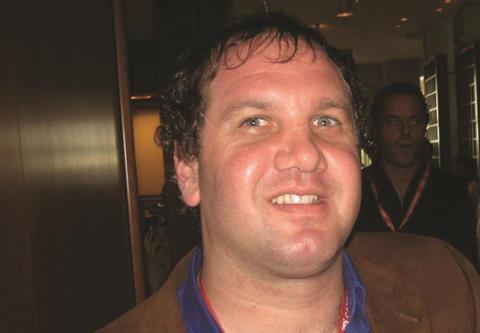 Guido Rud's eclectic taste and focus on cherry-picking a handful of films each year has established him as a purveyor of distinctive features that stand the test of time. He calls them his cinematic pearls.
Rud, the amiable Argentinian who is the CEO and founder of Buenos Aires-based sales company FilmSharks, has a full slate of pearls heading into Ventana Sur (December 1-5).
FilmSharks will be touting the $3m Demian Bichir thriller Death Fearless, which four-time Emmy nominee Matias Gueilburt will shoot from August 2015 in Argentina, Mexico and the US.
The roster includes the comedy Papers In The Wind, based on a screenplay from The Secret In Their Eyes screenwriter Eduardo Sacheri. Rud just closed a pan-Latin American deal for the film with Disney.
The studios are frequent partners on a slate that Rud started building back in 2000 after he returned from his travels and completed his business degree.
Rud inherited the love of travel and global culture from his father, Norberto 'Toto' Rud, who was a journalist and businessman. With the assistance of his parents, Rud set up FilmSharks with the goal of championing distinctive young voices from the region.
"I started phase one with the new wave of South American films. We had the Oscar submission that year, [Lucho Bender's] Felicidades. I sold the first Damian Szifron feature, The Bottom Of The Sea, and then I had [Celina Murga's] Ana And The Others."
The initial slate was a strong statement of intent. Szifron's latest film, Wild Tales (sold internationally by Film Factory) has become the biggest local hit of all time in Argentina and is the country's Academy Award submission.
It was not long before FilmSharks' focus broadened. Accordingly the core team has swelled to include interna-tional sales executives Florencia Gasparini Rey and Delia Huertas in Buenos Aires, Roxy Kohan in Los Angeles and Utako Niimi in Japan.
"We realised the only way to survive was to get bigger films that could perform theatrically in several territories," he says. "Now we're doing six to eight films a year. When we pick up a title, we need at least a sales forecast on 12-15 territories for theatrical releases. I don't want to sell loads of films; I want to keep it small so I can dedicate time to each film."
A friendly slate
FilmSharks' recent AFM slate was typically focused, comprising Santiago Segura's Torrente 5 from the smash Spanish action comedy series, which Disney has for Latin America, to Daniel Burman's comedy drama, The Mystery Of Happiness.
A trio of animations include Wicked Flying Monkeys! 3D (Mexico-India) — with character designs by The Book Of Life director Jorge Guttiérez — and the potty-mouthed Possessed (Pos Eso, Spain) by former Aardman animator Sam.
In recent years, Rud has developed
an appealing remake catalogue. One of several deals he cut shortly before AFM saw Mediaset subsidiary TaoDue take Italian remake rights to Diego Kaplan's hit Argentinean swingers comedy, 2+2. Talks are ongoing with buyers in the US, Germany, Mexico and South Korea.
"Today's producers are looking for high concepts that can be remade and/or easily adapted for local markets, and we are a key player for selling remakes worldwide," he says.
Loyal to the last
FilmSharks' loving care means that it remains loyal to a title until all necessary business is done. One year after Rud took on sales at AFM on Benedikt Erlingsson's Icelandic Oscar submission, Of Horses And Men, he is still open to offers.
"With others, films that premiere in Cannes are in the back catalogue [by now], but for me they're not and that's the difference: we want to attend to our films and our producers.
"You cannot do packages any more: buyers cherry-pick. So if you cannot package, you also have to cherry-pick… My father told me if you want to sell well, you have to buy well."
These days, Rud says commercial English-language fare could constitute half of his annual slate, yet he will always be bullish about cinema from his region.
"When a film-maker has a movie in Latin America they come to us," he says. He would like more support for local fare and estimates that as few as five of the 75-or-so films Argentina turns out each year demonstrate theatrical potential.
"Private investment is difficult and most comes from public funds via [national film body] INCAA. We should have more support for commercial titles as they support mostly arthouse."
Yet he remains confident about home-grown product. He says: "Argentinean films have the perfect mix between Europe, the US and Latin America."