The veteran producer tells Jeremy Kay about his 100th film, partnering with Imagenation and why he wants to make connections between east and west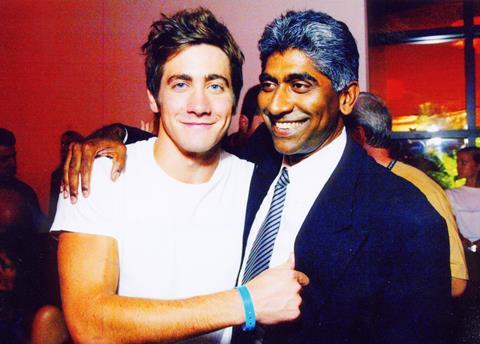 As a youngster growing up in Chennai, India, Hyde Park Entertainment chairman and CEO Ashok Amritraj had ambitions of making it in Hollywood.
Three decades after hanging up his racquet as a world-class tennis player, Amritraj has indeed made it in the film business and enjoys global renown as the head of Hyde Park Entertainment and a prolific producer of more than 100 films.
Amritraj retired from professional tennis in 1980, fuelled by the desire to make films. "I thought it would not be that difficult since I knew a lot of the major industry people from tennis. I discovered that everybody wanted to play tennis with me, but no one wanted to make a movie with me. I played in a lot of bad tennis games but didn't get any movies made.
"There was a lot of knocking on doors in those days and paying my dues," he continues. "I made about 30 or so smaller movies with Showtime and USA with pretty good TV stars, which really taught me how to produce at a price and put the most on screen."
As Amritraj forged relationships and learned how to make money go a long way, he segued into the role of feature producer. In 1990, by which time he had close to a dozen action films under his belt, a fateful encounter with Jean-Claude Van Damme heralded the next step in his Hollywood odyssey. "I'd met Jean-Claude in 1984 and we ran into each other again in Cannes and said we had to make a movie together. The movie was Double Impact and it was released successfully through Sony in 1991. After that, people started returning my calls."
"I made about 30 or so smaller movies, which really taught me how to produce at a price and put the most on screen."
In the 1990s, Amritraj's films became more star-driven, featuring the likes of Antonio Banderas, Ben Kingsley, Alec Baldwin and Charlie Sheen, and in 1999 he launched Hyde Park Entertainment with David Hoberman.
"The company was formed primarily to partner with studios," Amritraj says.
"At that time, we would co-finance and split rights with the studios because it was a time when the studios were selling off their foreign rights."
Hyde Park operated as a production company with deals at Disney and MGM for seven years, followed by a five-year deal at 20th Century Fox, co-financing such titles as Bandits, Original Sin, Moonlight Mile and Antitrust.
A few years ago, he shifted the focus of the business towards fully financing product, which allowed him to partner with the studios as distributors and hold on to more of the upside. Hyde Park's credits roster grew to include bigger commercial hits such as Premonition with Sandra Bullock, Death Sentence starring Kevin Bacon, and Bringing Down The Houseand Shopgirl with Steve Martin.
"I have dealt with pretty much every studio in town," Amritraj says. "I have had first-look deals for the last 12 years. However, today when Hyde Park fully finances films it makes more sense to do the right deal at the right studio for a ­specific film."
Leap of Imagenation
The foreign sales division, Hyde Park International, now headed by Mimi Steinbauer, is an extension of this philosophy of controlling the financing and handles home-grown as well as third-party titles. It also sells titles from Hyde Park's young joint venture with Middle Eastern and Far Eastern partners, recent developments that are informed by Amritraj's desire to bridge the ­cultural divide between east and west.
The desire to foster cross-cultural co-operation came to a head in 2008 when Hyde Park formed a joint venture with Imagenation Abu Dhabi, whose chief executive is Edward Borgerding, a long-time friend of Amritraj. The goal is to make four films a year for seven years, with aggregate production spend of $250m. Last year, the partners created a strategic alliance for English-language and Asian films with Singapore's MDA in a five-year deal with an aggregate spend of $75m.
"The primary intent of the partnerships is to make Hollywood movies for a global audience," Amritraj says. "However, we also intend to create smaller Asian films and local-language films for a more international audience."
"In the next 10 years the grow in India and the Middle East will be unstoppable. I hope the US will embrace it."
Hyde Park and Imagenation Abu Dhabi provide the equity and additional funding comes from banks, along with state subsidies. The office in Abu Dhabi is manned by Jason Mirch, formerly of ­Storyline, while the Singapore office is run by Yee Yeoh, formerly of Killer Films. Patrick Aiello heads the development team in LA and if Amritraj likes a project and Steinbauer feels it works for international, then they take it to Imagenation Abu Dhabi.
"The only part of the equation where we go outside is domestic distribution, and that's very dependent on what the project is. If it is a smaller Asia project then it is a limited release. If it is a Bringing Down The House or Premonition then it would go to a studio."
The first film to emerge from the Hyde Park, Imagenation Abu Dhabi and MDA collaboration illustrates perfectly the melange of culture and styles. Street Dancing is being produced with songwriter Dave Stewart's Weapons of Mass Entertainment and will feature music by Stewart and Oscar-winning Slumdog Millionairecomposer AR Rahman.
Asian revolution
"In the next 10 years the growth in India and the Middle East will be unstoppable," Amritraj says. "The technology coming out of there is quite extraordinary. I hope that the US will embrace that growth and be a part of it.
"I consider Hyde Park to be a leader in this regard in the entertainment space. We operate in North America and extend from the Middle East all the way round to India and China.
Amritraj points out that he has focused on being "the bridge between the entertainment industries in the east and west" over the last 10 years. "I have made it a point to cast Indian and Asian actors in my movies. An example would be Street Fighter: The Legend Of Chun-Li, distributed by Fox, which had a mix of Singapore and Hong Kong stars and a mixed crew from over the world and shot in Thailand. Another example is The Other End Of The Line distributed by MGM with an Indian actress in the lead."
In fact, Street Fighter is a significant milestone in Amritraj's career because it marks his 100th film. The Hyde Park principal will attend an event to ­commemorate this achievement in ­London on March 30 organised by world cinema distribution and financing expert Parminder Vir under the auspices of Pact and Microsoft.
"Twenty-five to 30 years ago when I started, there was no one of Indian origin in Hollywood," Amritraj says. "But today you see second-generation Indians like M Night Shyamalan and Jay Chandrasekhar and actors like Kal Penn, Kunal Nayyar and Dev Patel, and so on.
"There's a whole slew of talent, many of whom have come through my office at some point. It's great to have played a part in helping the second-generation Indian community grow in Hollywood and now connecting the worlds is even better."
Ashok Amritraj
1980 Retires from professional tennis
1984 Produces first film, Fear In A Handful Of Dust
1991 Double Impact starring Jean-Claude Van Damme opens through Sony
1999 Launches Hyde Park Entertainment
2008 Signs partnership with Imagenation Abu Dhabi
2009 Partnership extends to include Singapore's MDA
In the same year, Fox releases Amritraj's 100th film, Street Fighter: TheLegend Of Chun-Li
Also in 2009, Hyde Park-Imagenation Abu Dhabi-MDA unveil their first joint project, Street Dancing