Ivan Reitman has directed some of the biggest comedies of the last 30 years,but he is more focused these days on producing films for the likes of hisson Jason and auteur Atom Egoyan, writes Denis Seguin.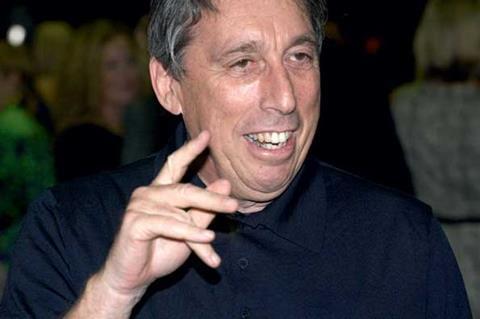 A young director bursts on to the scene with a sexually frank first film and then proceeds to change the nature of comic movies in North America. If you guessed, Judd Apatow you were off by 30 years. For those who came of age in the 1970s and 1980s, Ivan Reitman was a brand in his own right, not just as a director and producer but as a force in comedy.
"His finger is on the public pulse. I am not obsessed with pleasing the large popular audience. But Ivan is."

Atom Edoyan
His credits read like a roll-call of comedy touchstones while his casting choices show a knack for tapping talent.In 1979 he produced John Landis' Animal House, the first film of comedian John Belushi. He followed that by directing Meatballs (1979), the first film of Bill Murray, and Stripes (1981), which showcased not only Murray but the ascending John Candy and Harold Ramis.
Then came the monster hit Ghostbusters (1984) which united Murray, Ramis and Dan Aykroyd. As Canadian film historian Wyndham Wise noted ungenerously: "If finger pointing is necessary for the 'dumbing down' of American humour in the 1980s, Reitman is a prime target." Reitman outshines Apatow as a maverick and an impresario.
Not only does he have the counter-culture chops - at age 23, he was fined $300 and given a year's probation for his role as producer of The Columbus Of Sex (1969) - but he also recognised the genius behind the gore of his Toronto peer David Cronenberg. Reitman produced Cronenberg's breakout features Shivers (1975) and Rabid (1977). Reitman's talent and ambition were not limited to movies.
His off-Broadway production of The National Lampoon Show led directly to Universal's decision to finance Animal House. Reitman also produced Gerald Potterton's seminal Heavy Metal (1981), arguably the first mainstream animated feature targeted at an audience other than children. And he tamed the Terminator, directing Arnold Schwarzenegger in three films that played against the actor's rock-jawed type: Twins (1988), Kindergarten Cop (1990) and Junior (1994) as well as making more mannered comedy dramas such as Legal Eagles (1986), Dave, with Kevin Kline and Sigourney Weaver (1993), and Six Days, Seven Nights (1998) with Harrison Ford and Anne Heche.
Since the turn of the millennium, his directing has been limited to Evolution (2001) and My Super Ex-Girlfriend (2006). His Montecito Picture Company, in which he is partnered with Tom Pollock, has backed some top-flight films over the past decade, including pictures directed by his son Jason - Thank You For Smoking and Juno - as well as the thinking-man's bromance, I Love You, Man.
New directions
But now comes Reitman's perhaps strangest collaboration which, like Up In The Air, premiered recently at the Toronto International Film Festival (Tiff) - he produced Atom Egoyan's Chloe. However it is Egoyan who is directing Reitman's baby. Reitman first saw the French original Nathalie at Tiff in 2003. He did not think much of the film itself but he recognised the power of the concept: a woman suspects her husband of infidelity, hires a young beauty to bait him and ends up falling for the beauty herself.
He cut a deal with StudioCanal to produce an English-language version. "I wasn't sure if I would direct it," says Reitman. "Everything I am involved with buying has that option… but I didn't even know it would be a movie."Reitman hired Erin Cressida Wilson, who wrote Secretary and Fur: An Imaginary Portrait Of Diane Arbus, a writer and playwright known for her compelling touch with psychological eroticism. "After about 18 months, we had a great screenplay and we all looked at it as a movie to make,"
Reitman says. He decided not to direct it but place it in the hands of a film-maker who he felt was ideally suited to the material - Atom Egoyan."He could have approached anyone in the world," says Egoyan, still somewhat amazed by the situation. "But he was specific about something he saw in my work.""I thought it was a good fit for him," says Reitman. "I know the opportunity for a director of getting a screenplay that's been 'worked out'.
He saw that it was in tune with his own philosophical and emotional viewpoints, that it was sympathetic to the kind of films that he has made but more organised in the storytelling than the dream-like films he had made in the past."Egoyan admits he and Reitman have "wildly different sensibilities", but he suggests "the missing link" between the two is Reitman's Dave, wherein Kevin Klein plays the doppelganger to the president who then takes over the presidency.
"The tone is different but it's about the ways we trick ourselves. The strange and curious ways a human heart reacts to unpredictable circumstances."If you want to get psychological," adds Egoyan, "Ivan and I both came to Canada when we were very young. We are aware of having to reconstruct ourselves as other people."The Canadian connectionIn hindsight it seems only appropriate that Egoyan was able to convince Reitman to move the film's setting from San Francisco to Toronto, where both came of age.
"Some of the richest time we had was when we drove around in the car scouting locations," says Egoyan. "I was showing him different areas of the city and he was remembering where he hung out."Indeed, Reitman has been hanging out in Toronto a lot lately. He and his sisters donated a massive downtown block of property owned by his late father for Tiff's new HQ, the Bell Lightbox.
Reitman will have a condo in the adjoining tower complex.Casting Chloe was seemingly a breeze, the material a lure much as Chloe is a lure to the wife. Julianne Moore plays the older woman, Amanda Seyfried the younger, while Liam Neeson plays the smaller but crucial role as the tempted man who becomes a cuckold.The strength of cast and material led to another surprise - StudioCanal exercised its right as copyright holder to fully finance the film. Montecito, says Reitman, "normally co-finances its projects.
And we had a distribution company set to make it with us as co-financiers. But as the owners of the original rights, StudioCanal had the option to finance or co-finance and they came in all the way. They were excited by the script and the talent we had put together."On that note, Reitman tips his cap to son Jason, who is an executive producer of Chloe, for his role in getting Seyfried into the picture (she also stars in Jennifer's Body, produced by the younger Jason).The younger Reitman's film, Up In The Air, was well received at Telluride and Tiff.
"Our relationship gains from the experience as opposed to the opposite. It's not without conflict. We are strong personalities," says Reitman who adds that Up In The Air is the next step in his son's evolution as an artist. The same could be said of the father and Chloe."Look," says Egoyan, "Ivan is an entertainer. His finger is on the public pulse. I've been at the test screenings.
He gets enthralled. I'm not obsessed with pleasing the large popular audience. But he is. So the challenge here was getting those two temperaments to fuse on a subject matter that intrigues us both. "Certainly StudioCanal is intrigued. Both Egoyan and Reitman said separately that they are in discussion with the French company on new projects.
Ivan Reitman
Reitman was born in Czechoslovakia in 1946 to a resistance fighter and a Holocaust survivor, and emigrated to Canada in 1950 where he later studied music at university.
In 1973 he sold his feature Cannibal Girls at Cannes to US distributor American International, and a year later produced David Cronenberg's Shivers.
His off-Broadway production of The National Lampoon Show led to 1978's Animal House.A year later he made Meatballs and in 1981he produced animated hit Heavy Metal.
From 1981-94, Reitman produced and directeda string of hits including Stripes, Ghostbusters, Ghostbusters II, Twins, Kindergarten Cop and Junior.
In 1998 he founded the Montecito Picture Company with partner Tom Pollock.
Since 2000 he has produced several mainstream comedies including Road Trip, Old School and EuroTrip.