The directors talk to Laura Henderson about their documentary and imminent Tribeca world premiere starring choreographer and ballet dancer Benjamin Millepied.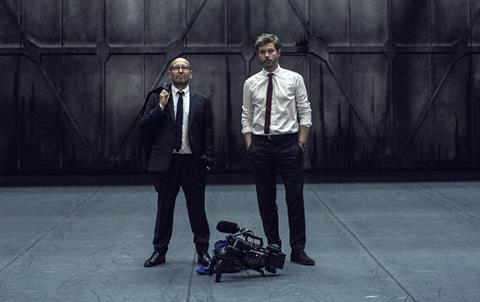 Millepied is famously known as the man behind the ballet choreography for Black Swan, and is married to Natalie Portman. The couple met on set and have a young son together.
In RESET, Demaiziere and Teurlai follow Millepied in his new position as director of the Paris Opera Ballet. The world premiere takes place on April 20. Upside Distribution handles world sales.
Why did you want to make this documentary?
For a long time, we had the idea to make a movie about the 'body at work.' We explored many leads, especially those related to fighting. We wanted to tell the story of men and women who put their physical integrity at risk just like in boxing, free fighting and taekwondo. When Dimitri Chamblas, close collaborator of Benjamin Millepied, and creative director of the Paris Opera's 3th Stage, called us to pitch a film project about Benjamin's new creation, we immediately agreed. We are of course far from the ring but we were delighted by the idea of a three-month long immersion allowing us to closely follow these artists/athletes. During the shooting, we realised that what they sometimes ask from their bodies is actually martial. They are fighters wearing dance slippers.
Did you face any challenges along the way?
The Paris National Opera has always cultivated secrecy. Besides a few documentaries and Frederick Wiseman's remarkable La Danse: the Paris Opera Ballet from 2009, there is very little footage of true immersions into the creative process of this famous company. While filming RESET, we were indeed welcomed by all the staff, technicians and artists but it took some time for the doors to be truly opened to us. We were a very small team (one to three depending on the day) and we had to have our presence accepted by everyone, day after day. Without this, we would have shot a nice making-of, but something rough and inconsistent.
Let's focus on Benjamin Millepied and the dancers, because they are the reason for this movie. We mustn't forget that usually these artists show off their work once it's finished, as close to perfection as possible, so the audience only remembers moments of grace. Our tour de force was getting them to accept us filming their moments of doubt, their mistakes and their missteps —some of them even got injured in front of our camera. We owe them everything.
Who financed the documentary?
Canal+, Centre National de la Cinématographie, Procirep and Angoa.
Roughly how much did it cost?
400,000 Euros.
In one word what is the documentary about?
One word? Management!
Millepied comes across as clever, creative and likeable. What was it like working with him?
He was not easy to convince. He was truly excited about having his first creation as dance director of the Paris Opera captured on film, but he was also reluctant to have a team following his every move for three months. He hesitated a lot before accepting. He gave us his permission only a few days before the rehearsals began. Benjamin Millepied is brilliant, lives for music and is deeply devoted to his art. As you can see in the movie, he is never as lively as when he rehearses with his dancers. With other matters, he just goes with the flow. From the first days of shooting, we had a tacit agreement: we understood he was going to share with us but not adapt to us. We had to adjust our work to follow him as closely as possible. He was generous, unpredictable, always charming and often hard to follow. We sometimes struggled but it was a great experience.
Other than meeting Benjamin Millepied, it was amazing to be introduced to his dancers. We knew before shooting the first rehearsal that the Paris National Opera dancers are among the best in the world but watching them sketch the first movements of this ballet was mesmerizing.
Another thing that struck us immediately was the physical power that these moving bodies exude. When you watch dance on TV or even at a live performance, the distance separating you from the stage completely alters this sensation. But if you're less than a metre from a dancer when he moves, jumps, lands or performs a porté, you feel like you're caught in a gust of wind. It's impressive.
Were you shocked to hear Millepied has now resigned from his post as director at the Paris Opera Ballet, just a year into the role?
No, I wasn't. During the rehearsals, the unease was palpable. The movie incidentally evokes the culture shock between the extroverted Benjamin Millepied and the Opera, which is self-centred. It is about a choreographer/director who believes mainly in the pleasure and desire to dance and who faces an institution that believes only in the legitimacy of its own rules, discipline and hierarchy. We could also feel the impatience of Benjamin Millepied, who is a man in a hurry, towards the Opera's reticence to be shaken up.
What do you love about directing?
What I like in this job is that you need to be constantly adaptable. Filming a documentary like RESET is light years away from shooting a production where everything is scheduled, planned, framed, written, and where nothing is left to luck. We stayed inside the Paris National Opera for three months. Every morning, we had to adapt our work to rehearsals, break times, meetings we were not allowed to attend, lessons we couldn't film, and Benjamin Millepied's busy schedule that always caused him to be where we weren't waiting for him.
What films have been most inspiring or influential to you and why?
When we first met Benjamin Millepied, he accepted the project but imposed one condition: that the visual approach be contemporary. He even mentioned an intimidating reference: Black Swan, which he choreographed. Of course, we couldn't compete with this Hollywood super production but we tried to keep the essentials: every dance session was shot from the shoulder, as close to the dancers as possible. This is what we tried to do in RESET. We wanted to get away from the usual constraints and absolute respect for the sanctity of classical dance.
We were very much inspired by fictional works that portray combat, like The Fighter, Foxcatcher or The Wrestler. Even though they have nothing to do with dance, these films all have something in common: bodies at work and sometimes bodies in pain.
What projects do you have lined up next?
A feature documentary film about pornstar Rocco Siffredi. This movie is about portraying an actor who is to porn what Tyson is to boxing. It is also about discovering the world of pornography, which has rarely been explored in a documentary. Finally, it is the story of Rocco's last scene as an actor that ended a 30-year-long career.